printer friendly version
Carrol Boyes reduces downtime with Trac-Tech system
October 2012 Integrated Solutions, Asset Management, EAS, RFID, Industrial (Industry)
The brand name Carrol Boyes is synonymous with quality and attention to detail. Managing absenteeism and accurately calculating hours worked had become a pressing issue at the company's Cape Town and Paarden Eiland facilities. Trac-Tech stepped in to tackle the problem.
Carrol Boyes was established 20 years ago by its namesake and has grown into a household name as a manufacturer of upmarket homeware and tabletop items. The company is headquartered in Cape Town with manufacturing facilities in Paarden Eiland and Tzaneen, retail shops in Johannesburg, Cape Town and New York, and outlets throughout the world.
"The company has grown substantially since its formation, so keeping track of all employees has become a logistical nightmare. We have always had a very flexible approach to starting and finishing times, but lately we had found certain employees taking advantage of the system," said the company's human resources manager, Merle Kemp.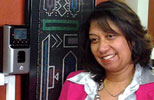 Carrol Boyes' human resources manager, Merle Kemp, with the ViRDI biometric fingerprint reader.
Kemp explained that the company's existing time and attendance (T&A) system was old and unreliable. "We recently implemented a 40-hour working week, in accordance with legislation, so we required a T&A system that would allow us to accurately track the exact hours worked by each employee. At the same time, the system needed to be able to track the hours worked by certain employees when they moved between our branches.
"We reviewed the requirements of the Carrol Boyes facilities and decided to install a ViRDI biometric fingerprint reader at both the Cape Town head office and the Paarden Eiland factory. These are complemented by Unis and Time Register T & A software," said Trac-Tech sales manager, Marj Valasek.
The ViRDI biometric fingerprint reader lends itself to reading damaged and almost invisible fingerprints. Virdi uses calibration of minutia points and others to enrol the fingerprint, thus eliminating the problems normally associated with damaged fingerprints.
"We required the system to incorporate specific rules and it needed to allow for flexible start and finish working times and shifts," said Kemp. The Unis software allows real-time viewing of all clocking data and enables the management to ascertain exactly who is on the two premises at any time.
"I was provided with training on the Unis system and Time Register software at Trac-Tech's offices. The facilitator ensured that I would be able to quickly and easily enrol each user on the system and that maximised reporting results were available to me instantaneously. The service levels from Trac-Tech, from the initial planning stages through to the system implementation, have been of an exceptionally high standard," said Kemp.
The system currently monitors the time and attendance of 43employees in Cape Town and 77 employees at the Paarden Eiland manufacturing facility. "Plans are underway to link the system to our VIP Payroll system and we are currently investigating the possibility of extending the T&A system, together with biometric fingerprint readers, at all the retail stores," said Kemp.
"This user-friendly, reliable and very accurate system has reduced the absenteeism rate and made life much easier for the HR department, by the direct reduction of the time needed to perform the calculation of employee working hours," Kemp concluded.
For more information contact Trac-Tech, 0861 100 199, info@trac-tech.co.za, www.trac-tech.co.za
Further reading:
Augmented security with drones
August 2019, Drone Guards , Editor's Choice, Integrated Solutions
Drone Guards is moving into an untapped market of using drones to secure residential estates and other high-value assets such as mines, farms and commercial properties.
Read more...
---
10 things to consider when shopping for a VMS
August 2019, Genetec , CCTV, Surveillance & Remote Monitoring, Integrated Solutions
Today's video management systems (VMS) provide a wide range of tools and capabilities that help make security personnel more efficient by allowing them to focus on what really matters.
Read more...
---
Residential security – caveat emptor
August 2019, Stafix , Integrated Solutions, Security Services & Risk Management
When it comes to improving your property's security, make sure you take all the options into account as you build a layered approach to keeping people safe and assets secured.
Read more...
---
End-to-end security solutions for residential estates
August 2019, Elvey Security Technologies , Integrated Solutions, Residential Estate (Industry), Products
While there are a multitude of security options available for residential estate body corporates, unfortunately the solutions are not always able to integrate seamlessly, resulting in a hotchpotch of disparate systems.
Read more...
---
Integrated residential estate surveillance
August 2019, Forbatt SA , Integrated Solutions, CCTV, Surveillance & Remote Monitoring, Residential Estate (Industry)
Integrated solutions bring the best-of-breed out of each technology to give personnel all the tools they need for access control management and security.
Read more...
---
From fog to foxes
August 2019, Axis Communications SA , Perimeter Security, Alarms & Intruder Detection, CCTV, Surveillance & Remote Monitoring, Integrated Solutions
What makes radar devices so valuable is the fact that they can provide a high range of accurate data while barely relying on external factors, such as weather or light.
Read more...
---
Communications management within your security platform
August 2019, Genetec , Integrated Solutions, Residential Estate (Industry)
In the physical security industry, communications management systems, such as intercom solutions, are becoming an integral part of developing effective and comprehensive security strategies.
Read more...
---
The hidden claws of proof of concept
August 2019 , Editor's Choice, Integrated Solutions
Proof of concept is a proven methodology for testing new technologies, but it isn't perfect, and it can be more of a hindrance than a help.
Read more...
---
A customised solution for backup power
August 2019, Specialised Battery Systems , News, Integrated Solutions
Specialised Battery Systems designed and implemented a bespoke solution for Stallion Security Electronics to deploy at almost any site.
Read more...
---
Local manufacturing – challenges and opportunities
August 2019, Centurion Systems, Technoswitch, ZYTEQ Fire , Integrated Solutions
Local companies manufacture a diverse range of products for the security industry, and although they face challenges, there are opportunities out there too.
Read more...
---