printer friendly version
Access to mixed-use development
Access & Identity Management Handbook 2013 Access Control & Identity Management, Residential Estate (Industry)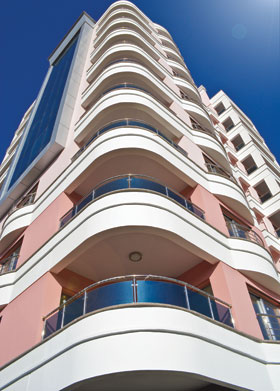 40 on Oak is an upmarket apartment block within the Melrose Arch mixed use development in Johannesburg. The five-storey building has 54 units ranging from one to four bedrooms, and five penthouses on the top floor.
The developers decided that any access control systems installed in 40 on Oak would need to be able to integrate with the systems already running at Melrose Arch. In addition, the systems needed to conform to the planned future expansion and upgrading of the precinct-wide access control and building management system (BMS) requirements.
The UTM Group was approached in November 2011 to assess, determine and design an access control system that would achieve all the client stipulations in terms of both future proofing and backwards compatibility. At the same time, due to the nature of the final development, aesthetics played a large role.
Kelly McLintock, group managing director of the UTM Group, said of the existing access control system at Melrose Arch: "A total of over 450 doors are controlled across all areas of the Melrose Arch precinct. Our challenge was to provide a solution that would integrate with all existing bespoke systems, and which will also be compatible with any future expansion of the precinct. We also looked to streamline the administration process and offer improved monitoring and control."
Cost and quality were weighed up against the pressing security requirements at 40 on Oak. "As the security integrator and solution provider for the project, our first plan of action entailed consolidating and mapping the existing system to determine areas requiring attention. It was important to then design and implement a system for both 40 on Oak and the rest of the Melrose Arch precinct that will provide the end user with a state-of-the-art and user-friendly solution," McLintock explained.
"The solution comprised three main components: an access control system, Stentofon IP intecom system and Bosch BVMS CCTV system. The selection allows us to integrate with the site-wide system, with a view to future proofing. The systems will control access to the general areas of the building via all external entrances, as well as individualised access for the lifts."
The biggest challenge faced by UTM was the software and firmware incompatibility between the systems that are currently in place, and the new system proposed for 40 on Oak. "In order to provide a truly integrated solution, it was necessary to institute upgrades across the board which would not only benefit the 40 on Oak residents, but also all the users across the precinct. The entire project is being tackled in a phased approach over the next three years and UTM is currently on deadline for completion of the 40 on Oak section of the project in early 2013," McLintock added.
The access control system at 40 on Oak comprises the control of 74 access controlled doors and over 100 monitored doors, using a combination of readers. Each user is enrolled for a specific zone, for example '4th floor', with the ability to customise each user for multi-zone access levels. This not only applies to 40 on Oak but, once again, to the entire precinct. Readers at the lifts ensure that when a user tags in the lift, they will only be able to access their designated floor.
The building, which has received accolades for its green compliance, will possibly in the long term utilise the access control system to control power usage. "When a tenant leaves their unit, the system could switch all non-essential powered items off to eliminate unnecessary power consumption. When the tenant swipes his card to enter his unit, full power would be restored to his unit," explained McLintock.
Visitors to the building will be required to interact with tenants via the Stentofon IP system. This system interfaces with a building-wide PABX system. Each unit is equipped with a SIP phone that doubles as a VoIP telephone and an intercom handset.
"UTM's input from the design stage ensured that all conduit and electrical requirements were in place prior to first fix commencement. This meant that there were no surprises or unforeseen problems as the installation progressed," said McLintock.
The feedback received from the client has been extremely encouraging. "We have been told that the installation and service exceeds their initial expectations and based on the success of the project to date, the customer has extended the scope of the project and contract period," McLintock concluded.
Once the project is completed, UTM will provide all onsite support, maintenance and servicing requirements.
For more information contact UTM Group, 0860 22 22 66, kelly@utmgroup.co.za, www.utmgroup.co.za
Further reading:
Facial access control for ministry
Issue 1 2020, ZKTeco , Access Control & Identity Management
The Ministry of Culture in Saudi Arabia has adopted ZKTeco's facial recognition technology and fingerprint biometrics to manage access control into its building.
Read more...
---
New Door Pilot app from dormakaba
Issue 1 2020, dormakaba South Africa , Access Control & Identity Management
With new dormakaba Door Pilot, automated doors can also now be operated on the basis of remote control technologies. The system, comprising the Door Pilot app for smartphones and a Wi-Fi interface for ...
Read more...
---
Identity lifestyle
Issue 1 2020, Suprema , Access Control & Identity Management
Once the technology of the future, biometrics has quietly snuck into our daily lives through smartphones and access controls into our places of work.
Read more...
---
Securing BP's new head office
Issue 1 2020, ISF SFP , Access Control & Identity Management
ISF SFP was awarded the contract to secure the first development phase for Oxford Parks, the new head office for BP South Africa.
Read more...
---
Combining aesthetics and access control
Issue 1 2020, Turnstar Systems , Access Control & Identity Management
Prestigious law firm Bowman Gilfillan recently upgraded its physical security with the addition of four Turnstar Speedgate Express access control lanes.
Read more...
---
Video doorbells from Ring
Issue 1 2020 , Access Control & Identity Management
Ring has a number of video doorbells available in South Africa that run off batteries or power and enable users to answer their doors from anywhere.
Read more...
---
Centurion to unveil new product
Issue 1 2020, Centurion Systems , Access Control & Identity Management
Centurion Systems will be hosting its third Access Automation Expo this year, with dates confirmed for Durban, Johannesburg and Cape Town.
Read more...
---
Looking ahead with mobile access technologies
Access & Identity Management Handbook 2020, Technews Publishing, HID Global, dormakaba South Africa, Salto Systems Africa, Suprema, Gallagher , Access Control & Identity Management, Integrated Solutions
Given the broad use of smartphones around the world and the numerous technologies packed into these devices, it was only a matter of time before the access control industry developed technology that would ...
Read more...
---
Mobile access is more secure than card systems
Access & Identity Management Handbook 2020 , Access Control & Identity Management
The ability to use mobile phones as access credentials is one of the biggest trends in a market that historically has been slow in adopting new technology.
Read more...
---
This is the future. This is what we do.
Access & Identity Management Handbook 2020, ZKTeco , Access Control & Identity Management
ZKTeco has created a unique range of visible light facial recognition products combined with a flexible Android platform.
Read more...
---