printer friendly version
State of the access control market
October 2012
Access Control & Identity Management
The access control market has evolved consistently over the last five to eight years, with new solutions being introduced that have taken technology originally designed for the commercial market and making it viable for the small business market. Easier to install solutions that can now be managed by the end user, improved integration between systems from different manufacturers and the introduction of mobile apps are just a few of the recent developments.
In this article, Scott McNulty, product manager for Kantech, a Tyco Security Products brand, answers a few questions about the changing access control landscape, what these changes mean for dealers.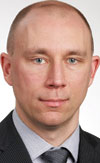 Scott McNulty
What are some of the latest and most innovative developments to happen in the access control market?
Scott McNulty: Integration has been and continues to be one of the biggest topics in the access control market. People want to see more and more integration between their access control system and all kinds of other applications used, not only to secure their buildings, but to run their business. Those applications can include integration of security platforms, such as security access control with video or intrusion, as well as human resources systems, fire systems, time and attendance systems and systems that control logging into computers. It is currently a very big trend amongst manufacturers to trade SDKs (software development kits) and to enable linking systems together.
Who is driving integration?
McNulty: This trend is primarily being driven by the end user who wants simplicity, but the security industry as a whole has embraced this movement and integrated solutions are becoming the norm versus the exception.
How has this evolved?
McNulty: Previously you had an intrusion system, a card access system and a video surveillance system and you managed three separate systems without any interoperability. In fact, in many cases you would have three separate monitors on your desk. Where we are going is now you have more information in one central location and each solution is linked together, making the data easier to manage.
How long has this been happening?
McNulty: An integrated system is not a new concept. A decade ago, systems were 'bolted' together, but it was rather clunky. Within the last two years, technology has evolved to allow a more seamless integration. The shift is thanks to more manufacturers being willing to offer their SDKs and make their systems more open. In the past, you had to use one brand of camera with the same brand of recorder and the same brand of software. Today, you can use a camera from one manufacturer with a recorder form another company. Manufacturers today are recognising this is where the market has to go.
How has the perception of access control changed in the last few years?
McNulty: Years ago, access control systems, and particularly integrated solutions, were not regarded as either being easy to install for the integrator or intuitive to manage for the end user. It is important to make it as simple as possible for the integrator and the end user. The integrator wants to offer a competitive price, then easily install the system to get in and out, while the end user needs a reliable security system, that allows him to present his card and walk through a door without any hassle.
How are mobile apps changing access control?
McNulty: Mobile apps are generating a lot of interest and they have the wow factor. People are excited about mobile apps and, as a result, when you offer an access control system that offers a mobile app component it helps a dealer close the deal. With most mobile apps, people can lock or unlock doors and monitor their system. That is the basic stuff. Our recently introduced EntraPass Go takes it a step further to include every function that is important to the end user, such as deleting a card if an employee is let go or generating reports and remotely sending them to the appropriate staff person.
Beyond software, cards and readers, what new solutions have been developed in the access control field?
McNulty: One new development is an all-in-one integrated server comprised of access control, IP video surveillance and intrusion with one common interface. This simplifies the process for the end user because it is a secured, tucked away box that is protected from viruses and integrated with other systems. Kantech's Intevo provides an integrated security platform based on EntraPass software and includes American Dynamics IP video management software and DSC intrusion alarm integration – managed in a single user interface. The benefit of this for the installer is the simplicity of a plug-and-play appliance that is already integrated. For the end user it is the ease of use of having one common interface.
How has the access control sale evolved?
McNulty: The sales cycle for access control has changed quite a bit in the last 10 years. It used to be quite long because, generally, only larger buildings implemented access control systems, so it was a long process because of the size and cost. The sales cycle has become shorter with the introduction of smaller and less expensive access control systems, meaning that an integrator can turn around a project within a shorter period of time. Today, card access is accessible to a much larger market, making access control a beneficial investment for the systems integrator and end user alike.
For more information contact Tyco Security Products, +27 (0)82 566 5274, emallett@tycoint.com, www.tycoacvs.com
Credit(s)
Further reading:
HID addresses identification challenges at ID4Africa
August 2019 , News, Access Control & Identity Management, Government and Parastatal (Industry)
Being able to verify people's identities is critical for a nation's growth and prosperity and yet HID says nearly half of all African citizens can't prove who they are to vote, travel freely and receive government benefits and services.
Read more...
---
Came acquires Turkish company Özak
August 2019, CAME BPT South Africa , News, Access Control & Identity Management
Came broadens its market horizons and signals growth and consolidation in the Middle East.
Read more...
---
The benefits of electronic visitor management
August 2019, Powell Tronics , Access Control & Identity Management, Residential Estate (Industry)
Access control is a critical aspect of estate security as it represents the controls put in place to restrict entry (and possibly exit) along the outer boundary of the location.
Read more...
---
Addressing risks by means of access control layout and design
August 2019 , Access Control & Identity Management, Security Services & Risk Management
In order to develop a suitable, practical and appropriate security system for any organisation, it is essential to first develop a master security and life safety plan strategy.
Read more...
---
Secure hands-free access
August 2019, Suprema , Access Control & Identity Management, Residential Estate (Industry)
Suprema's facial biometric terminals bring no-touch access into secure residential estates, high-rise apartments and luxury homes providing fast, easy and intuitive user authentication with the added benefit of hygiene.
Read more...
---
MorphoAccess Sigma Extreme
August 2019, IDEMIA , Products, Access Control & Identity Management
MorphoAccess Sigma Extreme from IDEMIA is a touchscreen device with multiple recognition device interfaces (NFC chip reader, PIN and BioPIN codes, contactless card readers).
Read more...
---
Outdoor access terminals
August 2019, Suprema , Access Control & Identity Management, Residential Estate (Industry), Products
Rugged, dust- and weather-proof access control solutions that provide exceptional durability in extreme conditions is a strong requirement for many residential estates.
Read more...
---
MorphoWave Compact
August 2019, IDEMIA , Products, Access Control & Identity Management
The MorphoWave Compact captures and matches four fingerprints on either the right or left hand in any direction. It is robust to environmental factors such as extreme light or dust.
Read more...
---
MorphoAccess Sigma Lite
August 2019, IDEMIA , Products, Access Control & Identity Management
IDEMIA's MorphoAccess Sigma Lite and Lite + are fingerprint access control terminals, offering time and attendance in and out function keys.
Read more...
---
Eliminating forced gate opening scenarios
August 2019, ET Nice , Home Security, Access Control & Identity Management
When activated by the gate forced open alarm feature, the transmitter transmits a wireless alarm signal up to 750 metres in any direction.
Read more...
---