printer friendly version
FS Systems partners with CaptureTech
June 2017
Asset Management, EAS, RFID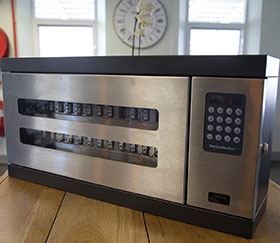 FS Systems has launched CaptureTech, a key and asset management solution, to the South African market. CaptureTech was founded in 1999 and produces a range of key management products based on Ultra-High Frequency (UHF) Radio Frequency Identification (RFID) technology.
The company's products are scalable, from so9lutions designed for 12 keys up to thousands of keys. Using RFID, users can easily locate keys in a cabinet and the system will also notify the relevant people if keys have not been returned. There are various products available, as described below.
KeyConductor is a solution for key storage management. Essentially it is an electronic key cabinet. The KeyConductor is available with barcode scanning or with RFID and is designed on the basis of horizontal blades. A blade is a metal strip containing the KeyConductor technology with 12 key positions. Various cabinet sizes with different numbers of blades are available.
KeyConductor allows for automatic key issuing and collection, no human supervision is required and it can be integrated with the customer's existing proximity card and/or swipe card system.
The KeyCop is a sealed intelligent key ring for one or more keys. Its purpose is to enable users to keep track of all the organisation's keys, to improve security and to reduce costs. KeyCop is equipped with the latest RFID technology and allows for the simultaneous issue and collection of multiple keys and/or KeyCops.
The KeyCaptor is a RFID tracking and tracing solution for the banking and cash-in-transit sectors. It is an intelligent cabinet using smart KeyCop key rings for 100 percent effective key registration, countering fraud and theft. The system identifies and weighs KeyCops for identification, registration and to ensure no fraud or theft of one or more keys can occur.
See more at https://www.youtube.com/watch?v=NXxkTcItD2g.
For more information contact FS-Systems, +27 (0)21 685 1111, enquiry@fs-systems.co.za, www.fs-systems.co.za
Credit(s)
Further reading:
Scanning for gold
Issue 8 2020, Saflec , Asset Management, EAS, RFID, Products
The metal detection market is such that customers looking for a specific point solution are becoming a rarity and the primary desire is for a solution.
Read more...
---
Ensuring the secure flow of information
Issue 9 2020 , Asset Management, EAS, RFID
The recent leak of two matric exam papers and arrest of a suspect has raised renewed concerns over security and data leaks within a corporate and public organisation environment.
Read more...
---
Information keeps the trucks rolling
Issue 9 2020 , Asset Management, EAS, RFID
Elite Truck Hire harnesses the power of information to optimise its business and prevent fraud with FleetDomain.
Read more...
---
Circular economy offers cost savings
Issue 7 2020 , Asset Management, EAS, RFID
Circular economy initiatives help businesses keep technology assets in use for longer, extracting the maximum value from those electronics while in use.
Read more...
---
IoT is transforming the mobility space
Issue 7 2020 , Asset Management, EAS, RFID
Technology is no longer a grudge purchase, but an indispensable part of modern business, especially in the mobility and transport sector.
Read more...
---
Adapting the supply chain to the new normal
Issue 8 2020 , Asset Management, EAS, RFID
The supply chain, particularly in the Fast-Moving Consumer Goods (FMCG) industry and especially in South Africa's main or informal market, needs to make use of mobile technologies.
Read more...
---
Reduce fleet challenges with video telematics
Issue 7 2020 , Asset Management, EAS, RFID
Using a video telematics system can take your fleet into a new domain of safety, efficiency, productivity and cost cutting.
Read more...
---
Argility showcases SkyData IoT Platform
Issue 6 2020 , Asset Management, EAS, RFID
SkyData, a device agnostic IoT cloud platform, is transforming asset and resource monitoring and management.
Read more...
---
IoT security seal
Issue 4 2020 , Asset Management, EAS, RFID
With the current lockdown and ports operating at reduced capacity, the need for automation has been taken to a new level.
Read more...
---
Managing outputs, attendance and time
Issue 5 2020 , Asset Management, EAS, RFID
What started out as a great idea to bring structure, order, measurement and accountability to fieldwork, has virtually overnight turned into an indispensable tool.
Read more...
---