printer friendly version
Protect your business's most important assets
October 2012
Integrated Solutions
Access control is a vital aspect of any security solution. However, in today's technologically connected world it has evolved to include so much more than simply permitting certain people into certain areas. 'People flow' is the next generation of access control technology, offering solutions that enable enterprises to organise the movement and flow of people throughout a premises, building or site. This not only helps you to protect your site, your property and your information onsite, but also your most important asset – your people.
People flow solutions are all about securing the assets of a business, rather than simply securing certain areas. By incorporating intelligence and by designing solutions to meet the specific needs of individual enterprises, people flow solutions help to improve productivity and ensure people's safety. From mines where people should not be allowed in certain areas while blasting is happening, to factories that require people to be evacuated when dangerous chemicals are used, to standard offices that need to know who is in the building, where and when at any given time in case of fire or other emergencies, people flow solutions help to make people safer.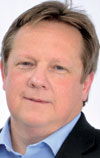 Marius Maré
Jasco Security Solutions are experts at designing, building and integrating people flow solutions that work for businesses, regardless of industry and in a product and brand-agnostic fashion. We do not just install products, or supply access control or CCTV. We integrate security technology systems to ensure that they work optimally together, and to ensure that solutions deliver maximum value and benefit for all of our customers.
We believe that access control is a primary technology that should interface seamlessly into other security environments, including CCTV, fire detection, intrusion detection and even public address systems, to ensure that maximum functionality is obtained. Using these systems, we create people flow solutions that decrease the risk of unwanted individuals on your site or in your building, and allow you to accurately monitor both staff and visitors.
We have many years of experience in the security industry, and have watched technologies grow and change. This has given us depth of experience and taught us valuable lessons, including the value of listening to our customers. Long before we start designing systems we listen and evaluate the customers' needs. We then work with our customers to understand and accurately define their needs, so that we can design and build the right system to meet them.
We can integrate and install any access control solution, regardless of the vendor or brand, from biometrics to cards to smartcards, and integrate these into existing systems or any new systems you may require, so we can make sure that our solutions not only fit your needs but your budget as well.
Backed by the offerings of Jasco Industry Solutions as well as our other security offerings, we can integrate security and fire solutions with building management controls. By harnessing the power of building management systems, people flow and access control can become ever more intelligent, turning off lights and heating when people leave rooms and locking the doors automatically when the building or site is empty. We can also integrate security with power quality and power assurance solutions to help secure and protect mission-critical business technologies such as the data centre.
As part of the Jasco Group, we can also leverage solutions across ICT and Energy, supplying the physical cables along with the IT and telecoms infrastructure that enterprises need to make their business work. Today's technology relies on connectivity, and security, access control and people flow solutions are no different. From the backbone and connectivity, to contact centres and applications, right through to access and security, the Jasco Group supplies it all, offering true converged end-to-end technology solutions.
Security is critical for protecting your business, but security is no longer a standalone facet of the organisation. Today, security solutions and access control need to integrate into a host of other systems and solutions to ensure adequate protection. Jasco Security Solutions, as part of the Jasco Group, offers the holistic, all encompassing solutions tailored to meet the individual needs of each and every one of our clients.
For more information contact Jasco, +27 (0)11 894 7127/8, mmare@multivid.co.za, www.jasco.co.za
Credit(s)
Further reading:
A customised solution for backup power
August 2019, Specialised Battery Systems , News, Integrated Solutions
Specialised Battery Systems designed and implemented a bespoke solution for Stallion Security Electronics to deploy at almost any site.
Read more...
---
Augmented security with drones
August 2019, Drone Guards , Editor's Choice, Integrated Solutions
Drone Guards is moving into an untapped market of using drones to secure residential estates and other high-value assets such as mines, farms and commercial properties.
Read more...
---
10 things to consider when shopping for a VMS
August 2019, Genetec , CCTV, Surveillance & Remote Monitoring, Integrated Solutions
Today's video management systems (VMS) provide a wide range of tools and capabilities that help make security personnel more efficient by allowing them to focus on what really matters.
Read more...
---
Residential security – caveat emptor
August 2019, Stafix , Integrated Solutions, Security Services & Risk Management
When it comes to improving your property's security, make sure you take all the options into account as you build a layered approach to keeping people safe and assets secured.
Read more...
---
End-to-end security solutions for residential estates
August 2019, Elvey Security Technologies , Integrated Solutions, Residential Estate (Industry), Products
While there are a multitude of security options available for residential estate body corporates, unfortunately the solutions are not always able to integrate seamlessly, resulting in a hotchpotch of disparate systems.
Read more...
---
Integrated residential estate surveillance
August 2019, Forbatt SA , Integrated Solutions, CCTV, Surveillance & Remote Monitoring, Residential Estate (Industry)
Integrated solutions bring the best-of-breed out of each technology to give personnel all the tools they need for access control management and security.
Read more...
---
From fog to foxes
August 2019, Axis Communications SA , Perimeter Security, Alarms & Intruder Detection, CCTV, Surveillance & Remote Monitoring, Integrated Solutions
What makes radar devices so valuable is the fact that they can provide a high range of accurate data while barely relying on external factors, such as weather or light.
Read more...
---
Communications management within your security platform
August 2019, Genetec , Integrated Solutions, Residential Estate (Industry)
In the physical security industry, communications management systems, such as intercom solutions, are becoming an integral part of developing effective and comprehensive security strategies.
Read more...
---
The hidden claws of proof of concept
August 2019 , Editor's Choice, Integrated Solutions
Proof of concept is a proven methodology for testing new technologies, but it isn't perfect, and it can be more of a hindrance than a help.
Read more...
---
Local manufacturing – challenges and opportunities
August 2019, Centurion Systems, Technoswitch, ZYTEQ Fire , Integrated Solutions
Local companies manufacture a diverse range of products for the security industry, and although they face challenges, there are opportunities out there too.
Read more...
---