printer friendly version
Integrated mobile surveillance
June 2017
CCTV, Surveillance & Remote Monitoring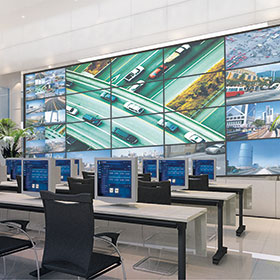 When it comes to mobile surveillance options, there are many product choices in the market, each with their own unique selling point. Unfortunately, an effective mobile solution is made up of many parts and all of these need to be seamlessly integrated if the solution is to deliver the value required.
With the development of 3G/4G and latest wireless networks, the era of truly mobile video surveillance is now possible. Kedacom, represented locally by Forbatt SA, is constantly incorporating new technologies into its products to expand the scope of mobile video surveillance. Some practical applications of Kedacom mobile video surveillance systems have been in crisis management, combat commands, public safety, security patrols, private security and in industrial sectors.
The Kedacom Vehicle Mobile System (KVMS) contains powerful video processing capabilities and robust mobile network ­adaptability. It incorporates in-vehicle NVR, PTZ cameras, fixed cameras, a control PAD, vehicle-mounted brackets with shock absorbers and a device box. This system can be deployed in any patrol car, fire truck, emergency vehicle, bus and similar vehicle. The video and audio can be viewed by those in the vehicle, or quickly and securely uploaded to a command centre.
Mobile cameras
There are three basic camera ranges Kedacom offers for mobile surveillance. The dual-sleeve vehicle PTZ IR camera can operate consistently with its shock-proof design. The 360° camera rotation function and 20x optical zoom allows for monitoring of vast areas. This camera is equipped with a super low illumination sensor with which it can acquire images in colour at only 0.003 lux. Further, 120 dB ultra WDR is supported for light distribution for consistent, high quality imaging. The Infrared functions at distances of up to 200 metres at night.
The Magnetic PTZ IR camera can be mounted on the top of vehicles via five powerful magnets in its base. The high capacity built-in battery delivers 8-hour long operation, while its embedded Wi-Fi module requires no cables. A conventional vehicle can be transformed for surveillance with high-quality video acquisition and transmission capability simply by attaching the magnetic camera. With four embedded IR light units and a super low illumination sensor, distances of up to 60 metres can be monitored at night.
There are also a variety of fixed cameras which can be installed within or outside vehicles. These fixed cameras feature IR and a wide Field of View (FOV) capability. They are rated IP66 for weather protection and have a vandal-proof design, among other characteristics. An embedded high-fidelity microphone allows the cameras to acquire sound signals within a 5-metre diameter.
Transmitting video and data
Conventional video surveillance systems frequently experience difficulties when transmitting data through 3G/4G and Wi-Fi networks because of issues like data packet loss, high latency and jitter. To overcome these shortcomings, Kedacom developed the Kedacom Wireless Transmission Protocol (KWTP).
This protocol constantly monitors the network and dynamically adjusts key internal settings, enhancing video streaming (data packet size and transmission frequency) in real time. This allows KVMS to provide continuous and stable real-time video streaming and keeping communication between the command centre and vehicle consistent and reliable.
Storing and viewing
The KDM2410M-V21 is a vehicle-mounted device which can either emulate an NVR to view IP-based camera streams, or it can be used as a wireless encoder for analogue camera access. It can connect, manage and record videos from up to 4 IP-based and analogue cameras simultaneously.
Cameras are connected either through its combined aviation plug or embedded Wi-Fi. A stable physical connection is assured with an aviation plug even when vehicle is being driven on bumpy roads. The combined aviation plug not only supports Ethernet and analogue cameras interfaces, but it can also feed power to all cameras.
The KDM2410M-V21 has a compact design which can be installed in the place of a vehicle CD player, which is also aesthetic and saves space.
These products are only the start of the full Kedacom mobile solution. The company also offers in-vehicle viewing and controlling of cameras. In addition, a full backend ­solution for command centres rounds out the Kedacom offering.
For more information, contact Forbatt SA, +27 (0)11 469 3958, sales@forbatt.co, www.forbatt.co
Credit(s)
Further reading:
Elvey partners with HALO
Elvey Security Technologies News CCTV, Surveillance & Remote Monitoring
Elvey Group has partnered with HALO Europe to provide Africa's first body-worn solution with zero upfront costs. This includes an IP68-certified body camera and a 4G-connected device.
Read more...
---
Regal announces new partnership
Regal Distributors SA CCTV, Surveillance & Remote Monitoring
Having a bird's eye view of your surveillance data, with the capability to drill down to the details obtained via connected security solutions, is a game changer for security operators, companies and even officers on the ground.
Read more...
---
Invisible connection and tangible protection via cloud
Dahua Technology South Africa Perimeter Security, Alarms & Intruder Detection CCTV, Surveillance & Remote Monitoring Products
Dahua Technology has launched its AirShield security solution that uses advanced, stable and reliable RF communication technology and cloud services, integrating alarm hubs, various detectors and accessories, with several software apps.
Read more...
---
Hikvision expands solar-powered solutions
CCTV, Surveillance & Remote Monitoring Products
Hikvision is offering a portfolio of solar solutions, the 4G solar-powered camera kit, a wireless bridge, and mobile solar security tower solutions to assist in keeping remote and isolated areas safe in a simple, practical, and cost-effective way.
Read more...
---
Affordable entry-level cameras from Dallmeier
Dallmeier Electronic Southern Africa CCTV, Surveillance & Remote Monitoring Products
Dallmeier has introduced the 'E' version of the DOMERA camera family, offering high image quality with 2 MP and 5 MP resolution, and providing detailed images even in low light conditions.
Read more...
---
The importance of the operator's frame of reference
Leaderware Editor's Choice CCTV, Surveillance & Remote Monitoring Security Services & Risk Management Mining (Industry)
The better the operator's frame of reference and situational awareness, and the more informed they are in dealing with CCTV surveillance in the mining industry, the more successful they are likely to be in surveillance.
Read more...
---
Enhancing surveillance on mines
Avigilon Technews Publishing Axis Communications SA Forbatt SA Hikvision South Africa Bosch Building Technologies Editor's Choice CCTV, Surveillance & Remote Monitoring Integrated Solutions Mining (Industry)
Smart Security approached a number of surveillance vendors to find out what the latest in surveillance technology is that can make a difference to security operations in mines, as well as general operations.
Read more...
---
Surveillance to improve worker safety
Axis Communications SA Mining (Industry) CCTV, Surveillance & Remote Monitoring Integrated Solutions
With substantial deposits of mineral resources, mining is critical for South Africa's economic growth and prosperity; however, mining can be dangerous, especially for the people working on the ground and in the shafts.
Read more...
---
Radar-video fusion camera
Axis Communications SA CCTV, Surveillance & Remote Monitoring Mining (Industry) Products
The AXIS Q1656-DLE Radar-Video Fusion Camera device brings video and radar analytics together in AXIS Object Analytics to deliver detection and visualisation.
Read more...
---
Centralised VMS for multiple sites
Mining (Industry) CCTV, Surveillance & Remote Monitoring
Dispersed mining operation relies on AxxonSoft for centralised video management as well as device health monitoring and the reliable distribution of analytics to various camera brands.
Read more...
---