printer friendly version
The Spotter container solution
June 2017 Perimeter Security, Alarms & Intruder Detection, IT infrastructure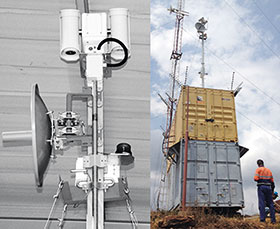 Secu-Systems' Spotter is a wide-area surveillance solution that uses thermal and visual surveillance cameras, as well as Panoptes MTI (Movement Target Indicators) software to set up a perimeter protection solution from well within the perimeter.
A world first with land-based MTI allows operators to see all targets on moving, full motion video, panned backgrounds or on pre-set positions, giving them complete piece of mind that all targets can be interrogated. The land-based MTI from Secu-Systems gets rid of expensive fences and allows complete coverage and situational awareness over extensively large areas 24x7.
The Spotter is fabricated in-house and designed for use in remote sites where there is little or no infrastructure. Spotter is targeted towards areas where there are large tracts of land to be covered, such as mining (illegal mining), forestry, fire detection, anti-poaching applications where a high-site is defined. A FLIR PT-Series camera or military specification FLIR PT-602CZ-R with both day/night and thermal capability is installed onto a pre-fabricated mast that is attached to the top side of the container – about 9 m from nominal ground level.
These systems offer a detection radius down to 2 x 2 pixels with Kestrel Land Based MTI, and allow complete situational awareness over 360 degrees, 24/7 and up to a radius of 6 km when using the PT-602CZ-R FLIR camera.
The entire Spotter container is secured against any would-be intruders via a number of applications, including high-pressure pepper gas systems. Spotter solutions are housed in self-sufficient containers fitted with their own power reticulation, which includes solar panels mounted to the roof of the container and battery banks installed within the container. Security systems are integrated with the camera solution and include wall-top and/or additional freestanding electric ­fencing with energisers operating off the internal power reticulation.
It also includes wireless communication back to a centralised control room (as long as line-of-site can be attained), and also allows complete housing of all equipment, along with additional security systems and wireless transmission equipment.
For more information, contact Secu-Systems, +27 (0)11 794 7834, charles@secusystems.co.za, www.secusystems.co.za
Further reading:
Matt De Araujo joins Ajax Systems
Ajax Systems News Perimeter Security, Alarms & Intruder Detection
Matt De Araujo has joined Ajax Systems as Head of Sales in sub-Saharan Africa with a goal to strengthen the local team and exceed expectations.
Read more...
---
RDC expands its production capabilities
Radio Data Communications Perimeter Security, Alarms & Intruder Detection Products
Local electronics manufacturer, RDC, recently acquired a new SMT (surface mount technology) machine to boost its manufacturing output and meet the needs of its global customer base.
Read more...
---
Invisible connection and tangible protection via cloud
Dahua Technology South Africa Perimeter Security, Alarms & Intruder Detection CCTV, Surveillance & Remote Monitoring Products
Dahua Technology has launched its AirShield security solution that uses advanced, stable and reliable RF communication technology and cloud services, integrating alarm hubs, various detectors and accessories, with several software apps.
Read more...
---
Smart buildings require smarter networks
Commercial (Industry) IT infrastructure
The smart building is not a new concept, but it's more than just four walls built sustainably, but a network that interconnects people, processes, data, and things. Lots and lots of things.
Read more...
---
VMware unveils new security capabilities
Cyber Security IT infrastructure Products
At the RSA Conference 2023, VMware unveiled enhanced features for its suite of security solutions to address the increasing sophistication and scale of cyberattacks and to deliver strong lateral security across multi-cloud environments.
Read more...
---
Complex, but critical partner in security
Technews Publishing Bidvest Protea Coin Editor's Choice Integrated Solutions IT infrastructure Mining (Industry)
Smart Security looks at how drones can be applied effectively in mine security operations. The ability to quickly gain a birds-eye view of a situation, whether security, safety or operational in nature, makes drones a significant value-add to mines.
Read more...
---
Protecting perimeters and open spaces
XtraVision Perimeter Security, Alarms & Intruder Detection
XtraVision provides some insight into the use of drone technology with the SAMM Fotas fibre detection systems to secure perimeters and other remote assets and locations.
Read more...
---
5G and IoT set to transform mining
Mining (Industry) IT infrastructure
BCW Wireless delivers significant enhancements in worker safety and business productivity at the Nungu Mine in Elandspruit, with 5G wireless-enabled technology instantly addressing a wide range of challenges faced by the mining industry.
Read more...
---
Perimeter intrusion detection
Dark Horse Distribution Perimeter Security, Alarms & Intruder Detection Mining (Industry) Products
Dark Horse Distribution offers Senstar's, above and below ground perimeter protection solutions, incorporating advanced algorithms to reduce false alarms while providing early warning of intrusion attempts.
Read more...
---
Off the grid and into the cloud
Mining (Industry) IT infrastructure
With over 200 days of load shedding in 2022, with blackouts likely to be the status quo for at least another two years, short-term solutions to reliable power services no longer suffice.
Read more...
---