printer friendly version
Johannesburg inner-city rebirth
June 2017
Access Control & Identity Management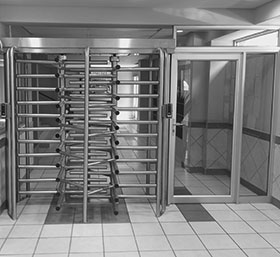 AFHCO started operating in the CBD in 1996 and remains the leading developer and investor in affordable housing and commercial property in the Johannesburg inner city.
"In the beginning, we found that developing properties in isolation (single units and small complexes) in the CBD wasn't working for us, so we started thinking bigger," said Brian Abrahams, the operations director of AFHCO. "We felt there was a huge base of people who earn around R6000 that weren't being catered for and we identified an opportunity to convert inter-commercial buildings into affordable residential buildings – that was the underlying idea.
"We started buying up buildings in various areas going through an urban renewal process and set up secure buildings, which help combat crime. That's how we began dealing with issues in the area rather than in isolation."
Through identifying profitable emerging trends in Johannesburg, AFHCO's strategic imperative of community development, social upliftment and targeted inner-city rejuvenation has resulted in the organisation managing over 6000 residential and commercial property units.
AFHCO's investments stand as a mark of quality in the rapidly developing Johannesburg city centre. Its residential units are secure, stylish and affordable and its retail space provides opportunities for a range of commercial traders.
"Providing quality accommodation for the people making up the lower end of the market gives residents dignity, which the old apartments couldn't provide and over the years I believe AFHCO has changed the lives of thousands of people," says Abrahams.
The primary problems with the buildings that existed before AFHCO developed them were that they were run-down and did not incorporate effective turnstile systems, such as the biometrically controlled ones installed through Flow Systems Manufacturers.
Referring to Flow Systems, Abrahams says "The service has been great and the installations have worked well for us. I can't really say I can fault them on anything; I recommend Flow Systems Manufacturers."
For more information contact Flow Systems Manufacturers, +27 (0)11 762 2565, info@flowsystems.co.za, www.flowsystems.co.za
Credit(s)
Further reading:
The AI knows best
Access Control & Identity Management
RBA makes use of the vast computing power of machine learning to analyse thousands of data points to determine how risky a transaction may be.
Read more...
---
Enterprise identity fraud prevention
Access Control & Identity Management
Trustmatic brings government-grade facial 1:N search capabilities to the cloud, supporting face deduplication and identification against watchlists, and providing seamless integration via REST API.
Read more...
---
Gallagher announces ISO 27001 certification
Gallagher News Access Control & Identity Management
Gallagher has announced it has achieved ISO 27001 accreditation, a standard that ensures organisations protect their information in a systematic and efficient way, through a comprehensive Information Security Management System (ISMS).
Read more...
---
Remote management of access points
Salto Systems Africa Access Control & Identity Management
SALTO BLUEnet Wireless has been developed to meet the demands of security and ease-of-use. This access control system is networked through Bluetooth RF and designed for doors where real-time control is required.
Read more...
---
Biometrics and breathalysers
Access Control & Identity Management
ERSBio partners with ALCO-Safe to incorporate alcohol testing into customised, intelligent time and attendance solutions.
Read more...
---
RealPass-N document reader
Suprema Access Control & Identity Management
A compact, multi-functional full-page document reader, Suprema's RealPass-N offers one-step scanning to capture images and data from multiple documents including ICAO Doc 9303 compliant eMRTD such as e-passports, e-visas, ID cards and barcodes.
Read more...
---
Contactless access control solution
LD Africa Access Control & Identity Management
The Matrix Cosec Argo Face offers advanced contactless user access in an all-in-one product composed of a door controller powered by facial recognition technology.
Read more...
---
ZKTeco Experience Centre
ZKTeco News Access Control & Identity Management
ZKTeco South Africa has opened the doors to its innovative and interactive space, the ZKTeco Experience Centre in Centurion, Pretoria and welcomes visitors to partake in the 'Powered by ZKTeco' experience.
Read more...
---
Touchless school access control
neaMetrics Suprema Editor's Choice Access Control & Identity Management Integrated Solutions Education (Industry) Products
Wolverhampton Grammar School deployed a Suprema access control solution, integrated with Paxton to resolve its legacy access control challenges.
Read more...
---
Visible light facial recognition
ZKTeco Access Control & Identity Management
The ZKTeco SpeedFace-V5L [TI] is a fully upgraded version of the SpeedFace-V5L [TD] visible light facial recognition body temperature detection terminal, supporting facial and palm recognition.
Read more...
---