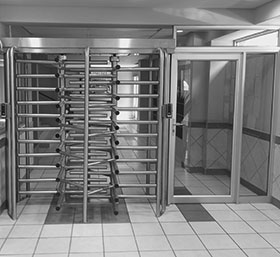 Johannesburg inner-city rebirth
June 2017, Access Control & Identity Management
AFHCO started operating in the CBD in 1996 and remains the leading developer and investor in affordable housing and commercial property in the Johannesburg inner city.
"In the beginning, we found that developing properties in isolation (single units and small complexes) in the CBD wasn't working for us, so we started thinking bigger," said Brian Abrahams, the operations director of AFHCO. "We felt there was a huge base of people who earn around R6000 that weren't being catered for and we identified an opportunity to convert inter-commercial buildings into affordable residential buildings – that was the underlying idea.
"We started buying up buildings in various areas going through an urban renewal process and set up secure buildings, which help combat crime. That's how we began dealing with issues in the area rather than in isolation."
Through identifying profitable emerging trends in Johannesburg, AFHCO's strategic imperative of community development, social upliftment and targeted inner-city rejuvenation has resulted in the organisation managing over 6000 residential and commercial property units.
AFHCO's investments stand as a mark of quality in the rapidly developing Johannesburg city centre. Its residential units are secure, stylish and affordable and its retail space provides opportunities for a range of commercial traders.
"Providing quality accommodation for the people making up the lower end of the market gives residents dignity, which the old apartments couldn't provide and over the years I believe AFHCO has changed the lives of thousands of people," says Abrahams.
The primary problems with the buildings that existed before AFHCO developed them were that they were run-down and did not incorporate effective turnstile systems, such as the biometrically controlled ones installed through Flow Systems Manufacturers.
Referring to Flow Systems, Abrahams says "The service has been great and the installations have worked well for us. I can't really say I can fault them on anything; I recommend Flow Systems Manufacturers."
For more information contact Flow Systems Manufacturers, +27 (0)11 762 2565, info@flowsystems.co.za, www.flowsystems.co.za