printer friendly version
T&A solution guide
Access & Identity Management Handbook 2013
Integrated Solutions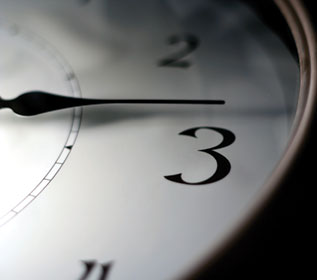 General
1.) Describe the solution in general: The client was experiencing problems with access control as well as calculating the payment of both contract and fulltime staff. Common issues included excessive overtime payment as well as buddy clocking and the onerous manual completion of timesheets.
EOHii devised a solution based on Safran Morpho biometric readers integrated into BESAccess and BESTime to ensure an end-to-end solution from EOHii.
The system is rolled out in phases. Rollout commenced early 2011 at the Germiston facility.
Challenges included the setting up of shifts as there are many variations available at the various depots. EOHii has deployed a permanent resource to the client to assist with not only system related functions, but also advice on a business and best practice capacity.
The result of the solution implemented is that millions in unaccountable overtime pay has been saved.
2.) In what industry sector was the solution implemented? Logistics
3.) Name of customer/user: TFD Network Africa
4.) Name of SI/partner: EOH Intelligent Infrastructure
5.) Name of Vendor/distributor: EOH Intelligent Infrastructure
6.) Primary biometric product used: Safran Morpho fingerprint readers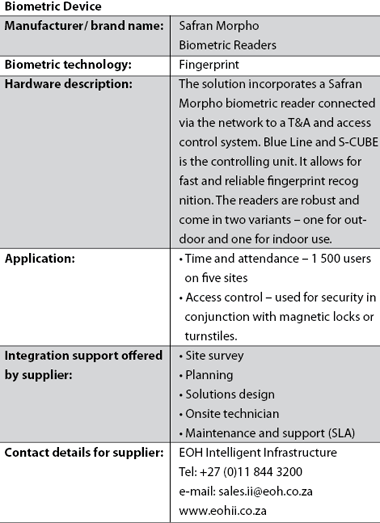 Customer/User
1.) Describe the solution installed and what were you hoping to gain from it: The solution incorporates a Safran Morpho biometric reader connected via the network to a T&A and access control system. Blue Line and S-CUBE is the controlling unit. It allows for fast and reliable fingerprint recognition. Needed to decrease issues with access control as well as better control of overtime pay.
2.) Which department was the primary driver behind the solution? Senior management.
3.) Did you integrate the solution with other access/identity management systems or other business processes (HR/finance/warehousing/etc.)? Integration to VIP Payroll system was required to ensure minimum user and manual information capture throughout the process. An interface back to the ERP system (drivers and vehicles) is currently underway and will be completed by March 2013.
4.) Which company did you select to handle the consulting, installation and maintenance of the solution? EOHii was selected for its proven track record in successful installations of similar solutions. Other contributing factors include: choice of product superiority, after-sales service, on-site support technician, SLAs and help desk.
5.) Has the solution delivered according to your expectations? Delivered beyond client expectations. Presence of EOHii onsite technical specialist is an advantage.
System Integrator
1.) What technology did you use in designing the solution? Various Safran Morpho biometric readers. MA100 for indoor use and MA500 for outdoor use; integrating to a variety of electronic locks and turnstiles. BESTime is a time and attendance program for calculating hours worked and exporting to VIP Payroll. BESAccess is an access control program.
2.) Why did you select the products you did? Perfectly suited and proven to the needs of the client. The Safran Morpho readers can integrate to most systems on the market. The software is flexible to accommodate customer-specific needs.
3.) What products did you integrate with? EOHii BESTime and BESAccess software as well as the turnstiles. This is all standard integrations for EOHii. The only issue was network and cable related, but this was resolved almost immediately.
4.) Was the original manufacturer/vendor/local distributor involved in the installation? What part did they play? Were you satisfied with their delivery? Yes – EOHii.
Vendor/Distributor
1.) What facilities/applications are available to support integration with these products? Permanent onsite technical team member from EOHii.
2.) What skills do you have onboard to assist partners in integration exercises? Information technology, software and database development; electronic hardware development and support. Networking infrastructure; high level support; service level agreements; helpdesk; rentals.
Further reading:
Vox expands managed services with Mimecast
October 2019, Vox Telecom , Integrated Solutions
Vox has added Managed Mimecast to its suite of managed service offerings to provide customers with a more effective way of safeguarding their emails against spam and malicious attacks.
Read more...
---
Digitising Maslow's Hierarchy of Needs
October 2019 , Integrated Solutions, IT infrastructure
Mobile technology has the potential to change how Africa approaches patient and healthcare, says Phathizwe Malinga, managing director, SqwidNet.
Read more...
---
Intelligent analytics and the brains to match
September 2019, Bosch Building Technologies , CCTV, Surveillance & Remote Monitoring, Integrated Solutions
What if the brains behind our security cameras could be trained to improve their cognitive ability to pay attention, learn, and problem-solve according to specific rules and situations?
Read more...
---
AI-powered autonomous Drone-in-a-Box
September 2019 , CCTV, Surveillance & Remote Monitoring, Integrated Solutions
Organisations in the mining, energy and industrial, oil and gas, ports and terminals sectors can optimise security and business operations, whilst reducing risks and operational costs
Read more...
---
A platform approach to innovation and value
CCTV Handbook 2019, Technews Publishing , Editor's Choice, CCTV, Surveillance & Remote Monitoring, Integrated Solutions, IT infrastructure
Moving to the platform model of doing business holds tremendous advantages for end users and smaller developers, but also for the whole technology supply chain.
Read more...
---
Open does not always mean easy integration
CCTV Handbook 2019, VERACITECH, Technews Publishing , Editor's Choice, CCTV, Surveillance & Remote Monitoring, Integrated Solutions
Customers who opt for best-of-breed solutions will have to rely on their integrators to develop customised integrated solutions for them.
Read more...
---
Video analytics and AI
CCTV Handbook 2019, Axis Communications SA, Dallmeier Electronic Southern Africa , Hikvision South Africa, Technews Publishing, Dahua Technology South Africa , Editor's Choice, CCTV, Surveillance & Remote Monitoring, Integrated Solutions
Artificial intelligence has the potential to deliver real benefits in the world of video analytics and many companies are already delivering customer benefits.
Read more...
---
Cloudy with a chance of AI
CCTV Handbook 2019 , Editor's Choice, CCTV, Surveillance & Remote Monitoring, Integrated Solutions
One local company has developed an AI solution that can be added to existing surveillance installations, offering 24-hour intelligence.
Read more...
---
Integration insights
CCTV Handbook 2019, Gijima Electronic and Security Systems (GESS), Technews Publishing, neaMetrics , Integrated Solutions
The security industry would be a vastly different place if installers and integrators were not able to make a range of different products work together.
Read more...
---
Video and audio analytics
CCTV Handbook 2019, Wisenet CCTV - Hanwha Techwin , CCTV, Surveillance & Remote Monitoring, Integrated Solutions
Viewing many monitors and cameras simultaneously can lead to an increased probability of missing critical situations due to viewing fatigue. Analytics has the answer.
Read more...
---