printer friendly version
Automating fire maintenance
June 2017
Fire & Safety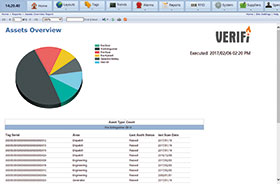 How often does one read in the media that large buildings, storage spaces or factories are destroyed in a fire? In most cases where the fire could not be contained it is reported that the fire detection and suppression system failed due to low water pressure, a lack of maintenance or another, equally avoidable problem.
Many companies have extensive fire safety systems that are not adequately maintained. To ensure that critical apparatus such as water pumps and firefighting equipment like hydrants and extinguishers are kept in working order, it needs to be monitored, inspected and maintained on a regular basis. Verifi aids the owner, manager, inspector and technician in keeping track of the current readiness of firefighting equipment.
The Sperosens Verifi system provides an encompassing, accurate, always-available status of various critical systems such as fire protection equipment.
Verifi monitors and reports the real-time status and fault conditions of vital equipment to users according to pre-set, customer defined parameters. The system keeps a log and reports on inspection and auditing data such as maintenance of fire extinguishers and hose reels. Customers can now be proactive by utilising reports on location, status and maintenance planning for such equipment.
In accordance with SANS requirements, the user can obtain electronic records of inspections and events. Real-time computer displays present a detailed overview of the entire facility including geospatial graphing, event logging, alarming, historic trends and reports. The Verifi system provides the user with peace of mind that the initial, massive investment in fire protection and other critical systems is preserved. Early warning is given to report faulty equipment and overdue inspections to prevent loss of property, loss of life, and loss of income.
Verifi measures parameters remotely and communicates the data to the cloud using Internet of Things (IoT) communication technology.
In-house or remote
Two options are available for the monitoring of equipment. The customer can perform monitoring in-house, or Sperosens can supply the service of monitoring and reporting on behalf of the customer. In the latter instance, pre-selected responsible employees will receive regular exception reports and critical alarms.
Firefighting equipment such as a hose reels or fire extinguishers are fitted with NFC tags that map to management information such as asset type, site, area, serial number and service interval. When equipment is serviced by using a smartphone with the Verifi Application installed, the technician is prompted to perform a list of checks relevant to the type of equipment and in accordance with SANS servicing requirements.
Other equipment such as fire panels, fire water pressure and flow, emergency pumps, fire door status, smoke and temperature are monitored with appropriate multi-purpose sensors and values are measured and transmitted by a combination of scheduled transmissions and event triggers.
In order for the system to monitor real-time values within a system, Verifi makes use of technology that enables it to monitor sensors that have been remotely deployed as far as 8 kilometres away (without any line-of-sight requirements), and without the need for a SIM-card or pre-registration. Remote devices can be configured to run on battery power, and can have a lifespan of up to two years.
Critical real-time monitoring
The flexibility and scalability of the Verifi system does not, however, stop at fire safety equipment. Some aspects of a system require real-time monitoring. Consider, for instance, a scenario where the temperature of a warehouse fridge is crucial to business continuity. It is important that the maintenance and operational status of the asset be monitored on a frequent basis. The site manager needs to know immediately when the critical system is failing or are about to fail. Verifi has a built-in, real-time monitoring engine, developed with rock Adroit SCADA technology, and almost anything that can be measured can be reported on.
System visibility
One of the core features of a scada system is to view the status of the system graphically. Verifi makes use of graphical views such as maps and floorplans in order to gain a high-level view of system status.
Alarms form another critical part of the system. As soon as a tag's alarm conditions are met, an alarm pop-up will be shown with more information. The alarm overview list will show a list of all alarms in the system, sorted by severity.
Reporting forms part of the backbone of any data-critical system.
The Verifi system makes use of Microsoft SQL Reporting Services in order to deliver real-time reports that offer critical insights. Reports can be tailor-made based on user requirements, but many reports are available by default.
Non-critical maintenance
Some aspects of a system do not require real-time monitoring. In these instances, fault conditions are handled off-line, and system criticality is not impacted. If we consider for example a fire extinguisher that needs to be serviced annually, we will realise that although important, it is not critical that an alarm be raised the instant a service is due. In this event, it will be appropriate to email the site manager a list of assets that require attention, or that need to be serviced in the immediate future. Verifi incorporates FlowCentric Processware technology in order for the system to monitor non-critical events.
For more information contact Marihette Hattingh, Sperosens, 086 177 3767, marihette.hattingh@spero.co.za, www.spero.co.za
Credit(s)
Further reading:
Maximum fire protection for the most dangerous places
Securiton Fire & Safety Mining (Industry) Products
Africa's heavy mining and resource processing industries are some of the continent's leading economic lights. They also present some of its toughest fire safety challenges on the planet.
Read more...
---
Preventing forest fires with digital intelligence
Dahua Technology South Africa Fire & Safety Products
Technologies such as dual-spectrum video monitoring, intelligent image analysis and recognition, and three-dimensional positioning, enable the smart system to detect a fire, quickly locate the fire source and automatically send alarm to on-duty personnel.
Read more...
---
Fire safety for solar systems
Fire & Safety
Several fire safety measures should be taken into account to prevent the risk of fires when installing a solar power system; firstly, solar panels must be installed by experienced professionals to prevent fires caused by faulty wiring or overheating.
Read more...
---
The importance of voice alarm integration with fire detection
TOA Electronics Fire & Safety
The primary purpose of a voice alarm system (or voice evacuation system) is for the safety of staff, the public, assets and property, ensuring effective, controlled and rapid evacuation of an area or building during an emergency by providing clear voice instructions to occupants.
Read more...
---
Kidde Commercial launches as new Carrier brand
Fire & Safety News
Kidde Engineered Systems has announced its new brand identity, incorporating the Aritech, Kidde Engineered Systems, Kilsen and Ziton brands rebranded as Kidde Commercial.
Read more...
---
DIY fire extinguisher
Fire & Safety News
A newly launched platform offers underserved communities an easy way to create cheap homemade fire extinguishers to help to tackle one of the biggest challenges in South Africa's informal settlements: the constant threat of fire.
Read more...
---
Technoswitch partners with UK's Hyfire
Technoswitch Fire Detection & Suppression News Fire & Safety Products
UK-based wireless fire technology pioneer Hyfire, has confirmed partnership agreements that will see its products sold in South Africa, for the first time, through local fire and safety stalwart, Technoswitch.
Read more...
---
Bespoke fire-risk systems for agri and food processing
Fire & Safety
ASP Fire highlights its specialised expertise in the agri and food-processing industries, where compliance is vital to save lives, reduce the costs of fire damage, and protect equipment and buildings from major damage.
Read more...
---
Incorporate fire safety in the design phase
Fire & Safety
ASP Fire CEO Michael van Niekerk says companies can prevent their infrastructure project from going up in flames by incorporating fire safety in the design phase.
Read more...
---
Fire-fighting force at Vergelegen
Editor's Choice Fire & Safety Residential Estate (Industry)
Vergelegen wine estate in Somerset West, and its neighbours, are set to enjoy greater peace of mind this summer, thanks to the delivery of a brand new fire truck .
Read more...
---