printer friendly version
Connecting social media
June 2017
IT infrastructure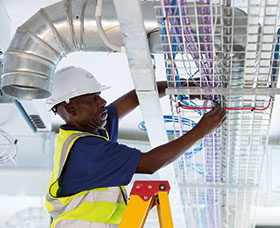 When a global social media giant took a strategic decision to open offices in South Africa, they appointed BT-SA as its local infrastructure partner. The client brief was that it sought to enjoy a global standard of service delivery, supported by internationally recognised and supported technology and services.
BT-SA's success in acquiring the contract rested on its ability to offer local maintenance and support, as well as comply with the social media company's global standards, from a technology infrastructure as well as aesthetic point of view, in the roll-out of its South African office.
In order to meet with the global standards requirements related to the ICT infrastructure installation, BT-SA needed to assure that it could comply with global standards. The company was provided with international training through every aspect of the project, training which ensured that the final product would match the aesthetics, culture and dynamic of the global company.
"The client has a very particular international recipe for infrastructure that needs to be adhered to in every region it is represented. The project timeline itself was also ­exceptionally tight," said Erik Jordaan, managing director at BT-SA.
As per the project scope, BT-SA was responsible for the building of the MDF (Main Distribution Frame) for the social media company. This also included the installation, labelling, testing and certifying of CAT6 data points for the entire project, as well as patching of data points to network switch equipment and supplying and installing all CCTV camera cabling required.
"The project was an incredible one for the BT-SA team to be involved in as it allowed us to really show how adaptable we are as a team," adds Jordaan. "We were exposed to a new approach to installations, allowed us to broaden our own skills set and enabled us to showcase that South African IT installers are of a global calibre.
"Because of our own approach to compliance, our adherence to international health and safety regulations, our zero-tolerance attitude towards the safety of our teams and the fact that we only use certified tools in our installations, we were able to meet and exceed the quality and compliance requirements of the client."
For more information contact BT-SA, 0860 105 183, sales@bt-sa.co.za, www.bt-sa.co.za
Further reading:
Supporting local manufacturing
Industrial (Industry) IT infrastructure
Smart Security asked Esenthren Govender, Solutions Executive at Technodyn for insight into how the company supports local manufacturing organisations to optimise their business.
Read more...
---
The last mile of load shedding
IT infrastructure
With a Stage 16 draft in place, and stage eight load shedding almost put into practice (although some say it's already here unofficially), it's important that individuals and organisations get ready for what might happen if the lights go out.
Read more...
---
Data storage has a power consumption problem
IT infrastructure
We store data with electricity, placing data onto magnetic mediums or altering electric charges inside flash memory, but all that reading and writing requires electricity, which is becoming more expensive as supply crumbles.
Read more...
---
Veeam introduces new competency programme for partners
IT infrastructure News
Veeam Competency Programme for Veeam Value-Added Resellers and Veeam Cloud & Service Provider partners offers enhanced solution-oriented training and go-to-market capability development that increase credibility and visibility in the local marketplace.
Read more...
---
End the scourge of solar panel theft
Guardian Eye IT infrastructure Security Services & Risk Management
Modern solar installations are designed so they can be put together very quickly, but this means they can also be dismantled very quickly, and so there has been a massive spike in the theft of solar panels from roofs.
Read more...
---
Smart buildings require smarter networks
Commercial (Industry) IT infrastructure
The smart building is not a new concept, but it's more than just four walls built sustainably, but a network that interconnects people, processes, data, and things. Lots and lots of things.
Read more...
---
How international cloud trends impact Africa
Technews Publishing IT infrastructure
Enterprises are realising that hyperscale cloud is better suited to development and not everyday business, while the bills have also grown significantly as their cloud needs have become more complicated and sprawled.
Read more...
---
VMware unveils new security capabilities
Cyber Security IT infrastructure Products
At the RSA Conference 2023, VMware unveiled enhanced features for its suite of security solutions to address the increasing sophistication and scale of cyberattacks and to deliver strong lateral security across multi-cloud environments.
Read more...
---
Beyond the blackout
IT infrastructure Security Services & Risk Management
Julian Liebenberg, Chief of Cloud Platform Solutions at BCX discusses why cloud solutions are the future for large enterprises when dealing with the economic and productivity consequences of load shedding.
Read more...
---
AIOps-driven cloud management
IT infrastructure Products
Next generation of HPE Aruba Networking Central paves the way for the era of AI-powered network management; 'Agile NaaS' strategy simplifies delivery of critical network services via HPE GreenLake.
Read more...
---