printer friendly version
ROI from visitor management?
June 2017
Access Control & Identity Management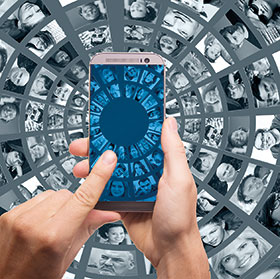 Electronic visitor management systems are generally placed in the same category as other security systems – a cost centre. However, the benefits which can be derived from deploying an appropriate card/biometric reader and software far outweigh the initial investment cost.
According to John Powell, CEO of Powell Tronics, topping the list of advantages ­provided by electronic visitor management systems is the accuracy of traceability of ­visitors. Neither businesses nor residential estates desire the uncontrolled passage of unverified visitors through their entry points. It is therefore beneficial to more uniformly and correctly record visitor information using a visitor management system by employing one or a number of mechanisms such as scanning of an identity document/driver's licence, as well as the vehicle's licence disc and the registration plate.
Given the system's ability to allow pre-­registration of visitors, personal information can be added to the system ahead of time, thereby reducing the time required to process the visitor on site. By adding a licence plate, identity document/driver's licence or vehicle licence disk scanner to the equation, the time taken for visitors to legitimately enter premises is further reduced. This eliminates bottlenecks and tailgating.
The electronic system will allow for the storage of visitor information in a secure computer database. This in turn allows management to search, sort, analyse, and retrieve data and to identify trends. In the event of an evacuation or other emergency, reports can be printed with the touch of a button. This lets management/security quickly identify all non-employees/residents on the premises and this can be passed to emergency personnel so they know who is still in the building or on the estate.
Detractors would argue that electronic visitor management systems come with their own set of negatives. One of these could be posited as the necessity to train security personnel, building staff, and visitors. Powell, however, says that the quality of guards being used at main entrances to upmarket estates is definitely improving, with end users insisting on a higher graded guard than previously stipulated, thereby obviating the need for extensive training.
"Typically, training should take no more than an hour, even with a high turnover in guards. In spite of this turnover, the security manager is normally a constant so they can be made responsible for training the new guards."
Another commonly cited complaint is that there are now more elements (hardware and software) which could possibly malfunction. The same could be said for pages that go ­missing from visitors' books. Powell argues that the visitor management hardware and software can be likened to the guard's cellphone. "If they treat the system properly, once it is installed and up and running, they shouldn't have a problem. Most problems we have experienced are network related and not related to our hardware or software."
On the identity theft and data protection front, Powell Tronics' systems comply with the PoPI Act, with a non-disclosure document being displayed on each of the readers deployed by the company provided as an option. It must be noted though that it is ultimately the responsibility of the estate to password protect the information and not to give unauthorised personnel access to this information.
"It is clear that the benefits far outweigh the supposed disadvantages of electronic visitor management systems. Powell Tronics can reference a number of residential and business estates that have reaped the payback associated with these systems," says Powell.
Further reading:
Improved security health check tool
Gallagher Access Control & Identity Management Products
Gallagher Security has streamlined its free Security Health Check tool, making it easier than ever to protect against potential system risks and improve business efficiencies.
Read more...
---
Suprema showcases integrated security solutions
Suprema Access Control & Identity Management Products
Apart from being an access terminal that supports multiple credentials such as facial recognition, RFID, mobile and QR codes, the BioStation 3 also supports VoIP Intercom and real-time video monitoring features to make it a truly multi-functional reader.
Read more...
---
Local electronic locks
Access Control & Identity Management
YeboTech is an electronics manufacturing company, founded in 2005, which designs, markets and sells an electronic key and locking systems, aimed at replacing all conventional mechanical locks.
Read more...
---
Selecting the correct access control system
Enkulu Technologies Access Control & Identity Management
Frazer Matchett, Managing Director of Enkulu Technologies, suggests the right questions to ask when selecting an access control solution; not just the access system, but the integrated solution that fits your requirements.
Read more...
---
Integrated guarding services
XtraVision Integrated Solutions Access Control & Identity Management Industrial (Industry)
XtraVision offers a few tips on how to go about planning and setting up an integrated approach to sustainable and successful security services, from the initial risk assessment to the technology and people required.
Read more...
---
Paxton secures multi-tenant office in Cape Town
Paxton Integrated Solutions Access Control & Identity Management Products
Cecilia Square in Paarl, Cape Town is an office building from where several businesses operate. The multi-tenant site has recently undergone a full refurbishment, including a complete upgrade of its security system for access control.
Read more...
---
AI face recognition OEM module
Suprema News Access Control & Identity Management Products
Suprema AI, a company specialized in artificial intelligence–based integrated security solutions, recently launched its high-performance face recognition OEM module called 'Q-Face Pro' in response to the growing need for contactless security solutions.
Read more...
---
KWAL raises a glass to security upgrade
Turnstar Systems Access Control & Identity Management Products
The Kenya Wine Agencies Limited (KWAL) was in need of an integrated security upgrade. This is where Turnstar came into the picture to provide a solution that would keep KWAL secure and efficient.
Read more...
---
Dahua Insider Series for touchless access
Dahua Technology South Africa Access Control & Identity Management Products
The Insider Series Access Control Solution offers touchless access (via Bluetooth) using the DMSS mobile app; it has three distance modes and two trigger modes (normal and shake).
Read more...
---
Time and attendance with a difference
Access Control & Identity Management
The Platinum Mobile app allows employers to track employees work hours, location, leave and more, when employees do not have access to the office clocking terminal, are onsite or out in the field visiting clients.
Read more...
---