printer friendly version
EOH Intelligent Infrastructure delivers smarter mining solutions
Access & Identity Management Handbook 2013 Integrated Solutions, Mining (Industry)
The mining industries requirement regarding workforce management has evolved from standalone systems to fully integrated turnkey solutions. These solutions are now required to cover all aspects of workforce management from pre-engagement, engagement, value add while employed, payroll and third-party systems integration with health and safety being a priority throughout all these processes. EOH Intelligent Infrastructure Technologies continues to deliver and further develop innovative solutions by integrating existing onsite infrastructure with new technologies to answer the industry's needs.
"A start-to-end solution, based on a single configurable database that is capable of talking to an entire platform and incorporating all of the essential technologies, such as biometrics, asset tracking, surveillance and so forth, is the main focus of our activities," explains EOH Intelligent Infrastructure Workforce Technology Lead, Glen Baptiste. The broad skill set available within EOH means that all workforce related functions, such as health management, absenteeism, legal compliance and compensation are included in solutions that are designed to add value, manage costs, synchronise supply chain processes and ultimately enhance customer value. With technology mutating so rapidly and continuously becoming more sophisticated, big businesses have also begun to shy away from outright purchase commitments and are moving towards rental agreements.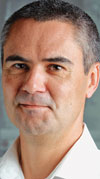 Glen Baptiste
"We are seeing a growing trend indicating that the market expects the availability of a full-support rental option on almost all of our equipment and systems," says Baptiste.
One of the key industries that benefits from these turnkey solutions is the mining sector. With its massive labour force and remote, process driven operations, mining contains many elements of control and regulation that can be streamlined with the right combination of technology, dedicated support and specialised knowledge. EOH Intelligent Infrastructure recognises that the requirement for swift information transfer is becoming more prevalent, particularly in the mining arena. The days of a single purpose time and attendance system that simply controls payroll and offers no further advantages are long gone, integration has become the norm. Biometric technologies are no longer just for tracking, they are now being linked to business intelligence, accounting systems; surveillance cameras are being used for stock control and modest reports in the form of pie charts and bar graphs are being replaced with 3D visual representations incorporating information from multiple business functions.
EOH Intelligent Infrastructure Technologies has recently introduced a number of new products specifically intended to improve the safety of mine workers and to add value to mining or manufacturing operations. These include a real-time electronic manning board that shows in real-time the actual versus planned production resource allocation and presence at the workplace. It also functions as an organisational tool that allows complete groups to be assembled before the start of production and then serves to manage and control these units during the process.
Secondly, EOH Intelligent Infrastructure has identified radio-frequency identification (RFID) as an excellent health and safety tool. RFID involves the use of a wireless non-contact system that employs radio-frequency electromagnetic fields to transfer data from a tag attached to an object or person, for the purpose of automatic tracking and identification. In the mining environment this has countless applications. For example, RFID can be used to ensure that miners have all of the required equipment before entering the work site or during the extremely dangerous blasting process, when up to four different technologies are used to ensure that shafts are clear. All this information combined in real-time on a manning board to give a visual representation of the status resources and safety equipment
Another valuable innovation involves the linking of a smart mobile device to a fingerprint reader. This creates a mobile reader containing biometric and cellular technology that is not only capable of being used to accurately pinpoint the whereabouts of workers but also for bio-directional communication. This product has a market in any organisation that is responsible for mobile staff, such as in the instance of security guards. In remote areas where a lack of sufficient infrastructure is a particular challenge, mobile, self-contained systems can mean the difference between success and failure.
"EOH Intelligent Infrastructure believes that integration is the key to providing an effective, comprehensive solution. There is no margin for error when lives depend on technology," concludes Baptiste.
For more information contact EOH Intelligent Infrastructure, 0861 500 500, sales.ii@eoh.co.za, www.eohii.co.za
Further reading:
Building a nervous system for smart cities
Issue 1 2020, Pinnacle Instruments SA , Integrated Solutions
Build a central nervous system for smart cities, by employing real-time situation reporting and analysis that unites the powers of cloud computing, AI, IoT and big data.
Read more...
---
The secret to 5G security? Turn the network into a sensor
Issue 1 2020 , Integrated Solutions
We are about to make the leap from being a civilisation that uses networks to one that runs on them in a fundamental and inextricable way.
Read more...
---
The move to services and RMR
Issue 1 2020, Merchant West, G4S South Africa, Technews Publishing , Integrated Solutions
Project work used to be the staple diet for system integrators, but that was before the services model changed the way businesses buy and use their security systems.
Read more...
---
Global security industry adopts servistisation models
Issue 1 2020 , Integrated Solutions
New as-a-service business models are gaining traction because they reduce capital expenditure and cost of ownership, finds Frost & Sullivan.
Read more...
---
Looking ahead with mobile access technologies
Access & Identity Management Handbook 2020, Technews Publishing, HID Global, dormakaba South Africa, Salto Systems Africa, Suprema, Gallagher , Access Control & Identity Management, Integrated Solutions
Given the broad use of smartphones around the world and the numerous technologies packed into these devices, it was only a matter of time before the access control industry developed technology that would ...
Read more...
---
Scalable access solution
Access & Identity Management Handbook 2020 , Access Control & Identity Management, Integrated Solutions
Bosch Building Technologies makes access management simple, scalable and always available with Access Management System 2.0.
Read more...
---
Securing perimeters of secure locations
November 2019, Axis Communications SA, Modular Communications, Hikvision South Africa, Nemtek Electric Fencing Products, Technews Publishing, Stafix , Government and Parastatal (Industry), Perimeter Security, Alarms & Intruder Detection, Integrated Solutions
Hi-Tech Security Solutions asked a number of companies offering perimeter security solutions for their insights into protecting the boundaries of national key points.
Read more...
---
The safe city and its need for interoperability
November 2019 , Integrated Solutions, CCTV, Surveillance & Remote Monitoring
Interoperability continues to present one of the greatest challenges, particularly with video management systems, video recording devices and cameras.
Read more...
---
Analytics-driven solutions for smart infrastructure
November 2019, Bosch Building Technologies , Integrated Solutions
Video analytics technology can bring intelligence to infrastructure by delivering solutions for traffic flow, improved safety, smart parking, and data collection.
Read more...
---
A platform approach to innovation and value
CCTV Handbook 2019, Technews Publishing , Editor's Choice, CCTV, Surveillance & Remote Monitoring, Integrated Solutions, IT infrastructure
Moving to the platform model of doing business holds tremendous advantages for end users and smaller developers, but also for the whole technology supply chain.
Read more...
---