printer friendly version
Packing pressure on the ­environment
June 2017
Security Services & Risk Management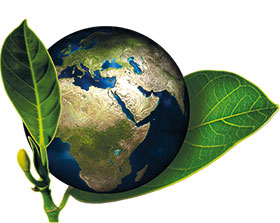 It's a strange reference for the time of year, but maybe you celebrate Christmas in July. Let's say it's Christmas morning, presents are unwrapped and now it's time for the next task – collect and throw away all the packaging. The mere volume of the packaging compared to the actual trinkets they hold is astounding.
The way we package products is becoming increasingly important in a fast-changing business environment. Previously thought of as minor issues, this type of consideration can no longer be an afterthought in the product development process. A change of thinking has happened, but in my opinion, its misguided on the supplier side.
Perhaps it's because we approach things from a security industry perspective, but it seems that the manufacturers' response to this challenge is to simply overdo things. The primary function of our packaging should be to protect the product on its journey to the customer. It seems our security mindset has made us over secure. An informed and discerning customer also expects the packaging to reflect the nature, quality and brand of the product which it protects. They expect a certain 'experience' when unpacking the product.
This poses a bigger challenge for product developers, who must achieve this with all the modern-day challenges in mind. Environmental considerations alone would dictate a minimum impact and suggest that a 'less is more' approach is vital. Cost and operational considerations would suggest minimum spec to meet the requirement. Design considerations would dictate that form follows function. Somehow we are getting this all wrong.
The Apple iPhone set a new standard in product experience using packaging. To open a new iPhone was a thrill. The packaging was beautiful and well considered. Other manufacturers followed suit, so we have come to expect this experience. This is, however, very different to a distribution chain of manufacturer – distributor – customer store – installation crew's bakkie – back of consumer's cupboard. If we look closer at the Apple product, we see meticulous thought into simplification. It's so much harder to simplify things than to complicate them. Over engineering, complication and embellishment is a mindset which works beautifully for a 17th century palace. Unfortunately, it's no longer that simple.
A modern-day example of this mindset is the packaging of Chinese tea. The tea portion can be initially shrink-wrapped in plastic, then wrapped again in a tight fitting printed material, often a foil or printed in gold. It's then packed into a full colour printed metal tin. The tins are then packed into a box, often made of wood and lined with velvet. There is a full-colour printed leaflet inside. The box is then put into a branded carrier bag. This type of excess is becoming unacceptable and often creates more of a negative impression with a discerning buyer.
Savvy business owners and decision makers are thinking in this way. It's no longer easy to impress them with extravagance. A recent example is a business owner rejecting a product after delivery because every unit was in a plastic bag within the box. Being an avid diver and coming across plastic bags even on remote tropical reefs, the lack of proper consideration in the packaging repulsed this decision maker. We need to minimise everything cleverly, even items like instruction leaflets inside the box. The market knows that it's easy and cheap to have high volumes of 'excessive' packaging imported from the east. If it's not necessary, leave it out – it's no longer impressing us.
The example is extreme, but more industry leaders need to think in this way. We are approaching a business environment where products and services are being shared, traded, re-used and even de-materialised. A new generation of consumers expects more and we need to stop thinking we are being clever, and start being smart. It's no longer enough to print a pretty full-colour design on every box. It's just not enough and, in fact, printing inks and cleaning chemicals should be minimised.
The message to those involved in product development is clear. Be aware that the pile of 'beautiful' discarded boxes in your customer's store is no longer impressing them. It's a mountain of shame.
For more information contact RDC, +27 (0)11 452 1471, brent.a@radiodata.co.za, www.radiodata.co.za
Credit(s)
Further reading:
Convergence of cyber and physical security
Integrated Solutions Security Services & Risk Management
The overlap between cybersecurity and physical security will necessitate the integration of cyber and physical security in order to enable the sharing of events to the same security operations centre.
Read more...
---
Reduce electrical risks in commercial and industrial buildings
Security Services & Risk Management
Eaton's new whitepaper aims to help professionals reduce electrical risks in commercial and industrial buildings and prevent faults that can endanger workers, damage property and disrupt business continuity.
Read more...
---
Sustainability School opens for enrolment
Education (Industry) News Security Services & Risk Management
Three-part programme, first developed for Schneider Electric employees, is now available for free for companies worldwide. Attendees learn how to future-proof their businesses and accelerate their decarbonisation journeys.
Read more...
---
RDC expands its production capabilities
Radio Data Communications Perimeter Security, Alarms & Intruder Detection Products
Local electronics manufacturer, RDC, recently acquired a new SMT (surface mount technology) machine to boost its manufacturing output and meet the needs of its global customer base.
Read more...
---
Success in business process best practices
Technews Publishing Kleyn Change Management Editor's Choice Integrated Solutions Security Services & Risk Management
This month we commandeer time with the woman who is spearheading our national conversation on Women in Security, Lesley-Anne Kleyn, to get to know the lady herself a little better.
Read more...
---
Security awareness training
Training & Education Security Services & Risk Management
It is critically important to have a security awareness solution that uses the limited time available to train effectively, and one that provides targeted education that is relevant to users.
Read more...
---
Technology to thwart solar panel thieves
Asset Management, EAS, RFID Security Services & Risk Management Products
A highly efficient industrial network is coming to the rescue of the solar industry, as solar panels, inverters and batteries are being targeted by thieves and threaten to destabilise the industry.
Read more...
---
Banking the unbanked comes with security risks
Financial (Industry) Security Services & Risk Management
As grim as it was, the pandemic of recent years and its resultant global economic crisis were a prime catalyst for record number of first-time bank users, the previously unbanked.
Read more...
---
Security is like infinity
Alwinco Security Services & Risk Management
Security needs constant attention, dedication and input. The scary thing is that most people think that security is something that you buy, install, and then forget about.
Read more...
---
Vulnerabilities in industrial cellular routers' cloud management platforms
Industrial (Industry) Cyber Security Security Services & Risk Management
Research from OTORIO, a provider of operational technology cyber and digital risk management solutions, unveils cyber risks in M2M protocols and asset registration that expose hundreds of thousands of devices and OT networks to attack
Read more...
---