printer friendly version
Card fraud stats 2016
June 2017 Editor's Choice, Cyber Security, News, Security Services & Risk Management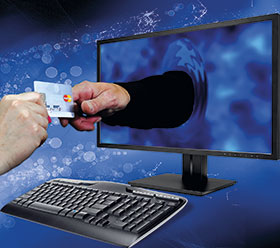 The South African Banking Risk Information Centre (SABRIC), on behalf of the banking industry, has released its Card Fraud Stats for 2016, which reflects an overall increase in card fraud for 2016. Credit card fraud increased by 13% from R331.4m in 2015 to R374.4m in 2016, with debit card fraud increasing by 3.1% for the same period.
SABRIC CEO, Kalyani Pillay explains that while any increase is of concern to the industry, the ever-evolving sophistication of tactics used by criminals is also of great concern. "Criminals will always be on the lookout for gaps and weaknesses in order to defraud victims. Fortunately, SABRIC's collaborative model, as well as the robust risk mitigation measures deployed by its members, position the industry well to tackle card fraud."
Card fraud is a global phenomenon, but locally, the most affected provinces were Gauteng, the Western Cape and KwaZulu-Natal. These were followed by the Eastern Cape, Mpumalanga and the North-West.
Industry statistics indicate that credit card related Card Not Present (CNP) fraud increased by 18, 9% from the previous year and accounts for 66.8% of the losses relating to SA issued credit cards. CNP debit card fraud increased by 4.6% which can be attributed to a wider acceptance of debit cards by online vendors.
EMV compliance, or 'Chip and PIN' technology has proved hugely successful, and is the reason for the significant drop in counterfeit card fraud. Counterfeit debit card fraud saw a big decrease of 35%, while counterfeit credit card fraud remained stable, accounting for 26.4% of losses. Criminals, however, circumvented this mitigation strategy by changing their behaviour to card jamming and swapping at ATMs to steal cards, accompanied by shoulder surfing for PIN numbers.
This is the reason we have seen a 39.1% increase in lost and/or stolen debit card fraud which accounted for 56.2% of losses in 2016. Pillay continues to caution bank clients to be vigilant when transacting at ATMs. "Be cautious of strangers offering to help as they could be trying to distract you in order to get your card or PIN."
SABRIC urges the public to take the following protective measures to protect themselves:
• If you are not familiar with the screen layout of the ATM or if it appears that the machine has been tampered with, do not insert your card.
• Do not allow anyone to swipe your card on a small black device unknown to you.
• Never send emails that contain card numbers and expiry dates, or disclose this information over the phone.
• Ensure that your bankcards are registered for 3D Secure – contact your bank for more information about 3D Secure registration.
For more information go to www.sabric.co.za
Further reading:
Sustainability School opens for enrolment
Education (Industry) News Security Services & Risk Management
Three-part programme, first developed for Schneider Electric employees, is now available for free for companies worldwide. Attendees learn how to future-proof their businesses and accelerate their decarbonisation journeys.
Read more...
---
Accenture Technology Vision 2023
Editor's Choice News
New report states that generative AI is expected to usher in a 'bold new future' for business, merging physical and digital worlds, transforming the way people work and live.
Read more...
---
Cyber attackers used over 500 tools and tactics in 2022
Cyber Security News
The most common root causes of attacks were unpatched vulnerabilities and compromised credentials, while ransomware continues to be the most common 'end game' and attacker dwell time is shrinking – for better or worse.
Read more...
---
Economists divided on global economic recovery
Editor's Choice News
Growth outlook has strengthened in all regions, but chief economists are divided on the likelihood of a global recession in 2023; experts are concerned about trade-off between managing inflation and maintaining financial stability, with 76% anticipating central banks to struggle to bring down inflation.
Read more...
---
Success in business process best practices
Technews Publishing Kleyn Change Management Editor's Choice Integrated Solutions Security Services & Risk Management
This month we commandeer time with the woman who is spearheading our national conversation on Women in Security, Lesley-Anne Kleyn, to get to know the lady herself a little better.
Read more...
---
Addressing the SCADA in the room
Industrial (Industry) Cyber Security
Few other sectors command the breadth of purpose-built and custom devices necessary to function, as the industrial and manufacturing industries. These unique devices create an uncommon risk that must be assessed and understood to fully protect against incoming attacks.
Read more...
---
Security awareness training
Training & Education Security Services & Risk Management
It is critically important to have a security awareness solution that uses the limited time available to train effectively, and one that provides targeted education that is relevant to users.
Read more...
---
Recession or stress?
Cyber Security News
The economic landscape has seen many technology companies lay off vast numbers of employees, but for cybersecurity, the picture looks very different – a dynamic mixture of excitement, challenges and toxicity.
Read more...
---
Technology to thwart solar panel thieves
Asset Management, EAS, RFID Security Services & Risk Management Products
A highly efficient industrial network is coming to the rescue of the solar industry, as solar panels, inverters and batteries are being targeted by thieves and threaten to destabilise the industry.
Read more...
---
Banking the unbanked comes with security risks
Financial (Industry) Security Services & Risk Management
As grim as it was, the pandemic of recent years and its resultant global economic crisis were a prime catalyst for record number of first-time bank users, the previously unbanked.
Read more...
---