printer friendly version
Niall Beazley looks at some of the issues end users should consider when deciding on surveillance solutions: you get what you pay for.
1 May 2017 CCTV, Surveillance & Remote Monitoring, Cyber Security, Integrated Solutions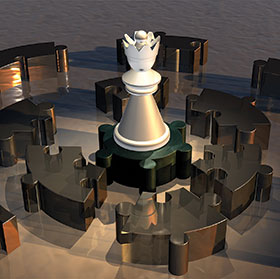 What is it that makes a client purchase a particular preference in their video security solution? We know from current trends that most people are motivated by price and we also know that the often quoted 'you pay for what you get' comes back to haunt many people on their purchase choice.
The majority of solution vendors of all types and sizes will probably offer you a Chinese solution: Hikvision, Dahua, Sunell, Uniview or an OEM version filtered down from one of these manufacturers. In distinct contrast, there are a number of solution vendors who will actually tell you that you are making a mistake and need to look more closely at being brand agnostic and choosing best-of-breed products. This article sets to lay down some key points to consider before making your decision.
The camera
Cameras come in all shapes, sizes and price ranges. Depending upon your requirements, you will hopefully find the right camera for your needs from your vendor. However, most vendors only offer you a single brand of camera that might be strong in one particular area and weak in others. Correctly, you should consider the key issues that determine what camera you should use to cover the field of view, lighting, depth of view, focal point and what it is you actually want to see; i.e. the 'Job Description' for the camera.
There are many choices and despite a higher price you may find the area covered by a more expensive single or multi-sensor camera may be a cheaper option when cost of installation is fully considered. Choose the right company to advise you and they should be able to recommend a complete solution with a choice of best-of-breed products to solve your problems.
A boxed NVR
The same vendor who offers you a particular brand of camera will also offer you a recording solution. In a previous article, Vision Catcher commented on 'What is in the box you have just bought' and the pitfalls that you may uncover (www.securitysa.com/8728a). In simple terms, you will be given a box capable of recording the same brand of cameras with limited options for adding new cameras unless they are the same brand or ONVIF compliant. Upgrades for recorder and camera firmware may be available, but will restrict you in what you might be able to do at a later date. Finally, many of the low cost, small box recording devices have cybersecurity questions that most vendors cannot answer.
The boxed NVR and free licences
A boxed NVR will always come with a number of free licences. Most vendors talk of a single price for the 'box' including a number of licences and provide an all-up single cost. For example, the NVR is R1500 for 16 channels and R3000 for 32 channels. The vendor may also offer you an off-the-shelf PC including free licensing with i3 or i5 configuration, and allow you to add storage as required, all for a similar single price at perhaps R6000 to R10 000. The key promise being is that there is no fee for any licence. Well, what did you just pay for the goods, surely the cost of the licence is hidden within the cost of the box even if it is described as 'FREE'?
There is a market for all levels of NVR and what we see are the demands for fuller features within the video management software (VMS). This provides for more licence options, greater storage capability and enhanced enterprise level features such as Suspect Tracking, Smart Search, Thumbnails, higher megapixel-rated camera storage and multi-sensor options that permit you to choose best-of-breed products and the right camera, lens and solution for a particular job description.
The evolution will continue as vendors will pander to the client's need to hear that there is no licence fee, yet someone has to write the code that provides the firmware for the NVR and camera to work. At some point there must be a fee for the code wherever it is combined within a package price.
Best-of-breed choices
When you are looking further than a single brand concept and want to be able to use a range of cameras with specific performance criteria, built in analytics, SD card storage and NVR type functionality, multiple or single sensors and other features such as suspect tracking, you have to review what a VMS can offer. Recent releases from the exacqVision VMS has included:
• Suspect tracking.
• Enhanced mobile experience.
o Audio support.
o Inactivity timeout.
o Door monitoring.
• Custom system, camera and user attributes.
• Email video previews.
• Refined search date/time entry.
• Enhanced file manager and burn dialogue.
• New camera integrations and ONVIF additions.
• Enterprise system management enhancements for greater system healthcare and exacqCloud.
Most VMS options are brand agnostic, although there are one or two VMS choices that provide an end-to-end solution with varying success, using mainly their own cameras with occasional ONVIF and greater integration for a select few. Products such as exacqVision and Milestone pride themselves on the large range of camera brands and models that are fully integrated and are continually updated with newer firmware and integration options as they are released by the camera manufacturers.
Using a VMS with a true open architecture interface now allows you to look beyond what just a camera NVR can offer and provide full integration options for analytics, point of sale, access control and intrusion, as well as other coded interfaces that can provide a single management console and display.
Having this freedom of choice amongst best-of-breed products allows you to choose the right solutions that will provide a combined integrated and secure environment for your company, business, complex or home environment.
Cybersecurity
A real concern in our rapidly expanding IoT (Internet of Things) world is always being connected and having worldwide accessibility on a daily basis. This has created a large increase in new security threats to our environment and IT infrastructure. The threats from phishing attacks, theft of identity, data breaches and corporate espionage, to the DDoS and Botnet attacks that are used to hold companies to ransom is a reality.
Tyco Security Products set about a cyber protection programme more than five years ago and has developed one of the industry's first programmes aimed at an holistic approach to cyber security for physical security products. This combines best practices in secure product development, testing and evaluation, and configuration guidelines for compliance that are filtered through to its marketing team, to the distributors and the resellers offering their products in the local market.
Recent malware infections that have been well publicised through cyber security sites and in the newspapers were mostly achieved through some well-known brand named cameras and NVRs. The misuse of usernames and passwords, failure to adhere to basic cyber protection rules and the telnet and open port standard setups available on many devices lead to these international attacks. These attacks had a direct effect on the President of the United States in the lead up to his inauguration and for a number of businesses that have cost them considerable sums of money.
The solution is to use product from manufacturers where you know that the cybersecurity threat is being addressed. The first question you should be asking your vendor or installer is what cybersecurity measures are in place to ensure the safety and protection of your IT infrastructure. Vision Catcher continues to promote and educate cybersecurity amongst its varied clients and vendors, highlighting the steps that are taken for exacqVision VMS and its various hardware options, as well as Illustra cameras and the Kantech access control.
Those same protection measures can be applied to those third-party cameras, access control and integrated solutions as part of our total package of offerings. The reality is that manufacturer, distributor, integrator, installer, consultant and end user client should equally address the question marks presented by cybersecurity.
Mobile access
The risk of a cybersecurity attack needs to be balanced with giving the client relevant access and tools for their system from mobile devices and perhaps even to be able to offer cloud services. Ensuring that our security solutions are cybersecure from outside malware attack means that we are able to set-up secure links through iPhone, Android and Windows devices with application downloads from relevant online stores. The mobile configuration requires clear authentication and provides for audit trail logging to check that disciplines and usage checks are correctly maintained.
A new development in the United States is a full cloud service interface allowing for enterprise-level management. exacqCloud provides camera and server health monitoring services hosted on AWS (Amazon Web Services). Exacq remains responsible for maintaining the dealer cloud with full SSL (Secure Sockets Layer) security up to 128 bit of Advanced Encryption Standard.
The same configuration options are available for local control rooms providing both mobile and offsite monitoring options as value added services that can be provided within the VMS capabilities.
Conclusions
Vision Catcher chooses to partner with products and solutions that provide a clear structure and plan for how an integrated security solution can be developed using best-of-breed products. The building tools have been clearly laid out within this article and give you the choice of the way forward for your own premises. Choosing a product because it is cheaper and the vendor promises and even demonstrates an amazing picture may not be all that you need.
Consider the priorities for how your security solution should evolve. Do we want to stay with a single brand? Is best-of-breed a better option? Is there a VMS with the option to choose a range of cameras from different brands and suppliers? Does your VMS have the features and integration options you require? Is the VMS providing you with cybersecurity, enhanced features and simplicity of operation? When we factor all of these points together you will have a security system that will provide you with the return you envisaged for a price that ensures that you are fully protected.
Credit(s)
Further reading:
Mount Nelson opts for cloud surveillance
CCTV, Surveillance & Remote Monitoring Entertainment and Hospitality (Industry)
IOT Revolution Technologies, in partnership with MeyCom, will be implementing over 250 cloud driven Verkada cameras at the Belmond Mount Nelson Hotel.
Read more...
---
Cyber resilience is more than cybersecurity
Technews Publishing Cyber Security Integrated Solutions IT infrastructure
Hi-Tech Security Solutions held a round-table discussion focusing on cyber resilience and found that while the resilience discipline includes cybersecurity, it also goes much further.
Read more...
---
Avoiding human error at ports
LD Africa Transport (Industry) CCTV, Surveillance & Remote Monitoring Products Logistics (Industry)
LD Africa introduced a local port to the AxxonSoft Port Security System ,a solution that helps overcome the element of human error and eliminate paperwork.
Read more...
---
Compact, lightweight bullet cameras with support for analytics
Axis Communications SA Products CCTV, Surveillance & Remote Monitoring
Axis Communications announced two new outdoor-ready bullet-style cameras featuring deep-learning processing units for analytics based on deep learning on the edge.
Read more...
---
Numerous challenges for transport and logistics
Transport (Industry) CCTV, Surveillance & Remote Monitoring Security Services & Risk Management Logistics (Industry)
Operators are making significant investments in automation and digitalisation in order to address security concerns, improve loss prevention as well as efficiency, and reduce unit order costs.
Read more...
---
A key to urban transport challenges
Axis Communications SA Transport (Industry) CCTV, Surveillance & Remote Monitoring Integrated Solutions Logistics (Industry)
There are many enabling technologies that can impact transportation in South Africa, but a good place to start is by considering the applications for smart physical technology with the ability to collect and respond to data.
Read more...
---
Hikvision aims for solutions
Technews Publishing Hikvision South Africa Editor's Choice CCTV, Surveillance & Remote Monitoring News Integrated Solutions Conferences & Events
Hikvision recently held a roadshow titled Industry X, where the company highlighted its latest products and solutions, supported by partners and distributors.
Read more...
---
Reliable, low-maintenance video appliances
Technews Publishing Editor's Choice CCTV, Surveillance & Remote Monitoring News IT infrastructure Products
Symetrix, part of the Agera Group, has added the AES range of video recording servers, storage appliances and workstations to its portfolio.
Read more...
---
Technology and the future of security installation in South Africa
Editor's Choice Integrated Solutions Security Services & Risk Management
What are the technologies and trends shaping installation, service and maintenance teams globally, and how will they shape South African businesses today and in the future?
Read more...
---
A new full-colour era
Dahua Technology South Africa CCTV, Surveillance & Remote Monitoring
Traditionally, there have been two options for using surveillance cameras in the dark: flooding the scene with visible light, or alternatively using infrared (IR) illumination.
Read more...
---