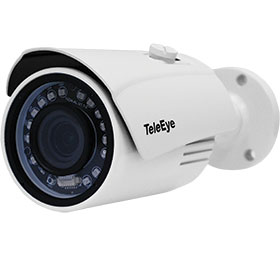 The new MQ2200 Series
May 2017, Products, CCTV, Surveillance & Remote Monitoring
TeleEye released an addition to the MQ2200 Series Starlight IR cameras to its camera product line. Adopting Sony Starlight CMOS Sensor, the new MQ2200 Series from TeleEye enables a much higher sensitivity to various lighting environments compared to the MQ200 Series. With the advancement of MQ2200's camera lens and the image signal processor, the performance of this powerful Starlight sensor can even be maximised.
The upgraded camera lens enables higher image clarity of the images and improved the black-edged problem of the video. In addition to the use of an advanced image signal processor, a higher processing power is also performed. The video quality is therefore greatly improved with higher image clarity, image recovery and digital noise reduction. With the above enhanced combination, the new MQ2200 Series is capable of delivering detailed and coloured images even in extreme low light and backlight conditions, enabling every object and colour to be recognisable in the above lighting conditions, whereas the MQ200 Series can only show the black shadow and indistinct contours of the objects.