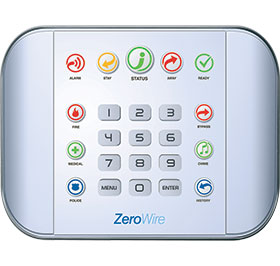 Interactive home automation
May 2017, Products, Perimeter Security, Alarms & Intruder Detection, Integrated Solutions
ZeroWire is a self-contained, wireless security and interactive home automation system. With ZeroWire, users will gain the support through the Z-Wave protocol, which ensures secure communications of the different systems and software applications with other devices, such as thermostats and lighting controls, offering one single system for both home automation and security.
An added benefit is the integrated support for IP cameras, for live video and replaying of recorded footage based on alarms or action triggered events, reducing the risk of false alarms and increasing the information available in case of an event.
The UltraSync interactive services ensure the advanced cloud features can be accessed anytime and anywhere. With an iOS and Android app, and an online portal, the installed system can be efficiently monitored and managed remotely. It allows the user to view the system status, offer system controls such as bypass zones, arming and disarming, reading the event history and much more. Whether using the UltraSync platform for remote servicing and monitoring or for remote programming, a secure connection is guaranteed between the device and the ZeroWire system.