printer friendly version
Dahua takes HDCVI into the 4K era
May 2017 Editor's Choice, CCTV, Surveillance & Remote Monitoring
HD analogue technology is gaining traction. By 2018, over 90% of analogue cameras will be HD analogue (according to a 2016 IHS report). Dahua introduced HDCVI technology in 2012 and continues to enhance the technology by delivering improvements in terms of resolution, light sensitivity, intelligence and usability.
The emergence of multi-mode DVRs, which records video from HDCVI, TVI, AHD, CVBS and IP cameras, makes it easy to upgrade a site incrementally. Future development of HD analogue will fit the needs of IoT and big data applications, which will drive value to security systems in the next few years. AI (artificial intelligence) deep learning will be a key technology component to enable this.
Dahua's 4K offering delivers 3840(H) x 2160(V) ultra-high resolution images, equivalent to 4X 1080 HD cameras, to achieve wide angle coverage and clear video evidence at the same time.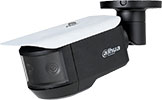 The 4K DH-HAC-PFW3601.
HDCVI 4.0
Dahua has now introduced its HDCVI 4.0 technology framework, with three key components: 4K video capture, IoT for multi-dimensional sensing and AI to transform HDCVI video into searchable Boolean data. New products will be introduced throughout 2017 to enhance the user experience of HDCVI customers. The HDCVI community can expect more opportunities to use HDCVI technology to expand the security application space.
Dahua 4K-HDCVI adopts 4K Ultra HD image acquisition and back end DVR storage. The technology architecture overcame the common bottleneck of transmission bandwidth to achieve high resolution video previously only available on IP. This is a major breakthrough to extend the potential of HDCVI.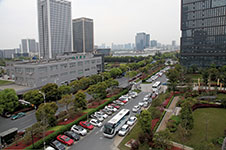 4K-HDCVI image.
Dahua IoT-HDCVI technology combines IoT sensing technology and enables cameras to surpass basic function of providing video information. Using IoT sensors, coaxial cables are capable of transmitting not only video signal, but also information such as alarm, temperature and humidity. The HDCVI technology architecture supports complex data transmission between camera and DVR, and makes it possible for multi-dimensional sensing cameras and DVRs to form an IoT solution. The near real-time transmission of HDCVI also improves the responsiveness of IoT applications.
Dahua AI-HDCVI technology integrates HDCVI video and audio with AI (artificial intelligence) deep learning. AI performs near-human level accuracy in image classification and voice recognition to transform HDCVI video and audio into searchable Boolean data. The output of this analysis could solve resource allocation problems, for example, in the retail industry with customers and/or in the management of city transportation with vehicle traffic analysis.
The scalable and expandable architecture of HDCVI enables future-proof products and solutions to be developed. It protects customers' investment by allowing seamless upgrading to new technologies as they emerge.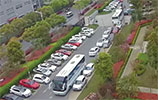 1080p image.
The 4K era
While the industry is trying to break through the bandwidth constraints of coaxial cable transmission, Dahua's signal modulation mechanism and noise reduction technique has also increased the distances video signals can be transmitted. The use cases are:
• RG6 coaxial cables for 700 m video and audio lossless transmission.
• RG59 coaxial cables for 500 m video and audio lossless transmission.
• UTP Cat 6 network cable for 300 m video and audio lossless transmission.
The Dahua offering includes 4K box cameras, 4K IR bullet and dome cameras, 4K fish-eye panoramic cameras, 4K multi-sensor 180-degree panoramic cameras, and a series of 4K supported XVR (multi-mode DVRs).
The new 4K XVR recorder is compatible with all existing HDCVI/HDTVI/AHD cameras, and also supports CVBS and IP cameras. This makes upgrading to 4K much more convenient and cost effective. The installation, configuration, operation and maintenance of 4K HDCVI are the same as before, preserving the plug & play convenience of analogue video system. Once your existing DVR is replaced by a new 4K XVR, you can simply replace the existing camera with a 4K camera or add a 4K camera as you go.
One new product is the DH-HAC-PFW3601, which is the first HD analogue multi-lens infrared camera with a 4K 180 degree panoramic view. This product makes use of Dahua's advanced image stitch algorithm to perform 180-degree panoramic seamless stitching. It can be controlled by the OSD menu and easily operated. By using three SONY STARVIS sensors and F1.4 large aperture lens, this infrared camera delivers high quality images even under low light. In addition, the camera has IP67 and IK10 protection, making it a good choice for important entrances and exits area, city transportation junctions, and parks.
For more information, contact Dahua Technology South Africa, fritz.wang@global.dahuatech.com, www.dahuasecurity.com
Credit(s)
Further reading:
Key criteria in the selection of CCTV control room operators
Issue 5 2020, Leaderware , Editor's Choice
Some people are better at aspects of the job of CCTV operator than others, and some companies put in a lot more effort in choosing their operators than others.
Read more...
---
Leaders in risk and security: As long as there are people, there will be risk
Issue 5 2020, iFacts, Technews Publishing , Editor's Choice
Jenny Reid is a self-made success, focusing on people, the risks they create and the potential they have.
Read more...
---
XProtect available on AWS
Issue 5 2020, Milestone Systems, Technews Publishing , Editor's Choice
Milestone recently announced the availability of XProtect on Amazon Web Services. Hi-Tech Security Solutions asked Keven Marier for more information.
Read more...
---
From data centre to edge, from one source
Issue 5 2020 , Editor's Choice
First Distribution (FD) is better known in South Africa as an ICT distributor with an enterprise focus. Its offerings in this regard range from client solutions through to hosted solutions, data centre ...
Read more...
---
Paxton launches access and video management
Issue 5 2020, Paxton Access , Editor's Choice
Paxton's next-generation access control and video management system, Paxton10, officially launched in South Africa on 2 July 2020. Paxton10 is the next step in complete security solutions and combines ...
Read more...
---
Dahua launches ECO Partner Programme
Issue 5 2020, Dahua Technology South Africa , News
Dahua Technology has launched its new technology partner programme, the Dahua ECO Partner Programme.
Read more...
---
The evolution of security in residential estates
Residential Estate Security Handbook 2020 , Editor's Choice, Integrated Solutions, Security Services & Risk Management
Two large estates discuss their security processes and the ever-expanding scope of responsibilities they need to fulfil.
Read more...
---
The COVID test for estate business continuity planning
Residential Estate Security Handbook 2020, Technews Publishing , Editor's Choice
Many estates were caught unaware when the COVID-19 pandemic and subsequent lockdown hit. Helderberg Village was ready for the challenge.
Read more...
---
Bang for your security buck(s)
Residential Estate Security Handbook 2020, Alwinco , Editor's Choice, Security Services & Risk Management
Hi-Tech Security Solutions asks how estates can maintain a good security posture in the time of the ever-shrinking budget.
Read more...
---
Local or remote management
Residential Estate Security Handbook 2020, Xone Integrated Security, Vox Telecom, Fidelity ADT , Editor's Choice
Hi-Tech Security Solutions asked three companies well versed in offering control room services – either remote, local, or both – what's happening in the estate monitoring and/or management market.
Read more...
---