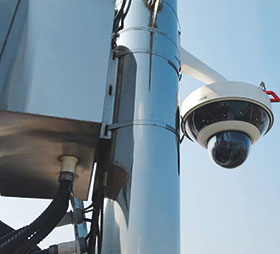 PanoVu tracks pollution hotspots
May 2017, CCTV, Surveillance & Remote Monitoring
Helping to identify the location of odours permeating around areas of the Metropolitan City of Deagu in South Korea, Hikvision has supplied its PanoVu series 180 degree Panoramic + PTZ cameras as part of an atmospheric information system.
Seo-gu (Seo District) in western Daegu, is a major transportation nexus which went through urban street development in the 1960s and massive industrialisation in 1970s. Today, the city has a population of 230 000.
In response to a mass of complaints raised by the city's residents about frequent airborne bad odours emanating from the dyeing industry complex in the western region of Deagu, in July 2016, a meeting was held with the Daegu Metropolitan City's economic, environmental and industrial dyeing stakeholders. From that meeting, it was decided that the Seo-gu Office would go-ahead with the construction of an atmospheric information project, to establish a bad odour monitoring and tracking system that would help to provide an effective and welcome solution to the issue.
Looking to secure a high-performance imaging solution for the project that would enable the capture of high-quality panoramic, and separate PTZ imaging over the entire city, Seo-gu Office turned to Hikvision. After a consultation exercise, Hikvision proposed the PanoVu DS-2DP0818Z-D Series 180-degree Panoramic camera with its combined 4 fixed 2 MP cameras and 36x optical zoom PTZ camera.
To provide a practical demonstration of the camera's suitability, a test installation was conducted within South Korea's largest industrial area, in Busan Metropolitan City, the country's second largest city next to Seoul. The Hikvision PanoVu camera demonstration was not only deemed a success, but also regarded as 'a perfect fit' for the monitoring system's requirement.
Installed in November 2016, the new atmospheric information system is capable of measuring in real-time, complex odours composed of hydrogen sulphide, ammonia and volatile organic compounds in and around the surrounding industrial area. The main control point, located at the Lifelong Learning Hall in Seo-gu, monitors system equipment consisting of two sets of four PanoVu DS-2DP0818Z-D cameras, 11 malodour measuring instruments (serving as a neural network in the monitoring complex), and two weather measurement instruments, which collect weather data such as wind speed, humidity and temperature. Monitoring the entire city area, the Hikvision cameras are integrated into the system's atmospheric pollution sensors and capable of visually pinpointing the source of any atmospheric bad odour release.
The result
"The Seo-gu Office Atmosphere Monitoring Centre is extremely pleased with the high-resolution picture quality they can now display on their large format video wall, and in combination with the PanoVu cameras' Panoramic Mode + PTZ tracking function, are able to display wide-area
coverage and close-up visual tracking via integration with the system's atmosphere sensors," says Joey Kim, SI Team, Hikvision Korea. "The atmospheric information system's pollution monitoring sensors and integrated PanoVu cameras can define the precise location of each sensor's triggered event and with the PanoVu PTZ camera, automatically track and target the precise location of the event actuation."
For more information contact Hikvision South Africa, Evan Liu, +27 (0)10 035 1172, support.africa@hikvision.com, www.hikvision.com