printer friendly version
Extinguish fire without destroying assets
May 2017 Fire & Safety, Products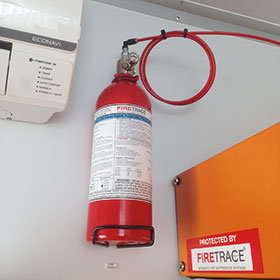 Micro-environments such as electrical control panels, data storage cabinets, speciality vehicles and bank depositories are notoriously difficult to protect against fire. Challenges such as space for fitting fire protection equipment and a lack of power sources on moving assets result in a very limited choice of equipment that will still perform up to standard in case of a fire.
Sperosens provides specialised safety solutions to counter these challenges and enables customers to focus on their core businesses.
Firetrace systems can be installed in virtually any enclosed space where high-value assets are located or where an increased risk of fire could be mitigated by an automatic fire suppression system.
Firetrace is self-activating and reliably suppresses fires in seconds, providing low maintenance, cost-effective fire detection and suppression all in one. Due to the speed of suppression in case of a fire the damage and downtime to equipment is minimal to none. The fire protection system can be re-armed in a matter of minutes.
The effectiveness of a Firetrace system comes from the proprietary, polymer tubing that will rupture when exposed to a flame. This specialised detection tubing combines leak resistance, flexibility, durability and precise temperature sensitivity, allowing it to react quickly when the heat from a fire is present. The detection tubing connects to a Firetrace cylinder that contains the best fire suppression agent for a particular hazard.
Configuration options vary to offer customers a solution best designed for their specific need and level of risk.
Firetrace systems operate without the need for any power source – either external or battery – and requires no releasing panel to operate. The system is available in a standalone (no power source or control panels) and conventional network option, or a combination of both.
Depending on the type of enclosure or fire hazard, Firetrace systems can be arranged as either direct or indirect release. One of the extinguishing agents that can be used with Firetrace is Novec 1230 fluid as a great alternative to water sprinkler systems, foam and dry chemicals. The advantages of using a clean gas is:
• Low toxicity to ensure the safety of personnel.
• Extinguishes fires in less than half the time of CO2 and inert gases.
• No damage to sensitive equipment.
Firetrace direct release systems
Firetrace's direct low pressure (DLP) release systems use the Firetrace tube as both the detection device and suppressant delivery. As the fire begins, the portion of the tube nearest the point where the most heat is detected ruptures, forming an effective spray nozzle. The pressure will then drop as the Firetrace tube releases the entire contents of the cylinder through the distribution nozzle to effectively suppress the fire. More than one Firetrace tube can be used enabling the system to cover more area.
In a significant development for the electrical industry, Firetrace has recently been granted the prestigious LPCB (Loss Prevention Certification Board) approval for both its 3M Novec 1230 and FM-200 DLP systems. The approval is the first of its type for a tubing system and is important to the electrical sector as it covers 1 kg, 2 kg and 5 kg systems for electrical panels up to 2 m³ in volume.
Firetrace indirect release systems
If you have a larger area that requires a high volume of extinguishing agent in order to effectively suppress a fire, you might instead look for a Firetrace indirect low pressure (ILP) release system. This uses the Firetrace tube as a fire detection and system activation device, not as the discharge tube.
Once the tubing senses the fire, it ruptures; resulting in a drop of pressure that causes the indirect valve to activate. This diverts flow from the detection tube to the larger outlet ports.
Then the fire suppression system kicks in. The extinguishing agent is discharged from the cylinder through the diffuser nozzles, flooding the area in a proprietary mix of fire extinguishing chemicals, effectively suppressing the fire quickly and thoroughly.
Multiple diffuser nozzles can be added to meet the specific application requirements. The indirect release system can be used with Novec 1230, FM-200, dry chemical powders, CO2 and foam.
Applications of the Firetrace DLP and ILP systems include in-cabinet protection for typically CNC machines, electrical cabinets and controls, plant equipment, fume cabinets and on-road vehicles and mass transit; as well as industrial environments such as ports, mines and quarries, oil and gas refineries and airports.
Firetrace total flooding systems
Firetrace E4 engineered clean agent systems are the newest evolution in total flooding fire suppression solutions. They feature a selection of cylinder sizes, including the biggest available in the industry, so even the largest of facilities can now be effectively protected.
Featuring 3M Novec 1230 fire suppression fluid, UL and FM listed Firetrace E4 systems are shattering traditional design limitations by using 500 psi/35 bar pressure in low-cost, low pressure equipment. They offer significant improvements compared with more traditional clean agent total flooding systems for large spaces, providing superior performance, greater flexibility, improved value, speedier installation and a measurable competitive edge for system installers.
Applications of Firetrace E4 include facilities housing computers, telephone equipment, radio and TV communications, and cellular telecommunications. It is also suitable for the protection of document storage, hospitals, control rooms, libraries, test facilities, museums, flammable material storage and wind turbines.
For more information contact Marihette Hattingh, Sperosens, 086 177 3767, marihette.hattingh@spero.co.za, www.spero.co.za
Credit(s)
Further reading:
Linear heat detection under difficult conditions
Issue 5 2020, Technoswitch , Fire & Safety
Securiton's SecuriHeat ADW535 linear heat detector prevails where conventional fire detectors reach their physical limits.
Read more...
---
High-precision aspirating smoke detectors
Issue 5 2020, Technoswitch , Fire & Safety
The SecuriSmoke ASD range by Securiton offers three VdS approved models and makes the lightning-fast detection of fires both scalable and cost-effective for any area.
Read more...
---
Competency in the fire industry
Issue 5 2020, FDIA (Fire Detection Installers Association) , Fire & Safety
Persons who design, commission, install or service fire protection equipment or systems should have the required level of competence for the task they perform.
Read more...
---
Public address/voice alarm partnership
Issue 5 2020, Johnson Controls Global Products , Fire & Safety
Johnson Controls customers now have single-source access to a complete line of fire detection products, including high-quality PA/VA systems.
Read more...
---
Hochiki Europe's L@titude system distributed by XtraVision
Issue 5 2020, XtraVision , Fire & Safety
Hochiki Europe's L@titude range of fire alarm control is both sophisticated, yet simple to use.
Read more...
---
Long-distance UHF readers
Residential Estate Security Handbook 2020 , Access Control & Identity Management, Products
The U1000 and U2000 are long-distance RFID access control systems with an IP66 protection certification.
Read more...
---
Serverless ANPR solution
Residential Estate Security Handbook 2020, XtraVision , CCTV, Surveillance & Remote Monitoring, Products
Serverless ANPR automatically controls the movement of up to 1000 listed cars through barriers and provides carpark management information.
Read more...
---
Hochiki shines a light on luxury
Issue 5 2020, XtraVision , Fire & Safety
Luxury hotel chooses fire safety equipment from Hochiki as part of extension and restructuring works.
Read more...
---
Self-test for fire alarms
Issue 4 2020, Johnson Controls Global Products , Fire & Safety
Johnson Controls notification appliance self-test technology receives UL Verification Mark.
Read more...
---
New FireClass addressable fire alarm panels
Issue 4 2020, Johnson Controls Global Products , Fire & Safety
Johnson Controls has introduced two new FireClass addressable fire alarm panels, the FC702 and FC708, to its range of fire detection solutions.
Read more...
---