printer friendly version
Why hardware acceleration will save you
May 2017 IT infrastructure, CCTV, Surveillance & Remote Monitoring
Servers are traditionally designed to handle huge data streams and a little number crunching. Alternatively, they are number crunching wonders with little capacity for databases. But the handling of video in VMS is all about huge data streams and a lot of specialised number crunching.
Milestone solves this by using the processer on the graphics card in Intel CPUs to do all the video calculations. A graphics card is specialised to handle the display, but it can also be used for other tasks. By doing this, we can use less hardware in VMS installations. This lowers the hardware cost, simplifies the installation and produces less heat and power.
Slash hardware costs by 50% or more
As the number of cameras added to surveillance systems continues to rise, the resulting increase in video streams is putting the VMS systems under increasing 'processing pressure', which can only be as fast as its computing power (CPU) allows. When the processing tipping point is reached, one solution is to add more hardware to increase computing power. But is this the only option?
Milestone Systems is the first VMS vendor to introduce hardware accelerated video decoding using Intel's built-in Graphics Processing Unit (GPU) component in the CPU and the Intel Media SDK. This unleashes more processing power, using less hardware.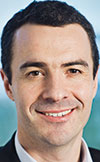 Christian Ringler.
Christian Ringler, drector Middle East, Africa & DACH at Milestone, says, "By adopting this technology, the IT department can cut hardware costs by 50% or more, simplify the installation, as well as produce less heat and consume less power, adding to its green credentials."
Greater processing power
The ability to process video has traditionally been dependent on the CPU of the surveillance system. In this scenario, to increase a system's ability to process video, it has been necessary to add bigger servers, which not only cost more, but also add to the complexity of the system. This leads to higher administration costs and power consumption.
By harnessing the video processing capabilities in the GPU, the processor-intensive task of decoding (rendering) video is offloaded to the dedicated graphics system, leaving the processor free to perform other tasks. Computers with compatible Intel processors, firmware, drivers and a Microsoft operating system can run the latest version of XProtect Smart Client and benefit from more than 80% reduction in processor load.
Ringler comments: "Intel has very cleverly taken the graphics adaptor that you would associate with 'gaming technology' and shrunk it down to a size which means it can be incorporated into the processor. This means that the computing power, or graphics processing power, is dramatically increased while the physical space it takes up is significantly decreased. We are taking the designing principles of cellphones and applying them to our surveillance systems.
"It's important to understand the computing power we are talking about here: Intel and Milestone's solution is purposely separate from the data centre server, as this is not designed to handle the huge data streams and specialised number-crunching involved in video processing."
The key challenges
Hardware acceleration resolves two fundamental surveillance issues. The first is the sheer volume of video that is being captured by an increasing number of cameras on systems in all sorts of environments and industry sectors. This ranges from capturing human behaviour in retail stores, to sophisticated security systems monitoring in real time, to monitoring endangered species in zoos.
There is no doubt that the value of the video analysis is creating a greater demand for larger surveillance systems. Hardware acceleration overcomes the bottleneck this creates at the CPU.
The second challenge is software decoding of video. Each compressed video stream that the operator views on their monitor is being decoded by the CPU. As if this wasn't putting enough strain on the processing power of the system, the demand for clearer, higher definition images that result in admissible evidence when needed, means the adoption of large scale HD and UHD systems is growing and adding to the incredible loads put on processing power.
Ringler explains: "To avoid poor video quality, end-users believe that they must purchase extra processing power at huge expense, both to buy the asset and maintain the subsequent running costs this involves (e.g. high power consumption). However, by using Intel Quick Sync Video, Milestone is able to dramatically reduce processor utilisation and display more video streams while eliminating those jerky video streams and grainy images that are all too common when the CPU cannot cope."
Hardware acceleration revolution
Hardware acceleration is set to transform the surveillance industry, as by taking this approach we ultimately use less resources while increasing video capabilities.
"Our partners are winning tenders thanks to this technology, as we are typically able to reduce the number of recording servers by a factor of three or more. Taking the hardware acceleration approach offers the same, if not better performance, than adding more hardware to a system," Ringler concludes.
Credit(s)
Further reading:
Accelerating global IoT deployment
October 2019 , IT infrastructure
Upcoming suite of Eseye products will deliver global IoT connectivity with near 100% coverage, automated onboarding and data provision into AWS IoT Core.
Read more...
---
Digitising Maslow's Hierarchy of Needs
October 2019 , Integrated Solutions, IT infrastructure
Mobile technology has the potential to change how Africa approaches patient and healthcare, says Phathizwe Malinga, managing director, SqwidNet.
Read more...
---
Edge computing ? drivers and benefits
September 2019 , IT infrastructure
Edge computing brings bandwidth-intensive content and latency-sensitive applications closer to the user or data source.
Read more...
---
Advanced connectivity enables fast and flexible networks
September 2019 , IT infrastructure
Advanced networking is the unsung hero of our digital future, offering a continuum of connectivity that can drive the development of new products and services and transform operating models.
Read more...
---
Cybersecurity for video surveillance systems
September 2019, Mobotix , Cyber Security, CCTV, Surveillance & Remote Monitoring
Video surveillance systems are increasingly accessible over any IP network, which has led to the rise of potential cyberattack.
Read more...
---
What are the cybersecurity issues in video surveillance?
November 2019, Axis Communications SA , Editor's Choice, CCTV, Surveillance & Remote Monitoring, Cyber Security
he importance of the data captured by surveillance cameras – and what can be done with it – has led to a new breed of cybercriminals, looking for insights to steal and sell.
Read more...
---
The safe city and its need for interoperability
November 2019 , Integrated Solutions, CCTV, Surveillance & Remote Monitoring
Interoperability continues to present one of the greatest challenges, particularly with video management systems, video recording devices and cameras.
Read more...
---
A platform approach to safer and smarter cities
November 2019, Milestone Systems , CCTV, Surveillance & Remote Monitoring
Selecting the right platform to manage the vast data collected from smart and safe cities is critical to the ultimate success of the project.
Read more...
---
Duxbury Networking launches Solar Switch
November 2019 , IT infrastructure, Products
Duxbury Networking has launched its Solar Switch with tailored capabilities for applications in less-accessible areas where electricity is not available or not reliable.
Read more...
---
TruVision licence plate cameras
November 2019, UTC Fire & Security SSA , Products, CCTV, Surveillance & Remote Monitoring
TruVision ANPR cameras offer functionality for applications where vehicle access management is required based on licence plate.
Read more...
---