printer friendly version
Locally made server cabinets and racks
May 2017
IT infrastructure
The modern security industry is continually coming up with high-tech solutions tailor-made for solving very particular challenges. As the adoption of networking technologies became more widespread, at least it wasn't necessary for the security industry to reinvent the wheel as far as networking equipment goes. The servers, routers, switches and cables already widely used in the IT sector were fit for purpose, and were gratefully adopted. The same goes for server cabinets and related equipment essential for any IT infrastructure.
Buying a server cabinet is a lot like buying new clothes. First you need a clear idea of the form and function you're after, before you even start shopping around. Brand names are more important to some than they are to others, and as with clothes, there are several globally renowned cabinet manufacturers that you really can't go wrong with. Next you find something in a colour that catches your eye – in the case of a cabinet that is typically a simple choice between grey, black, beige or grey. Accessorising is a must, so trays, power supplies, fans, plug points and the like must all be catered for.
The question of cost is a common thread running through all these decisions, and for the civic-minded there's also the desire to support locally made products. Local manufacturers are addressing both these concerns by offering ranges of cabinets and related parts made for the South African market. Hi-Tech Security Solutions profiled two of them to learn what they have to offer.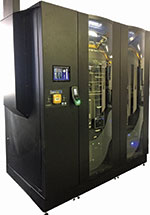 The EV6 cabinet epitomises ModRac's 'DC in a box' concept.
ModRac
Located in Midrand, ModRac (a division of Datanet) is built around making and designing all metal products for the African market. It offers a full range of wall boxes, cabinets and accessories for the ICT market, including IP-rated units for harsher conditions. Its fully-fledged design team is able to take on most engineering jobs, including security-specific, specialised brackets for cameras and kiosks.
According to divisional director Craig Luck, ModRac came up with the 'DC in a box' concept which allows smaller or remote companies and branches a cheaper, more effective option to building an entire data centre. Today this concept has been adopted by all cabinet manufacturers locally and internationally, he says.
In exploring some of the bigger issues and challenges facing local manufacturers of this type, Luck points out that the Chinese market offers products at very cost effective prices, while the American and European markets offer top quality, high-end products which are seen as superior. "Both these perceptions are incorrect though," he insists, "as ModRac offers a good quality, cheap product that competes well on price and a high quality, top end product that competes with anything out of Europe or America."
Luck stresses that there are definite advantages to dealing with a local cabinet manufacturer: "Locally made racks offer design tweaks and quick alterations that cannot be done by the imported solutions. These are often overlooked when the initial tenders are being awarded. The ability to talk to the designers face to face, and the fact that the Rand-Dollar exchange rate does not affect our costs as much as that of imported units, gives many of our regular customers peace of mind when tendering on large projects."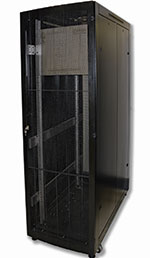 CPS Technologies' Atlas cabinets can carry loads in excess of 1000 kg.
CPS Technologies
CPS Technologies was founded as a sheet metal fabrication company in 2005, and has manufactured premium quality server enclosures and accessories for the likes of Mustek, Rectron and Eurobyte Technology. It has a modern manufacturing plant situated in Midrand which houses up-to-date machinery including CNC punching presses, laser, bending and welding machines, plus a fully automated cleaning and powder coating plant.
The company's Ryan Arild explains that its focus is entirely on the design and manufacture of high-end 19-inch equipment enclosures. "We cater for special projects and we guarantee continuity and availability of stock items, in addition to providing quick delivery of all our products," he says. "We pride ourselves on manufacturing cabinets of the highest quality, constantly improving and innovating our existing range of products to be able to satisfy the installers' requirements and they are comparable with imports from the EU and USA. Our cabinets are favoured by blue chip organisations not only for their quality and features but also for their very competitive pricing. Companies are recognising the importance of good quality server cabinets that comply to all laid down international standards."
The spectrum of server cabinets and accessories offered by CPS includes the Apollo range of wall and swing box enclosures and free standing cabinets, the Atlas range of free standing cabinets for heavy loads, the Polar range of air conditioned cabinets, and the Aries range of IP55 enclosures in various form factors and sizes.
For more information contact:
• ModRac, +27 (0)11 990 6120, brentl@modrac.co.za, www.datanet.co.za
• CPS Technologies, +27 (0)11 312 9310, sales@cps-africa.com, www.cps-africa.com
Further reading:
Home-grown, cloud-based safety and security solutions
Residential Estate Security Handbook 2020 , IT infrastructure, Integrated Solutions
BeSecure has taken security and communications technologies and turned them into what is best described as care and safety solutions for the estate community in South Africa.
Read more...
---
Bringing the wonders of fibre to your estate
Residential Estate Security Handbook 2020, Vox Telecom , IT infrastructure
The Hi-Tech Security Solutions' Residential Security Conference in Durban was a magnificent event where Vox showcased its visitor management solution.
Read more...
---
Protecting your electrical equipment
Residential Estate Security Handbook 2020, BFR Digital , IT infrastructure
Load shedding is a constant danger as the surges that occur when the lights come on cause damage to electronic equipment, including security equipment, unless it is protected.
Read more...
---
Secure biometric access for SAP
Issue 4 2020 , IT infrastructure
An expanded partnership offering endpoint biometric security for SAP takes on new importance amid COVID-19.
Read more...
---
Security on the edge
Issue 4 2020 , IT infrastructure
From less than $1.5 billion in 2017 to an anticipated $9 billion by 2024, the worldwide edge computing market is set to show significant growth in the coming years.
Read more...
---
Tips on secure remote working
Issue 3 2020 , IT infrastructure, Cyber Security
NordVPN advises how to stay secure while working from home during the coronavirus outbreak.
Read more...
---
Wall-mounted solution for mission-critical IT
Issue 3 2020 , IT infrastructure
Schneider Electric's latest iteration of its 6U wall mount has enabled convenient and easy deployment of edge computing systems.
Read more...
---
Secure backup for SMEs
Issue 3 2020 , IT infrastructure
Cleeks Cloud has announced the launch of its online, direct-to-cloud backup solution aimed at the South African SME market.
Read more...
---
Sophos Launches Xstream
Issue 3 2020 , IT infrastructure
SophosLabs research indicates 44% of prevalent information thieves use encryption to hide stolen data.
Read more...
---
The complexity of connections
Issue 3 2020 , IT infrastructure
With 55 billion devices connected worldwide by 2022 and 90% of them unmanaged, Zero Trust is the new norm.
Read more...
---