printer friendly version
Integration enhances mining security and operations
May 2017 Integrated Solutions, CCTV, Surveillance & Remote Monitoring
Still considered a critical contributor to the local economy, the South African mining sector boasts a total annual income of R550 billion and is one of the country's biggest employers. With South Africa's economy built on gold and diamond mining, the sector is an important foreign exchange earner, with gold accounting for more than one-third of exports. Gold mining in South Africa also accounts for over 10% of the world's gold production.
Headquartered in Johannesburg, South Africa, AngloGold Ashanti is the second largest global mining company with 19 gold mining operations based in nine countries, as well as several exploration programmes in both the established and new gold-producing regions of the world.
Developing a security management system for the mining sector is not a simple task. Mining operations are typically characterised by multiple sites in remote locations, often in hostile environments with limited infrastructure.
In addition to preventing incidents that involve security breaches and theft, the security or risk management plan must take a number of other factors into consideration, including occupational health and safety and the threat of labour unrest by hundreds of workers on site.
A typical mining security management system would combine various aspects of security features, including: manned guarding, CCTV surveillance, access control, perimeter security, fire protection, alarms, X-Ray systems and plant management systems. AngloGold Ashanti with its operations based throughout various countries in Africa is no exception.
Surveillance solution from Cathexis
AngloGold Ashanti's African CCTV solution includes some 2500 cameras distributed across about 12 geographical locations, including mines and plants in South Africa, Ghana, Tanzania and Guinea. Cathexis Technologies has provided AngloGold Ashanti with its flagship video management surveillance system for the past 15 years, ensuring that all of these sites are accessible remotely for support and centralised monitoring capability using the CathexisVision. While security is certainly a high priority for the mining sector, risk management has to work closely with other departments to streamline operational costs effectively and increase return on investment. Therefore, AngloGold Ashanti was recommended a solution which, through its integration capabilities with third-party systems and powerful analytics functionality, could generate actionable information, not only for security management, but all mining operations.
CathexisVision provides a management tool that enables operators and managers to function in a multi-tiered control environment with multiple CCTV cameras installed on different sites and locations. The system manages these sites from a central command centre.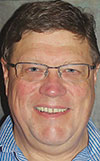 Gus Brecher.
"During our 15-year working relationship with AngloGold Ashanti, we have seen the company demonstrate an exceptional willingness to embrace the power of a fully integrated security solution," says Gus Brecher, MD of Cathexis Africa and business development and marketing director for Cathexis Technologies. "This leading-edge thinking has provided us with the ability to create a sophisticated and fully integrated infrastructure and security management system throughout the organisation's African mining operations."
Video management software features
Some of the main features of the CathexisVision installation include:
• Video analytics that provide triggers based on certain events or actions to the system and enable user-defined action.
• Integration that enhances the effectiveness of the system by enabling predetermined actions based on information received from integrated third-party systems, including access control, fire panels, alarm panels, X-Ray systems and plant management systems.
• The interactive graphical interface provides a visual representation of one mining site or multiple sites. Users can also navigate multiple sites throughout the enterprise with the map facility.
• Health monitoring provides continuous monitoring of all the components, including hardware and software integrity, and provides automated warnings of any possible impending failure. This allows maintenance engineers to perform corrective maintenance before the system fails.
Feature migration
One of the major requirements of the CathexisVision installation at the AngloGold Ashanti mining sites has been the need to upgrade the CathexisVision software on an annual basis to ensure that the installation is always kept up-to-date with the latest international trends and developments, and that the surveillance system is reaping the full benefits of the latest CathexisVision features.
Given that Cathexis has worked with AngloGold Ashanti for over 15 years, this has necessitated the need to migrate an analogue CCTV system into a digital, networked solution, as per global market trends. However, given the significant investment in surveillance systems, Cathexis is able to apply its technology and integrate with existing analogue systems, bringing them up to speed with the latest IP technology. In addition, CathexisVision supports the most popular brands of IP cameras, using both ONVIF or proprietary protocols.
"Working with the security management team from AngloGold Ashanti has been a significantly rewarding experience," says Brecher. "AngloGold Ashanti is one of the most forward-thinking and innovative organisations operating in the mining sector today, and with a willingness to embrace the features and competencies provided by the CathexisVision Technology, we've had an exceptional opportunity to demonstrate the effectiveness, efficiency and true capabilities that CathexisVision provides."
Credit(s)
Further reading:
Vox expands managed services with Mimecast
October 2019, Vox Telecom , Integrated Solutions
Vox has added Managed Mimecast to its suite of managed service offerings to provide customers with a more effective way of safeguarding their emails against spam and malicious attacks.
Read more...
---
Digitising Maslow's Hierarchy of Needs
October 2019 , Integrated Solutions, IT infrastructure
Mobile technology has the potential to change how Africa approaches patient and healthcare, says Phathizwe Malinga, managing director, SqwidNet.
Read more...
---
Intelligent analytics and the brains to match
September 2019, Bosch Building Technologies , CCTV, Surveillance & Remote Monitoring, Integrated Solutions
What if the brains behind our security cameras could be trained to improve their cognitive ability to pay attention, learn, and problem-solve according to specific rules and situations?
Read more...
---
AI-powered autonomous Drone-in-a-Box
September 2019 , CCTV, Surveillance & Remote Monitoring, Integrated Solutions
Organisations in the mining, energy and industrial, oil and gas, ports and terminals sectors can optimise security and business operations, whilst reducing risks and operational costs
Read more...
---
Cybersecurity for video surveillance systems
September 2019 , Cyber Security, CCTV, Surveillance & Remote Monitoring
Video surveillance systems are increasingly accessible over any IP network, which has led to the rise of potential cyberattack.
Read more...
---
A platform approach to innovation and value
CCTV Handbook 2019, Technews Publishing , Editor's Choice, CCTV, Surveillance & Remote Monitoring, Integrated Solutions, IT infrastructure
Moving to the platform model of doing business holds tremendous advantages for end users and smaller developers, but also for the whole technology supply chain.
Read more...
---
Open does not always mean easy integration
CCTV Handbook 2019, VERACITECH, Technews Publishing , Editor's Choice, CCTV, Surveillance & Remote Monitoring, Integrated Solutions
Customers who opt for best-of-breed solutions will have to rely on their integrators to develop customised integrated solutions for them.
Read more...
---
The impact of AI on the surveillance industry
CCTV Handbook 2019, G4S South Africa, Hikvision South Africa, Myertal Tactical Security, Technews Publishing , Editor's Choice, CCTV, Surveillance & Remote Monitoring
What the impact of AI will be on companies, the services and solutions they supply, as well as on the jobs people do.
Read more...
---
Video analytics and AI
CCTV Handbook 2019, Axis Communications SA, Dallmeier Electronic Southern Africa , Hikvision South Africa, Technews Publishing, Dahua Technology South Africa , Editor's Choice, CCTV, Surveillance & Remote Monitoring, Integrated Solutions
Artificial intelligence has the potential to deliver real benefits in the world of video analytics and many companies are already delivering customer benefits.
Read more...
---
Cloudy with a chance of AI
CCTV Handbook 2019 , Editor's Choice, CCTV, Surveillance & Remote Monitoring, Integrated Solutions
One local company has developed an AI solution that can be added to existing surveillance installations, offering 24-hour intelligence.
Read more...
---