Security beyond security
May 2017, Financial (Industry), CCTV, Surveillance & Remote Monitoring, Asset Management, EAS, RFID
Convergence is an overused term in the technical sector as it is used to describe a variety of trends and changes. In the security market we have become used to the term convergence describing the move to IP-based systems, and more recently the convergence between physical and cybersecurity.
Now we are also seeing a convergence in the benefits physical security provides. Companies and individuals are well aware of the security benefits of alarms, cameras, access control and so forth (or we hope they are), but lately we have also started seeing results from security equipment that benefits non-security areas.
The simplest example is from the retail industry. Today, while keeping tabs on all aspects of security, properly installed technology allows retailers to increase the efficiency and planning of their stores, measure demographics etc. via heatmaps, people counting and other analytical applications that determine demographics and so on.
But what about the financial industry? We know these companies are more paranoid about security than most, but are they making full use of their security systems?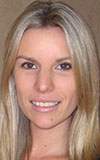 Sasha Bonheim.
Hi-Tech Security Solutions asked Sasha Bonheim from Axis Communications for more insight into what the financial markets are or could be doing to extract additional value from their security systems.
Bonheim says facial recognition is a perfect complement to an existing surveillance system, enhancing security and/or customer experience in real time. "It works by matching faces taken from real-time video with a database of previously stored images of faces. You categorise the faces in the database based on your application need – be it access control, VIP detection, or wanted individuals.

"When a face is captured on the camera, the matching takes place in real time, and a match or non-match either allows or denies access, or triggers an alarm alerting pre-determined stakeholders to take appropriate action. Together with our wide range of various Axis ADP partners (application development partners) we can offer financial institutions add-ons to their surveillance systems such as people counting, queue management and identifying VIP customers to enhancing the customer experience."
More importantly, she adds that these types of value-added analytics sit on the camera (when referring to Axis cameras or others with open platform integration), so there would not be a need to replace the entire surveillance system.
Seeing the light?
In any industry, those closest to the action are generally the last to see beyond their own areas of expertise. The security market is no different. In this area however, Bonheim says there has been a definite shift in the last few years as to how security personnel view their solutions.
"Whilst their primary function in a financial institution is physical security, security personnel are starting to see usability in a different light," she says. "It really is all about education and how we share the right message.
"It is vitally important to try and incorporate the IT department, for example, and explain the benefits of Axis Zipstream Technology, for example, to them as well as to the security department. [Zipstream is a compression technology that allows for a reduction in both bandwidth and storage costs, which is found in the latest generation of Axis cameras.]
"The SHEQ manager can also be involved, as one can use our cameras to be alerted of movement in restricted areas etc."
And we are still at the beginning of the road when it comes to the intelligence and intelligent capabilities being built into IP systems. Some believe 2017 is the year we will see amazing advances in video analytics capabilities that will impact both the security and non-security market. As noted above, Bonheim expects new compression technology for storage and bandwidth savings to make more of an impact going forward. This will be complemented by systems for health and safety risk monitoring and clever analytics utilisation for streamlined business practices.
So while security is converging in on itself, it's also converging with other operational areas of business, opening new doors to security, efficiency and productivity, and new avenues for revenue generation among those who lead the way.
For more information contact Axis Communications, +27 (0)11 548 6780, sasha.bonheim@axis.com, www.axis.com