New appointments at Naxian
May 2017, News
Naxian Systems, officially launched in May 2017, provides smart solutions for both end users and system integrators. The team has been carefully handpicked to add value to client propositions, leveraging over a cumulative hundred years of knowledge, expertise and experience in the commercial and security engineering sectors.
• Bernard Senekal, MD: With more than 22 years as entrepreneur, Bernard spent eight years in the commercial and industrial video, information technology and business information systems markets. He has spent the past 14 years in the electronic security market, building and selling a successful distribution company, acquiring and turning around Geutebruck Southern Africa before founding Naxian Systems. Bernard is responsible for the strategic vision of Naxian and ensures that the daily behaviour and activities of his team are aligned with the company's long-term objectives. Bernard lives by the motto that opportunities multiply as they are seized!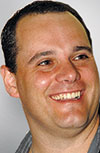 Charl Wolfaardt.
• Charl Wolfaardt, financial director: As entrepreneur himself, Charl has been instrumental in the successful build of all businesses where Bernard has been involved over the years. He has ensured stable administrative, logistics and financial processes and disciplines, and continues to do so in his role at Naxian.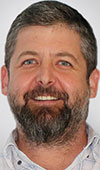 Duncan Gordon.
• Duncan Gordon, business development: Duncan has the ability to get the right audience around the table, although relatively new to the physical electronic security industry, his passion and drive is a breath of fresh air. Having spent the bulk of his career in the ISP and telecoms industries (and a short stint in the green energy space), he comes with a wealth of knowledge, technical networking abilities and strong B2B relationships as well as an excellent nose for picking up new opportunities.
• Gerhard Furter, head of innovation: A technology veteran of 22 years, Gerhard has achieved success in projects across diverse markets: defence, financial, manufacturing, distribution and communications. Gerhard lives by his maxim that impossible is only an opinion, and there is always a way to achieve the objective, even if that way is completely outside the usual method. An innovator, futurist, and avid gamer, Gerhard contributes to the superior technical ability of Naxian with a tactless disregard for industry limitations that have gained him a reputation as the blunt instrument that gets the job done.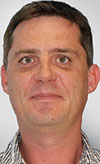 Wayne Bosch.
• Wayne Bosch, solutions engineer: Wayne has 16 years' experience within the security industry. Starting as a technician and excelling through the ranks in almost all aspects within the security industry, during the years of transition from analogue to IP technologies, has given him the ability to associate and identify all manner of technical (and other) requirements that are applicable for certain environments. He also has the ability and driving force to complete any project to perfection with a passion for new and innovative ways of completing projects more efficiently.
For more information contact Naxian, +27 (0)87 820 0620, bernard@naxian.co.za, www.naxian.co.za