SETA accreditation for Crest's training academy
May 2017, News, Security Services & Risk Management, Conferences & Events
Crest Advisory Africa has announced that its Training Academy has been evaluated, quality assessed and been through various stages of assessments to determine if it will be accredited as a SETA-approved service provider.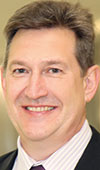 Nico Snyman.
"We are proud to share that as from the 8th March 2017, Crest's Training Academy has been approved by the Services SETA as an approved service provider with Provider Accreditation Number: 12236," says Crest's CEO, Nico Snyman.
He explains that the accreditation process is long and complex, involving three phases. The first was an audit of Crest's Quality Management System (QMS), which included its policies, capabilities, facilitators, assessors and moderators, and more. The second phase was an inspection of the company's documentation for its courses, done by SETA as well as an independent verification company. And the third phase was a quality assurance audit.
The accreditation means the company's courses offer real benefits to attendees as it means the Crest Training Academy complies with South African Qualifications Authority (SAQA) standards and that South Africa's official government training and development structure approves of its Training Quality Management System.
"This gives clients the assurance that we are not only speaking about quality, but we implement, drive and provide a combined assurance approach to quality," adds Snyman. "Crest's training has also been endorsed by the Institute of Risk Management South Africa (IRMSA) and the Association of Internal Control Practitioners (AICP (UK))."
Risk management and risk assessment skills are in demand throughout the country, and the world, in a variety of industries. Crest has courses available in areas such as warehousing and logistics, facilities management, security, cyber security, PoPI (the Protection of Personal Information Act) and more. The list of companies that have attended courses from Crest, including Hollard, SA Reserve Bank, Armscor, Anglo American, AngloGold Ashanti, Sibanye Gold, Royal Bafokeng Platinum and others, attests to the quality of the material and teaching provided.
Crest courses have also been sourced to be provided in Dubai, India, Kenya and other countries, with further international courses scheduled for later in 2017. Crest Training Academy has also been approached by Monash University (South Africa) to provide Short Leaning programmes (SLP). The first of these courses are provided under the banner of Monash University, with a group of risk and audit managers from Nigeria.
With King IV directly addressing risk in companies, more business leaders are realising there is a vast difference between security and risk management. This has led to a need for quality education that provides those responsible for risk with real skills and tools to effectively assess and manage their organisations risks.
For more information contact Crest Advisory Africa Training Academy, +27 (0)11 534 8454, training@crestadvisoryafrica.com, www.crestadvisoryafrica.com/training