printer friendly version
Next generation distribution: enhanced value add
September 2012
Security Services & Risk Management
We have all heard distributors talk about and label themselves as Value Added Distributors. What exactly is a Value Added Distributor and why is it relevant to consultants, system integrators and end users?
Do distributors have the appropriate pedigree and mix of product at the correct prices on their shelves? Do they provide training, pre-sales design skills, post sales deployment and support services? Are they providing credit lines or finance options? Do they have a national footprint that ensures streamlined operations and logistics to service market demand? Do they facilitate deal registration and commercial know-how to guide channel partners and negotiate with vendor-suppliers? Are repairs or product swap out facilities available for faulty items? The list goes on, but inevitably leads to a single truth. Just about everyone nowadays is adding some or all of these elements into the bag and calling it value add.
The fact is that when either a consultant, a system integrator or an end user walks into a room and Sentronics is standing next to all the other distributors, what gives either of these three target contact markets a compelling reason to decide to do business through this channel rather than through the opposition? Value Added Distribution has become a diluted term and a word used casually by any distributor whether they add value or not.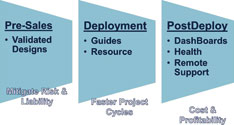 So how do we position against the risk of price pressure, still offer the best pricing, but also enhance our overall value offer? The answer according to Sentronics is to make available tools, services and intellectual property that enhance the value of our product offer to market through the supply chain, from consulting engineers through to system integrators.
Business relevance
Essentially our services offer aims to enhance channel value by providing you with everything you cannot provide for yourself. The offer is segmented into three layers:
* Pre-Sales.
- Validated Designs.
* Deployment.
- Guides & Resource.
* Post Deployment.
- Health Maintenance.
Being able to bring together vendors such as Sony, Geutebrück, SAFLEC and Virdi we are able to design integrated security solutions that will carry Sentronics' and the vendor stamp of approval. In other words, combining expertise from our end and from the end of the vendor we are able to validate the designs and provide a stamp of approval that should you use our validated design, the solution is guaranteed to work.
Once a validated design is specified in an official document the consulting engineer is automatically de-risked from certain liabilities usually exposed to. It also provides uniformed requests to market in terms of gathering information and pricing from system integrators to ensure apples are compared to apples.
When deployment occurs we will provide a deployment guide and physical engineering resource to not only perform deployment of the system by way of a step by step guide, but also ensure that the appropriate knowledge handover occurs to the relevant technical resources at an SI end. Deployment guides against validated designs ensure that the last step in the process is guaranteeing user acceptance and sign off.
Of course, the knowledge is handed over to the SI and this means that SI owns the site rather than a technical resource at distribution level. Along with this the site deployment time is much faster and the risk to the SI mitigated due to the deployment guides.
Now that deployment is complete and user acceptance and sign-off is ensured you can simply link your site by way of secure VPN tunnelling back into our 24/7-365 operation centre. We will not be performing video monitoring of these sites; therefore a simple amount of bandwidth is required. What we will offer however are the following subscription services:
* Digital dashboards.
* Health monitoring and reporting.
* Remote diagnostics and support.
Conclusion
Over the next few weeks Sentronics will run an information sharing campaign with end-user verticals, consulting engineers and system integrators alike to define the exact scope of what you require and to tweak the price to market for these services against you and the industry as a whole.
We will be building our operational space and ensure you visit us for a demonstration of what we can do for your business or that of your clients.
We will then further our offer to market to include the following services:
* Asset replacement registers.
* Network readiness assessments.
* Data security checks that validate secure video delivery from one device or VLAN to another.
* Increased granularity to include network and application performance monitoring and reporting.
* Services that collect data and provide auditing services through independent security auditing initiatives.
* Eventually start creating standards in the security space that relay back into barriers to entry for consultants and integrators so end users have a better experience.
For more information contact Sentronics, +27 (0)11 312 4147, michelle.korff@sentronics.co.za,  www.sentronics.co.za
Further reading:
Putting secondary storage to work
September 2019 , IT infrastructure, Security Services & Risk Management
By 2022, more than 80% of enterprise data will be stored in scale-out storage systems in enterprise and cloud data centres, up from 40% in 2018.
Read more...
---
ContinuitySA offers Complete Continuity Practitioner in October
September 2019, ContinuitySA , Training & Education, Security Services & Risk Management
ContinuitySA is offering its popular five-day Complete Continuity Practitioner Programme on 21-25 October 2019 at its offices in Midrand.
Read more...
---
South Africans are urged to be aware when it comes to fraud
September 2019 , Home Security, Security Services & Risk Management
Recent statistics shows that while some forms of fraud are decreasing, there is a sharp increase in other areas.
Read more...
---
Edwards Public Address & Voice Alarm System
October 2019 , Security Services & Risk Management, Products
Carrier has added the Public Address & Voice Alarm (PAVA) range to its fire product offerings.
Read more...
---
ContinuitySA offers ISO 22301 Lead Implementer course
October 2019, ContinuitySA , Training & Education, Security Services & Risk Management
ContinuitySA is once again offer its five-day Certified ISO 22301 Lead Implementer course on 18-22 November 2019 at the company's Midrand facility.
Read more...
---
Preparing your data for PoPI
September 2019 , IT infrastructure, Security Services & Risk Management
When it comes to protecting any information, the way data is secured across the value chain needs to be addressed.
Read more...
---
A balanced, fair industry
October 2019 , Residential Estate (Industry), Security Services & Risk Management, Associations
PSiRA is focused on supporting the effective promotion and regulation of the private security industry.
Read more...
---
SOAR an essential part for security operations
October 2019 , Editor's Choice, Cyber Security, Security Services & Risk Management
MJ Strydom, MD of cybersecurity specialist company DRS discusses the challenges around the security incident response lifecycle.
Read more...
---
The importance of body-worn cameras in the workplace
October 2019 , CCTV, Surveillance & Remote Monitoring, News, Security Services & Risk Management
South Africans have far more agency over their security than they have realised in the past.
Read more...
---
Increase in Business Email Compromise (BEC) attacks
October 2019 , Cyber Security, Security Services & Risk Management
A new Mimecast ESRA report finds millions of spam, tens of thousands of BEC or impersonation attacks, dangerous file types and malware attachments being delivered to users' inboxes.
Read more...
---