printer friendly version
Mitigating risks with video telematics
April 2017 CCTV, Surveillance & Remote Monitoring, Asset Management, EAS, RFID, Integrated Solutions, Security Services & Risk Management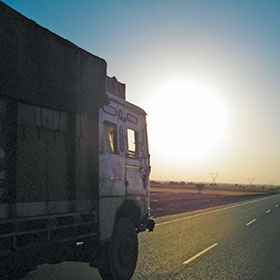 Modern video-based telematics will not only ensure reduced time to settle insurance claims, but fleet owners can now increase driver productivity, reduce fuel theft and increase load frequency with faster turnaround times.
A study by the US Department of Transport shows that video telematics can save fleet owners up to 20% on fuel consumption, tyres, brakes and general maintenance. These systems also help improve driver skills, resulting in increased driver safety and productivity.
iCAM Video Telematics Gary Wels says driver coaching can now be done with factual video evidence. "Not only does this ensure safer and more responsible driving, but also prove the innocence of drivers and reduce third party insurance claims.
"By mitigating risks, fleet owners can ensure better incident management, reduce vehicle downtime and improve productivity. More importantly, factual visual evidence of an event means reduced theft and pilferage, reduced time to settle insurance claims and a decrease in accident claims."
iCAM Video Telematics offers a 4-camera Vehicle Video System that allows fleet owners to stream live video from a moving vehicle via a cellular signal. This enhancement provides various viewing options for customers, including event-based and historical footage.
The iCAM 852 is a locally produced video streaming and fleet management product, designed for safety and driving analysis. It was designed from the ground up, with scalability in mind to support any fleet.
Wels says fleet owners can now manage vehicles and administer the entire system over the air via a web-based secure login. "The solution includes video embedded with mapping location, speed, date, time, and back-end systems."
Video recording on all events or triggered incidents such as speeding, no-go zones, panic button, tampering and accelerometer are tracked and uploaded to the secure server for investigation and viewing. Other triggers could include cabin doors, driver fatigue system, fuel probes and battery disconnection.
The iCAM 852 offers peace of mind and provides factual evidence. It has real-time live capability on 3G streaming, the GPS accuracy and tracking data together with G Force measurement provides highly reliable impact speeds and force – to prevent any challenges to the validity of data.
Fleet owners can choose to receive immediate email alerts upon exceptions or triggers and one has direct contact with the driver via auto-answer microphone and speaker. The solution includes detailed reporting, a benefit for fleet owners, drivers, customers and insurance partners.
iCAM Video Telematics also offers managed services via its call centre. Recovery services include panic alerts for hijacking or any other emergency or a vehicle battery disconnect. Standard costs are charged for the service, with additional services charged by service providers such as armed protection, hazmat clean-up or vehicle storage. An audit trail is also available on all actions performed by our call centre, including date and time stamp."
For more information, contact iCAM, 08611 58527, www.icamvideo.co.za
Credit(s)
Further reading:
Stop cheating with gaming analytics
Dallmeier Electronic Southern Africa CCTV, Surveillance & Remote Monitoring Entertainment and Hospitality (Industry)
The CAT gaming analysis solution from Dallmeier offers a range of analysis options with which casino operators can increase the 'game pace', combat fraud and gain valuable insights into the gaming action through real time data collection.
Read more...
---
Stadium security with Panomera
Editor's Choice CCTV, Surveillance & Remote Monitoring Integrated Solutions Entertainment and Hospitality (Industry)
To be able to better identify and track perpetrators and thus reduce financial and non-material damage in a soccer stadium, the operator opted for a video security solution from Dallmeier.
Read more...
---
Turkish university installs IDIS surveillance
CCTV, Surveillance & Remote Monitoring Products
IDIS video streamlines complex surveillance systems for learning institution, upgrading a 350-camera system with 24/7 control room monitoring to transform security for Social Sciences University of Ankara (ASBU).
Read more...
---
Brighter, greener, and smarter
Dahua Technology South Africa Products CCTV, Surveillance & Remote Monitoring
Dahua Technology released its new Dahua CH II Series Indoor Fine Pixel Pitch LED display, providing visual clarity and promoting energy efficiency and sustainability.
Read more...
---
Smart water management
Axis Communications SA CCTV, Surveillance & Remote Monitoring Integrated Solutions
South Africa is currently facing a water crisis, with scarcity and inefficient water management posing significant challenges to sustainable, consistent access to water. Smart technology and powerful partnerships may offer a proactive solution to SA's water crisis.
Read more...
---
Telematics help protect SA trucks against expanding risks
Logistics (Industry) Asset Management, EAS, RFID
South Africa's road freight transport sector currently accounts for about 85% of all goods transported in the country and is growing rapidly annually. "To ensure that goods are delivered safely, promptly, and affordably is a challenge," says Justin Manson of Webfleet.
Read more...
---
Helping retailers optimise monitoring and security
Guardian Eye Retail (Industry) CCTV, Surveillance & Remote Monitoring
From a smart retail perspective, it is crucial to understand that monitoring stock and other assets through camera surveillance and a variety of Internet of Things (IoT) sensors stretches further than the stores themselves.
Read more...
---
Is AI the game-changer for streamlining anti-money laundering compliance?
Financial (Industry) Security Services & Risk Management
In the aftermath of South Africa's recent grey listing, companies are now confronted with the imperative to address eight identified strategic deficiencies, while simultaneously reducing their financial crime risk through anti-money laundering compliance processes.
Read more...
---
Client satisfaction boosted by 85% at Thungela Mine
Thorburn Security Solutions News Security Services & Risk Management Mining (Industry)
Thorburn Security, a division of Tsebo Solutions Group, has announced its recent collaboration with Kwa-Zulu Natal security company, Ithuba Protection Services, as part of its Enterprise Supplier Development (ESD) initiatives across Africa.
Read more...
---
Empowering Istanbul's public transportation
Dahua Technology South Africa CCTV, Surveillance & Remote Monitoring Integrated Solutions
Dahua's intelligent transportation solution, using technologies like DSM and AI-based passenger flow counting, has facilitated an intelligent system upgrade for nearly 6 400 minibuses and electric buses in Istanbul.
Read more...
---