printer friendly version
Integrated security for university
April 2017 Integrated Solutions, CCTV, Surveillance & Remote Monitoring, Access Control & Identity Management, Education (Industry)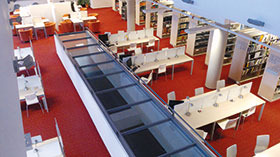 The Pennsylvania State University, better known as Penn State, is a public research university with a network of 24 campuses, including nine with on-campus residence halls, located throughout the state.
As part of a system-wide upgrade, the eight residential campuses under the domain of Commonwealth Campus Housing and Food Services, began the move to a single security and event management platform to support their video and access control systems. The upgrade included a new system of wireless locks and upgraded IP cameras for the residence halls and some outside group facilities such as childcare and student centres.
Planning the change
Penn State, with its myriad campuses across Pennsylvania, was operating on multiple and disparate platforms for its academic and physical security systems. Further, it wished to use Tyco Security Products' Software House C•CURE 9000 software as the standard security management platform integrated among the university and its campuses.
With a decision made to standardise on C•CURE 9000 for the access control system, the university also decided to simultaneously upgrade its wireless locking system. That project presented the new challenge of converting hundreds of locks without compromising access to doors or presenting unnecessary security issues during the conversion process.
In fact, logistics proved to be one of the greatest challenges as the campuses involved spread from one end of the state to the other – more than a seven-hour's drive apart from the farthest campuses. Therefore, having a hands-on approach by a single person or integration office wasn't possible. All three offices of Siemens in Pennsylvania – Harrisburg, Philadelphia and Pittsburgh – aided in managing the year-long project.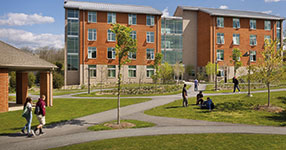 The process of change
As a long-time user of Stanley locking products, and with Stanley Wi-Q wireless locks now integrated with the C•CURE 9000 platform, the university system began the process of converting more than 720 locks in a dozen residence halls. This project would affect the housing for more than 1200 students at five campuses.
The switch to wireless locks improved the ability for programming and monitoring while also providing easier operational use. The wireless locks, which are mounted on the residence room doors, communicate with a Stanley Wi-Q portal gateway – there are about 90 within the system – which in turn communicate with the C•CURE 9000 software.
"The student population had a tendency to lose the keys that they needed to open doors, so a wireless solution would make it easier for the appropriate students to gain access," said Tracy Walker, assistant director of Commonwealth Housing, Food Services and Residential Life. The same card that accesses the wireless room locks used for hard-wired doors throughout the campuses, as well as card readers for copiers, laundry machines, and cash registers.
By integrating with C•CURE 9000, Penn State security personnel could see audit data concerning when a door was offline through the system's journal feature, if information on door status was changed. Over 110 iSTAR door controller panels monitor door data throughout the campuses, including at University Park, Penn State's largest campus.
IP cameras and access control
Another critical component of the upgrade was the addition of nearly 900 primarily Illustra IP mini-dome cameras at the entrances and perimeter of the residence halls and other campus buildings that are linked to the American Dynamics victor video management system.
The high-definition video from the Illustra Mini-Domes make them ideal for detecting must-see details, such as numbers on licence plates, faces and even blurred objects and capturing them at full frame rates, in conditions ranging from full sun to blackout conditions.
Several facilities at Penn State's University Park campus were also migrated to the victor platform, with the assistance of systems integration firms Tyco Integrated Security, AccessSI, and Securitas.
One of the benefits of the new system is that it helps Penn State comply with a more restricted video access policy, said Walker. Only three Housing and Food Services management positions have access to all video from the
23 VideoEdge NVRs and just a few, mainly on the food services side, have access to live video for business purposes – such as monitoring food lines.
C•CURE 9000 is also serving as the backbone for integration with other systems employed by Housing and Food Services and Residence Life, such as the university's eLiving platform that is used for tracking housing contracts and room assignments. The information from eLiving now goes directly into C•CURE 9000. The same is true of an access management system for staff and non-student access to residence halls, such as vendor access. It now has integrations with C•CURE 9000 to streamline and automate processes as well as enable stricter controls.
For more information contact Tyco Security Products, +27 (0)82 566 5274, emallett@tycoint.com, www.tycosecurityproducts.com
Credit(s)
Further reading:
Carefully nurtured supplier relationships reap benefits
May 2019, Powell Tronics , Integrated Solutions
Powell Tronics has spent the past decade building a solid foundation of leading-edge technology products sourced from a range of locally and internationally respected market leaders in the security sector.
Read more...
---
Platforms and community lead the future
May 2019, Milestone Systems , Editor's Choice, CCTV, Surveillance & Remote Monitoring, News, Integrated Solutions
Milestone Systems took a look into the future of open platforms and the power of community at MIPS EMEA in Copenhagen in March this year.
Read more...
---
The consequences of false alerts
May 2019, Leaderware , Editor's Choice, CCTV, Surveillance & Remote Monitoring, Integrated Solutions
Craig Donald discusses the impact of false alarm rates on the utility of intelligent security technology systems.
Read more...
---
Protecting people's money, and their data
May 2019, Cathexis Technologies, CA Southern Africa, IDEMIA , Editor's Choice, Integrated Solutions, Financial (Industry)
The temptations inherent to the banking sector, and financial institutions more generally, pit them in an eternal and increasingly high-tech battle to secure themselves against threats from within and without.
Read more...
---
Access authentication with a wave
May 2019, IDEMIA , Editor's Choice, Access Control & Identity Management, Integrated Solutions, Financial (Industry), Commercial (Industry)
Financial organisations are making the move to contactless fingerprint biometrics in order to meet the increasing burden of regulatory and compliance demands.
Read more...
---
Does your control room add value?
May 2019, Fidelity Security Group, G4S South Africa, Progroup , Editor's Choice, CCTV, Surveillance & Remote Monitoring, Integrated Solutions, IT infrastructure, Commercial (Industry)
Whether on- or offsite, control rooms are a critical aspect of security today and care must be taken in the design and rollout of these nerve centres.
Read more...
---
Face to face with Suprema FaceLite
May 2019, Suprema , Editor's Choice, Access Control & Identity Management, News, Products
Suprema has announced the launch of FaceLite, the new generation compact face recognition terminal designed for enterprise access control as well as time and attendance applications.
Read more...
---
ASSA ABLOY showcases latest digital access solutions
May 2019, ASSA ABLOY South Africa , Editor's Choice, Access Control & Identity Management, News
ASSA ABLOY hosted a breakfast at the Country Club Johannesburg in Woodmead on 2 April, to showcase the company's latest and greatest digital access solutions.
Read more...
---
Keyless access control launched in Africa
May 2019, FS-Systems , News, Access Control & Identity Management, Agriculture (Industry)
FS-Systems launches a cutting-edge keyless access control solution for the critical infrastructure environment across the African market.
Read more...
---
Augmenting surveillance video
May 2019, ISDS , News, Integrated Solutions
ISDS is moving from its previous business model to focusing on being a value-added distributor and supporting its channel partners.
Read more...
---