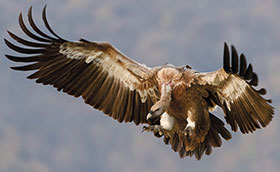 Regal sponsors CCTV and networking for VulPro
April 2017, This Week's Editor's Pick, CCTV, Surveillance & Remote Monitoring, News
Regal Distributors SA recently assisted VulPro by providing them with a free CCTV upgrade to its rehabilitation facility in the Magaliesburg mountains. The sponsorship included a range of Hikvision CCTV equipment and WIS networking devices to assist VulPro with around the clock monitoring of injured vultures at their premises.
Regal Distributors' range of CCTV products cater not only for general electronic security needs, but also for all aspects of general observation and recording that are so vital in ensuring the vultures' ongoing wellbeing. Regal's Hikvision surveillance products provide sharp images and their ease of use made these cameras ideal for the monitoring of wildlife and ensuring their safety and wellbeing at any time of the day or night.
Added Hikvision features, such as the Darkfighter technology and H.264+ codecs ensured a clear image at night and provides for improved storage for longer backup periods. These features were combined with Regal's WIS networking range of wireless devices, thus providing a complete surveillance system for this and other, similar environments.
VulPro is a non-profit organisation that works with vulture rehabilitation, breeding, reintroduction programmes, wild population breeding and monitoring, and vulture education and awareness programmes. It approaches vulture conservation in an integrated, multidisciplinary fashion with benefits from its programme accruing to both vultures and society at large, and Regal Distributors is proud to have played its part in assisting in their growth and improvements at the premises.
If you would like to help with, or donate to this worthwhile VulPro cause, please visit Vulpro at www.vulpro.com.
For more information contact Regal Distributors, +27 (0)11 553 3300, info@regalsecurity.co.za.