printer friendly version
The intersection of IoT and cloud
1 April 2017 IT infrastructure, Integrated Solutions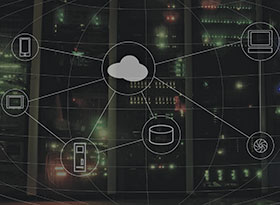 It is predicted that by 2020, 25 billion devices will be connected to IoT and 600 zettabytes (1 zettabyte is 1 trillion gigabytes or 1 billion terabytes) of information will be sitting in the cloud. The cloud is the big enabler if you want to leverage the new IoT economy in business. Cloud has created the capacity, scalability and agility needed for business to build insight from masses of new data into their decision-making, customer experiences and business models.
Rob Godlonton, CEO of EOH ICT.
At the recent EOH Connect conference, it was discussed that one of the biggest challenges when it comes to cloud computing is the ability to pull data from devices that are either part of legacy systems or work in isolation from other systems. In fact, a Cap Gemini report shows that only 27% of executives believe their big data initiatives have been successful, thanks to dispersed data silos.
Bridging the data silo gap
The issue of data siloes has come about because we've all been installing technology into our organisations for the past 10 to 15 years, and we're still using this technology today even as big data and IoT has begun to proliferate. At the same time, many OEMs frame their business models around locking their clients into their specific technologies and enterprise platforms, which doesn't give organisations the opportunity to implement new technology quickly or select the combination that works for them. This is not effective, especially as IoT continues to grow.
So the key here is to make sure whatever you implement in terms of IoT infrastructure can be aligned with your old investments to leverage them and make sure they can speak to each other. At EOH, we call this living in a two-speed world – organisations with an ability to blend the stable old, with the agile new – that is where real value and success in big data initiatives is created. With 92% of workloads predicted to be born in the cloud, this is more important than ever.
Using IoT and big data to improve productivity
VW in South Africa has effectively implemented a system to improve its servicing productivity. As a vehicle drives into the service centre, licence plate recognition kicks in, which ties into the dealer management system to draw out information about the vehicle and the required service. Then an RFID tag is attached to the car so that its progress can be tracked on the service floor. If the mechanic is taking too long, a camera is automatically switched on to monitor his activity. And once the service is completed, the invoicing information is sent directly to the accounts department to avoid a backlog at the end of the day.
By using various IoT touch points and systems operating in the cloud, VW is making use of big data more effectively to manage its day-to-day processes and increase productivity. And what is important is they are able to do so by using devices at the edge to leveraging their old IT investments and ensure they speak to each other.
Industries such as automotive, oil, gas and manufacturing are all seeing the benefits of IoT, in fact, 56% are already implementing IoT because it is helping them to streamline their businesses and make their customers happy.
One of the key enablers in this new world is edge computing. The edge can be anything from a fitness band to a vehicle monitoring or security system, which is IoT technology at the pulse, so to speak, of the data. You need a device at the edge that is intelligent and can link into various other devices and collect information from them regardless of the system they work on. This intelligence also helps to filter the relevant data for further analysis, while giving you a real-time view of what's happening within your business and among your consumers.
The intersection of IoT, big data and the cloud
Ultimately, IoT and big data are two sides of the same coin. If big data is the engine, then IoT is the framework that collects the information, aggregates it in the cloud and gives it to the big data engines to perform the analysis.
With this in mind, IoT is about innovation and application, not data or 'things'. Yes, we need powerful, cost-effective new mechanisms to extract high volumes of reliable data across all the different 'things' or devices, but ultimately it's how that insight is automatically and consistently applied to create value that counts.
IoT should not be about 'flash-in-a-pan' proofs of concept, but rather about the build-out of a robust ecosystem that consistently delivers great new customer experiences, products and business efficiency. It needs to be integrated with interaction systems, allowing business to bring about real, valuable change.
Business can achieve this by creating an ecosystem in the cloud that includes edge technology, IoT ingestion engines, modern open source big data storage, analytics platforms and existing systems that all speak to and work with one another to deliver continuous practical value in business processes, driving better innovation and more intelligent decisions.
Credit(s)
Further reading:
Hytera and KZN Police Service roll out digital call handling system
Government and Parastatal (Industry) Asset Management, EAS, RFID Integrated Solutions
Hytera Communications announced that the municipality of Ray Nkonyeni in the KwaZulu-Natal province of South Africa is now using its digital call handling system for the reporting and recording of crimes.
Read more...
---
The benefits of Managed File Transfer
IT infrastructure Products
Blue Turtle Technologies looks into how a Managed File Transfer platform benefits businesses, as opposed to the usual FTP or SFTP suspects.
Read more...
---
Accelerating your Zero Trust journey in manufacturing
IT infrastructure Cyber Security Industrial (Industry)
Francois van Hirtum, CTO of Obscure Technologies, advises manufacturers on a strategic approach to safeguarding their businesses against cyber breaches.
Read more...
---
Cyber resilience is more than cybersecurity
Technews Publishing Editor's Choice Cyber Security Integrated Solutions IT infrastructure
Hi-Tech Security Solutions held a round-table discussion focusing on cyber resilience and found that while the resilience discipline includes cybersecurity, it also goes much further.
Read more...
---
Keeping devices in check
Cyber Security Asset Management, EAS, RFID IT infrastructure
Kaspersky patents new technology for analysing relationships between electronic devices to counter cyberattacks launched through connected IoT devices.
Read more...
---
Johnson Controls releases IQ4
Perimeter Security, Alarms & Intruder Detection Integrated Solutions
New lower cost panel leverages Qolsys IQ Platform targeting residential, SMB, builder, MDU/multi-family and wellness market segments.
Read more...
---
IQ WiFi 6 supporting users and security installers
IT infrastructure Products
The IQ WiFi 6 is a new purpose-built mesh router solution for homes and businesses with security, automation and Wi-Fi devices.
Read more...
---
Considering cloud downtime insurance?
Arcserve Southern Africa Cyber Security IT infrastructure Security Services & Risk Management
Byron Horn-Botha, business unit head, Arcserve Southern Africa, reveals three vital steps that you must consider to ensure business continuity before you buy insurance.
Read more...
---
A robust OT cybersecurity strategy
Editor's Choice Cyber Security IT infrastructure Industrial (Industry)
Cyber experts are still struggling to convince senior management to spend money to protect their control system assets, resulting in a lack of even basic measures to protect control systems.
Read more...
---
IT security at the core of smart cities
Cyber Security IT infrastructure Government and Parastatal (Industry)
The success of service delivery and public access to universal Wi-Fi, home automation and smart sensors is based on increased IT security.
Read more...
---