printer friendly version
Century City automates access control
1 March 2017 Access Control & Identity Management, Perimeter Security, Alarms & Intruder Detection, Integrated Solutions
Century City Property Owners Association (CCPOA), the body responsible for the day-to-day running of Century City, a 250 ha mixed-use development in Cape Town, has reinforced its access control and security with the deployment of new technology from South African software solution providers Solution House and At The Gate.
The CCPOA was one of the first organisations in the country to deploy the comprehensive incident management platform, Incident Desk, developed and distributed in South Africa by Solution House.
The system has recently been expanded with the introduction of a simplified access control and visitor management solution from Gauteng-based At The Gate, which uses a handheld device and custom-developed Android app to monitor the flow of all vehicles in and out of entry points to buildings, estates, precincts and almost any other gated thoroughfares.
At The Gate gives site managers instant access to information on a vehicle and driver once the licence plate, licence disc or driver's card has been scanned. Using a comprehensive licence plate database developed by the CCPOA, any suspicious or flagged vehicle or driver immediately raises an Incident Desk alert, which is automatically sent to CCPOA management and patrol staff.
"We've been building a database of suspicious vehicle information from a number of different sources, including SAPS, over the past few years, and through Incident Desk have centralised the access to this data so we can quickly raise an alert if one of our staff encounters a flagged vehicle," says Marinus Boshoff, safety and security manager, CCPOA.
"With the introduction of At The Gate, we can now push that data to the access devices at booms and other entry points, and automatically get alerts in our control centre about suspicious vehicles as soon as a vehicle is scanned," he says. "This gives us the time we need to proactively mobilise our staff to the incident, whereas before we would possibly have received the information about a suspicious vehicle too late to act on it."
Boshoff says that because Incident Desk is closely linked to a detailed map of the precinct, not only can suspicious vehicles be pinpointed, but over time, Incident Desk helps generate hotspot maps that give CCPOA management valuable data on the types, locations and times of incidents.
"Because we know when and where certain incidents occur – be it a criminally-linked vehicle or any other security-related incident captured by Incident Desk, we can start to analyse trends and even predict the likely occurrence of future incidents," he adds. "This has knock-on benefits in terms of how we allocate our staff and resources to proactively manage incidents across the precinct."
At The Gate director Barry Resnik, says that At The Gate is configured to push the name and ID number of the expected driver in each vehicle, as well as the image of the driver on the front of the driver's licence.
"This is a failsafe way to ensure the driver of the vehicle being scanned is correctly identified, and should he or she not be the person whose information was captured, an incident alarm will immediately be triggered," he says.
"Where this level of access control is particularly useful is in more serious criminally-linked cases, where the information in the database indicates, for example, a certain grouping of driver and passengers in a certain model and colour of car, which can quickly be corroborated by security staff who alert the proper authorities. Since alerts are raised in real time, CCPOA has enough time to take the necessary steps before the vehicle leaves the precinct."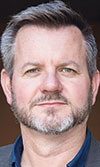 Tiaan Janse van Rensburg, Solution House.
"Much like At The Gate, which was developed to replace physical access control books, we developed Incident Desk as a replacement for physical site management books," says Solution House director Tiaan Janse van Rensburg. "Over time, it's evolved into much more than a centralised management platform, adding functionality such as real-time incident reporting via the mobile app, and giving users an almost infinite number of ways to configure the software to their specific sites.
"Customers like CCPOA use Incident Desk to not only track and respond to serious crime-related incidents, but also structural faults, like potholes or broken lights, fallen trees, and damaged fences, to name a few. It can also be used to generate reports for managers and staff, to monitor and control schedules, or track just about any conceivable management and maintenance function."
Boshoff says the combination of Incident Desk and At The Gate gives CCPOA unprecedented control over vehicle access inside and around Century City, and the value of the combined system is worth much more than the sum of its parts. "We've taken a custom-built and highly configurable platform in Incident Desk and coupled it with another South African innovation with At The Gate, and the result is one of the most detailed and accurate vehicle identification systems that I've had the privilege of working with."
For more information contact Solution House, +27 (0)82 565 8081, tiaan@solutionhouse.co.za
Further reading:
The end of blind alarms
Issue 3 2020 , Security Services & Risk Management, Perimeter Security, Alarms & Intruder Detection
Today's alarms should be supplemented by visual verification to ensure that guards are not dispatched to false alarms, wasting time and money.
Read more...
---
Elvey exclusive Aiphone distributor
Issue 3 2020, Elvey Security Technologies , Access Control & Identity Management
Aiphone has appointed the Elvey Group as its official distributor in South Africa with effect from 1 April 2020.
Read more...
---
HID Global unveils new line of readers
Issue 3 2020, HID Global , Access Control & Identity Management
HID Global announced the launch of HID Signo, its signature line of readers that creates an adaptable, interoperable and secure approach to access control.
Read more...
---
Secure cash with biometrics
Issue 3 2020, Suprema , Access Control & Identity Management
Instead of relying solely on PINs, keys and passwords, integrate biometrics into cash handling solutions, such as cash vaults, safes, cash drawers, ATMs and cash-in-transit vehicles.
Read more...
---
The future of biometrics
Issue 3 2020, ViRDI Distribution SA , Access Control & Identity Management
Deon Janse Van Rensburg discusses the impact of COVID-19 on the biometric market and how it may change biometrics in the future.
Read more...
---
Frictionless access control
Issue 3 2020, IDEMIA , Access Control & Identity Management
IDEMIA integrates MorphoWave Compact with Digicon dFlow speedgates to secure employees' access with contactless fingerprint recognition.
Read more...
---
A door to fresh produce
Issue 3 2020 , Access Control & Identity Management
Maxiflex's electrically operated sectional doors, swing lip dock levellers and strip curtains streamline traffic flow and deliver temperature control at Evergreens Fresh Market.
Read more...
---
Facial recognition in under one second
Issue 3 2020, ZKTeco , Access Control & Identity Management
The upgraded ProFace product line is designed to deal with all kinds of scenarios, powered by the latest ZKTeco customised CPU.
Read more...
---
Are your employees at work?
Issue 3 2020, Secutel Technologies , Access Control & Identity Management
Organisations, big or small, often find that managing the time and attendance of their employees is a tedious, time-consuming and costly exercise.
Read more...
---
SALTO KS reaches 100 000 access points
Issue 3 2020, Salto Systems Africa , Access Control & Identity Management
SALTO Systems has reached a milestone of 100 000 access points for its cloud-based KS Keys as a Service solution.
Read more...
---