printer friendly version
Century City automates access control
March 2017 Access Control & Identity Management, Perimeter Security, Alarms & Intruder Detection, Integrated Solutions
Century City Property Owners Association (CCPOA), the body responsible for the day-to-day running of Century City, a 250 ha mixed-use development in Cape Town, has reinforced its access control and security with the deployment of new technology from South African software solution providers Solution House and At The Gate.
The CCPOA was one of the first organisations in the country to deploy the comprehensive incident management platform, Incident Desk, developed and distributed in South Africa by Solution House.
The system has recently been expanded with the introduction of a simplified access control and visitor management solution from Gauteng-based At The Gate, which uses a handheld device and custom-developed Android app to monitor the flow of all vehicles in and out of entry points to buildings, estates, precincts and almost any other gated thoroughfares.
At The Gate gives site managers instant access to information on a vehicle and driver once the licence plate, licence disc or driver's card has been scanned. Using a comprehensive licence plate database developed by the CCPOA, any suspicious or flagged vehicle or driver immediately raises an Incident Desk alert, which is automatically sent to CCPOA management and patrol staff.
"We've been building a database of suspicious vehicle information from a number of different sources, including SAPS, over the past few years, and through Incident Desk have centralised the access to this data so we can quickly raise an alert if one of our staff encounters a flagged vehicle," says Marinus Boshoff, safety and security manager, CCPOA.
"With the introduction of At The Gate, we can now push that data to the access devices at booms and other entry points, and automatically get alerts in our control centre about suspicious vehicles as soon as a vehicle is scanned," he says. "This gives us the time we need to proactively mobilise our staff to the incident, whereas before we would possibly have received the information about a suspicious vehicle too late to act on it."
Boshoff says that because Incident Desk is closely linked to a detailed map of the precinct, not only can suspicious vehicles be pinpointed, but over time, Incident Desk helps generate hotspot maps that give CCPOA management valuable data on the types, locations and times of incidents.
"Because we know when and where certain incidents occur – be it a criminally-linked vehicle or any other security-related incident captured by Incident Desk, we can start to analyse trends and even predict the likely occurrence of future incidents," he adds. "This has knock-on benefits in terms of how we allocate our staff and resources to proactively manage incidents across the precinct."
At The Gate director Barry Resnik, says that At The Gate is configured to push the name and ID number of the expected driver in each vehicle, as well as the image of the driver on the front of the driver's licence.
"This is a failsafe way to ensure the driver of the vehicle being scanned is correctly identified, and should he or she not be the person whose information was captured, an incident alarm will immediately be triggered," he says.
"Where this level of access control is particularly useful is in more serious criminally-linked cases, where the information in the database indicates, for example, a certain grouping of driver and passengers in a certain model and colour of car, which can quickly be corroborated by security staff who alert the proper authorities. Since alerts are raised in real time, CCPOA has enough time to take the necessary steps before the vehicle leaves the precinct."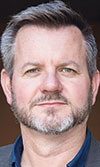 Tiaan Janse van Rensburg, Solution House.
"Much like At The Gate, which was developed to replace physical access control books, we developed Incident Desk as a replacement for physical site management books," says Solution House director Tiaan Janse van Rensburg. "Over time, it's evolved into much more than a centralised management platform, adding functionality such as real-time incident reporting via the mobile app, and giving users an almost infinite number of ways to configure the software to their specific sites.
"Customers like CCPOA use Incident Desk to not only track and respond to serious crime-related incidents, but also structural faults, like potholes or broken lights, fallen trees, and damaged fences, to name a few. It can also be used to generate reports for managers and staff, to monitor and control schedules, or track just about any conceivable management and maintenance function."
Boshoff says the combination of Incident Desk and At The Gate gives CCPOA unprecedented control over vehicle access inside and around Century City, and the value of the combined system is worth much more than the sum of its parts. "We've taken a custom-built and highly configurable platform in Incident Desk and coupled it with another South African innovation with At The Gate, and the result is one of the most detailed and accurate vehicle identification systems that I've had the privilege of working with."
For more information contact Solution House, +27 (0)82 565 8081, tiaan@solutionhouse.co.za
Further reading:
Simple steps to protect yourself against identity theft
November 2019 , Access Control & Identity Management
Are you doing enough to reduce the risk of having your identity stolen?
Read more...
---
Securing perimeters of secure locations
November 2019, Axis Communications SA, Modular Communications, Hikvision South Africa, Nemtek Electric Fencing Products, Technews Publishing, Stafix , Government and Parastatal (Industry), Perimeter Security, Alarms & Intruder Detection, Integrated Solutions
Hi-Tech Security Solutions asked a number of companies offering perimeter security solutions for their insights into protecting the boundaries of national key points.
Read more...
---
Intelligent analytics and the brains to match
September 2019, Bosch Building Technologies , CCTV, Surveillance & Remote Monitoring, Integrated Solutions
What if the brains behind our security cameras could be trained to improve their cognitive ability to pay attention, learn, and problem-solve according to specific rules and situations?
Read more...
---
AI-powered autonomous Drone-in-a-Box
September 2019 , CCTV, Surveillance & Remote Monitoring, Integrated Solutions
Organisations in the mining, energy and industrial, oil and gas, ports and terminals sectors can optimise security and business operations, whilst reducing risks and operational costs
Read more...
---
Looking ahead with mobile access technologies
Access & Identity Management Handbook 2020, Technews Publishing, HID Global, dormakaba South Africa, Salto Systems Africa, Suprema, Gallagher , Access Control & Identity Management, Integrated Solutions
Given the broad use of smartphones around the world and the numerous technologies packed into these devices, it was only a matter of time before the access control industry developed technology that would ...
Read more...
---
Mobile access is more secure than card systems
Access & Identity Management Handbook 2020 , Access Control & Identity Management
The ability to use mobile phones as access credentials is one of the biggest trends in a market that historically has been slow in adopting new technology.
Read more...
---
This is the future. This is what we do.
Access & Identity Management Handbook 2020, ZKTeco , Access Control & Identity Management
ZKTeco has created a unique range of visible light facial recognition products combined with a flexible Android platform.
Read more...
---
The security of biometrics
Access & Identity Management Handbook 2020, ViRDI Distribution SA, IDEMIA , Technews Publishing, Suprema , Access Control & Identity Management
Hi-Tech Security Solutions asks whether your personal biometric data is safe from prying eyes.
Read more...
---
A picture spoofs a thousand cameras
Access & Identity Management Handbook 2020, NEC XON, Hikvision South Africa, Technews Publishing , Access Control & Identity Management
Hi-Tech Security Solutions looks into the reliability and effectiveness of facial biometrics as well as the concerns about privacy.
Read more...
---
IoT and behavioural authentication
Access & Identity Management Handbook 2020, CA Southern Africa , Access Control & Identity Management
IoT represents an increasing security risk to individuals in the form of pervasive, always-on monitoring of your personal activity with a potential compromise of your most personal security credentials.
Read more...
---