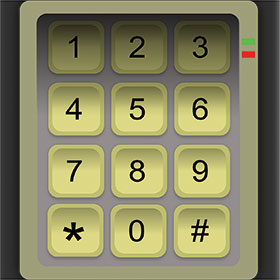 Out with the old, in with the new
March 2017, Retail (Industry), Access Control & Identity Management
As a keen observer of what different retail stores use for access control to the back-office, it always amuses me that the dominant technology in use here is a normal keypad where everyone uses the same password.
This very vulnerable technology is used almost in all retail stores as a means of keeping the general public out of the administration offices at the back of the store. On a few occasions, I have seen the password an employee uses to open the door, and then used it myself to prove to the stores that they are not using this type of technology safely. There is no operations log that can be checked if an incident occurs, to see who opened the door in that particular time, so no one can be held responsible.
The reason why the owners or planners of retail shops always opt for this low-end technology is a mystery, but it can be one of the following reasons:
• The retail shops use what they get from the shopfitting companies.
• Aesthetics is more important than security.
• Lack of security audits by the security managers of the retail groups.
• Lack of education of the security managers that have to do the audits.
• Cost might be a factor, but I don't think this should be, if the door is protecting people.
My opinion is that people might be staying with what they are comfortable with, despite the fact of biometric systems becoming much more cost-effective and close to the cost of a normal keypad terminal. As with any other technology, biometrics becomes more advanced and cheaper every day.
Some biometric systems even have duress functions built in, so if someone does ask you to open the door under duress, you can use your allocated duress finger to open the door and at the same time create a silent alarm or notification to a central control room. The benefits of using biometrics at these vulnerable entrances makes sense, every time.
The retail industry must make the effort to attend security events and exhibitions, like Securex and other security roadshows, to see what is available, and to educate themselves on what the best strategy is to secure the back-office door.