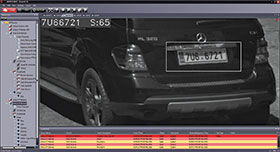 Arteco available at Reditron
March 2017, News, Products
Arteco is a global provider of event-driven intelligence solutions with a focus on ease of use and event management. Its research and development initiatives have united video analytics and video management onto a single-platform to optimise processes and reduce costs. Arteco provides a wide range of software and network hardware solutions that integrate with third-party systems such as video surveillance, video management and access control.
From video security, access control, intrusion and fire detection to building automation, traffic control, parking management and beyond, this focus has opened up new opportunities in logistics, healthcare, critical infrastructure, transportation and large retail environments. Each of these operations may care about different information, but in the end, they are all focused on what is important to their environment.
Arteco Advanced Video Analytics (Arteco-AVA) can either be server or edge based. The analytics, whether edge or server based makes it possible to detect, track and classify subjects (individuals, vehicles, objects, etc.) or events of interest for the following applications and more:
• Public security: Stations, airports, museums, places of worship, public buildings, urban areas, defence.
• Private security: Residential areas, apartments, car-parks, industrial areas.
• Traffic management and info-mobility: Vehicular flow analysis, average speeds, queues, accidents, forbidden ways or transits.
• Marketing and retail: Monitoring of customer flows, control of sensitive areas, department flows, behaviour analysis, and
• Environmental monitoring: Monitoring of natural areas, fire detection, monitoring of animal flows.
Arteco has developed the edge-based LPR app for the Samsung WisenetIII cameras. This allows for accurate detection of vehicle number plates and allows for comparison to black and white list.