Tough with opportunities
February 2017, CCTV, Surveillance & Remote Monitoring, Cyber Security
It is expected that cyber security breaches and crimes will dominate the headlines; especially with the fast-growing list of new, innovative threats, like fileless malware, dronejacking and the continued evolution of malware. The exploitation of IP cameras as a backdoor will also prove challenging, with ever more secure security policies being implemented. The alignment of internal security systems to IT processes will continue, stimulating IP sales.
However, the electronic security landscape will be sure to provide its own challenges that require smart, innovative use of technology to address security and business management concerns effectively. Integration will remain a key aspect, converging multiple subsystems into a converged powerhouse of intelligence and forensic data, most likely including SIoT (Security Internet of Things).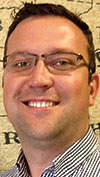 Marius Stoop, sales manager.
What will make an impact?
• The current product curve is peaking, with excellent products across many levels, allowing one to meet solution requirements and the price sensitivity of some markets. Big data and cloud storage should offer some storage alternatives in the near future. SIoT, the excitingly anticipated marriage between IoT and electronic security brings with it an expectation of virtually endless possibilities.
• The projects environment should be ready to embrace a more open platform architecture (less proprietary) driving compatibility, integration, cloud presence and convergence.
• While the mid to lower tiers will be more interested in (more proprietary) boxed solutions, many top camera manufacturers are now offering entry to mid-level head-end software and solutions, and vice versa for some head-end manufacturers.
What about the economy?
• Bleak forecasts, political turbulence, electricity and water supply constraints are seen in some crystal balls, one should protect against these by remaining steadfast in a strong business strategy and focus on the execution thereof.
• A slightly stronger version of 2016 could be expected. Growth has to be driven by offering the customer value to invest in outcomes-based solutions and good ROI with a suitable TCO.
2017 will undoubtedly be as challenging as any. With most companies undergoing consolidation of one kind or another, the product and service offering will be funnelled into a high concentration of a few strong contenders.