printer friendly version
Integrated security and enrolment
1 February 2017 Education (Industry), Access Control & Identity Management, Asset Management, EAS, RFID
Marino Institute of Education is a unique third-level education environment based in Dublin. The campus comprises the College of Education, the Conference Centre and other continuing professional development and support services.
Martin Lynch, IT manager at Marino made the decision to develop the site's existing system in order to better control the movement of staff and students around the campus. Due to the open nature of the college, there was also a potential issue with unauthorised personnel gaining access to restricted areas of the campus that needed to be resolved.
Integration with the college's in-house management software was also required, to simplify student management and enable the tokens to be used to gain access to the campus, as a student ID card, for library usage, and photocopy and print services.
The new solution, installed by ATA Security, builds on Marino's existing Net2 system that has been steadily expanded across the site over the past ten years. The system now combines the entire range of Paxton's Net2 products; Net2, Net2 Entry and Net2 PaxLock.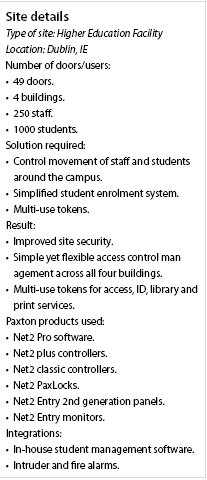 Net2 is a user-friendly and flexible networked access control system, designed to make the management of any site straightforward. Combined with Net2 Entry, Paxton's door entry system, and Net2 PaxLock, which provides a wireless access control solution in a slim-line door handle, the new Net2 system has significantly improved the security at Marino, while providing a simple interface from which to manage the site and users.
Declan Shields, Operations Manager at ATA, says: "We are big fans of Paxton products. Net2 is the only access control system we use. It's easy to install, and simple to manage, plus the Paxton team provides excellent support every step of the way. This, and the flexible, scalable nature of the Net2 system, is what made it the ideal solution for Marino."
The integration with the college's in-house student management software makes it simple for the college to manage the access rights of everyone on campus, and ensure that the students can utilise all other services and amenities offered at the college.
Additional integrations with the intruder and fire alarms also give staff a greater degree of control over the students' movement, preventing them from inadvertently entering an area that has been closed down during 'out of hours' periods.
The staff and students were on board with their updated Net2 system very quickly. Martin says of the software: "Net2 is very, very easy to use. I felt at home with it really quickly, and discovered a range of additional features that we will benefit from."
The college has plans to further expand the system, with the imminent implementation of a further seven new Net2 PaxLocks, as well as increased access control in the library, and electric gates to control the flow of people into, and out of, the main grounds.
For more information, contact Paxton, +27 (0)21 427 6691, [email protected], www.paxtonaccess.co.za
Credit(s)
Further reading:
Gallagher launches Tech Talk
Gallagher News Access Control & Identity Management Perimeter Security, Alarms & Intruder Detection
Gallagher has announced the launch of its new Security in Focus podcast series called Tech Talk, hosted by chief technology officer Steve Bell.
Read more...
---
IDEMIA and Ideco demonstrate their value stacks
Technews Publishing Ideco Biometrics IDEMIA Conferences & Events Access Control & Identity Management News
Ideco and IDEMIA recently hosted a travelling show where attendees were given an update on the companies, as well as the full value stack they offer.
Read more...
---
Paxton10 simplifies building security
Paxton Access Control & Identity Management
Paxton provides a single platform for access control and video management in Paxton10, its newest innovation that allows users to manage their facilities from one simple security system.
Read more...
---
Have biometrics changed the way mines operate?
ZKTeco Mining (Industry) Access Control & Identity Management
The mining industry continues to improve conditions for mine workers, striving for zero harm, however, innovations which improve worker safety and increase operational efficiency are still needed.
Read more...
---
CathexisVision integrated with Suprema's BioStar2
Technews Publishing News Access Control & Identity Management Integrated Solutions
This integration uses BioStar2 access control events to trigger automated actions on the CathexisVision system, including alerts, recording a camera and commands such as locking and unlocking doors, and clearing an alarm.
Read more...
---
Linux-based biometric access control
ZKTeco Products Access Control & Identity Management
The SpeedFace M4 is a Linux-based multi-biometric access control and time attendance terminal with visible light facial recognition and palm verification.
Read more...
---
Paxton promotes Dan Drayton
News Access Control & Identity Management Integrated Solutions
Dan Drayton has been promoted to divisional director – EMEA Sales Region for Paxton, the international security technology manufacturer.
Read more...
---
Salient Systems manages campus security
Education (Industry) CCTV, Surveillance & Remote Monitoring Access Control & Identity Management
The University of Massachusetts Amherst relies on Salient Systems for video, access control operations for flagship campus as it standardises on IP surveillance.
Read more...
---
QR Code passwordless authentication method
News Access Control & Identity Management Products
LogMeOnce introduces a patented QR Code passwordless authentication method allowing users to scan a code with their mobile device for secure authentication.
Read more...
---
Improving biometrics to address privacy, scale and accuracy
Editor's Choice Access Control & Identity Management News
CryptoNets uses artificial intelligence and a new type of encryption; it is very fast, locating a face among countless others in milliseconds without the need to have any other data to narrow the search.
Read more...
---