printer friendly version
New generation e-Gates in Christchurch
February 2017 Access Control & Identity Management, Security Services & Risk Management, Transport (Industry), Products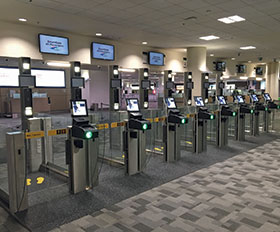 Safran Identity & Security, through its subsidiary, Morpho Australasia, has completed installing the next generation of e-Gates into Christchurch Airport. Traveller volumes in New Zealand are expected to increase by 4-5% annually, or around 2.3 million to nearly 12.7 million by 2019.
This installation is part of a national upgrade and innovation programme for 51 new generation border processing e-Gates for the New Zealand Customs Service (NZ Customs). The rollout has seen new generation Safran Identity & Security's e-Gates installed in Auckland, Wellington, Queenstown and now Christchurch Airport.
Since 2009, Auckland, Wellington and Christchurch Airports have been using SmartGate to give eligible travellers the option of self-processing through passport control. The system uses facial recognition technology to compare facial images of the traveller against the data contained in the e-Passport's chip. Over 18 million passengers have successfully used the system.
The new generation e-Gates speed up the traveller experience with a one-step process, eliminating the kiosk and ticket which was part of the process with the previous gates. They also have a smaller footprint to meet the space constraints of airports, while also having Safran Identity & Security's latest workflow and biometric matching software.
"Since its introduction in 2009, SmartGate has been increasingly popular with passengers and has helped manage growth in passenger volumes," said Carolyn Tremain, comptroller and chief executive of NZ Customs. "The e-Gates allow passengers to pass through quickly and easily, and enable customs officers to focus on managing high-risk travellers at the border."
Tim Ferris, MD of Morpho Australasia, added: "As a company, we are focused on providing NZ Customs with a range of innovative services and technologies to help with passenger flow. We are proud of our joint innovation journey and are looking forward to launching the next series of passenger technology to help NZ Customs continue as world leaders at the border."
For more information contact Morpho South Africa, +27 (0)11 286 5800, [email protected], www.morpho.com
Credit(s)
Further reading:
The components of and need for cyber resilience
Cyber Security Security Services & Risk Management
Organisations need to implement a comprehensive cyber resilience solution with data protection, backup, disaster recovery and business continuity to protect against ever-more complex and rising cyberthreats.
Read more...
---
Enabling safety in communities
Security Services & Risk Management Products
Many Hytera devices are equipped with personal safety features, including emergency calling, Man Down and Lone Worker alerts, and GPS to enable users to be monitored and tracked.
Read more...
---
Is the smoke beginning to clear for password security?
Access Control & Identity Management Security Services & Risk Management
The password problem is the result of bad habits, and they can be hard to break. But ask anyone that has done it and they will not tire of telling you the benefits.
Read more...
---
Solving coworking front-desk drama
Access Control & Identity Management Products
Flexible, shared and coworking offices have taken off with great success, but because occupational churn is high, the front-desk can be a difficult place to manage.
Read more...
---
Video technology can improve crowd management
CCTV, Surveillance & Remote Monitoring Entertainment and Hospitality (Industry) Products
Stadium operators can use video technology to implement effective crowd management in different areas, avoiding fines, reputational damage and injury or loss of life.
Read more...
---
The benefits of investing in whole-house surge protection
Smart Home Automation Security Services & Risk Management Residential Estate (Industry)
When you consider that the potential for equipment damage can run well into the hundreds of thousands of rands, whole-house surge protection is a worthwhile expense.
Read more...
---
Are you your insider threat?
Technews Publishing Editor's Choice Security Services & Risk Management Commercial (Industry)
Insider threats are a critical aspect of risk management today, but what happens when it is the owner of the company acting fraudulently and making sure none of his staff can catch him?
Read more...
---
Powder coating provides durable finish
Turnstar Systems Access Control & Identity Management Industrial (Industry)
Turnstar's powder coating line provides corrosion resistance, high-quality surface finishing and a long-term environment-friendly impact for all access control components the company manufactures.
Read more...
---
Securing business information more important than ever
Cyber Security Products
SMBs need to operate safely within the physical and virtual boundaries created by work-from-home business practices, as well as in-office operations.
Read more...
---
Passion, drive and hard work
Technews Publishing Editor's Choice CCTV, Surveillance & Remote Monitoring Security Services & Risk Management
Colleen Glaeser is a leader in the security market, having made her mark in the male-dominated security industry through determination and hard work, along with a vision of making the world a safer place.
Read more...
---