printer friendly version
Integration is the key to success
February 2017 Integrated Solutions, Security Services & Risk Management
Nowadays, no business would ever consider employing under-performing staff or implementing systems that simply meet requirements. Increasingly, customers are looking for solutions that exceed requirements and contribute to the bottom line.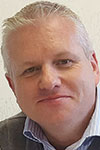 Tim Timmins, head of technology, G4S Electronic Specialised Solutions.
G4S Electronic Specialised Solutions (ESS) is continually researching, sourcing, and in many instances developing technology that will add value to its customers. Due to the specialised nature of this business, and in line with G4S South Africa expanding the system integration business of its portfolio to enterprise-level integration, Tim Timmins has been appointed as head of technology.
Timmins has been in South Africa for the past 22 years, but hails from the building systems market in the UK and brings with him a total of 30 years' experience in consultancy, integration and the distribution sides of the security industry.
Timmins explains why integration is key: "By implementing integration software, we are able to connect and control multiple devices to create an end-to-end security solution. However, the power of these systems in truly realised through video, image and data analytics software. Through constant automated digital screening and filtering, video analytics can identify and notify operators of potential issues. This together with the capability of pooling and synthesising large volumes of data allows business owners and security personnel to make quick, informed decisions."
G4S ESS employs over 60 technical specialists who provide solution-driven systems ranging from CCTV, time and attendance, access control including evacuation, public address and fire detection and gas suppression. Its sector approach allows it to tailor solutions for each customer, but more importantly, to integrate these systems with each other as well as with customers' existing enterprise relationship platforms.
The G4S Electronic Specialised Solutions' service offering includes:
CCTV systems: Following years of research and development, G4S is able to offer consumer and commercial customers a range of G4S designed and manufactured CCTV products. Its own CCTV range is designed and manufactured to international standards, however, G4S is technology agnostic and capable of recommending other products, depending on a customer's specific requirements.
Advanced access control systems: Access control installation is an essential component of a good security management system (SMS). It determines who enters the area, how the access is controlled and what technology or equipment is used to do the task. The access control system also supports the rest of the SMS, such as patrols, monitoring and reaction alarms.
Access control is most efficient when introduced as part of a multi-layered defence and can be integrated with other core security aspects to create a seamless solution to protect your staff, buildings and assets, while helping you to save time and reduce administration overheads.
Alarm management: The alarm management features of the G4S SMS enables security officers or other personnel to view, acknowledge and respond to alarms, such as a door being forced open, an alarm sensor being triggered, or a card reader being used at an unauthorised time.
Physical security information management (PSIM): G4S's PSIM system provides building managers and company employees with a range of intuitive tools to support the management of a site and the day-to-day processes within it. Information captured and managed within the system can be analysed and used to generate reports, business intelligence and personal action plans. Automated reminders, action escalations and management information can be created and communicated easily and effectively.
Fire solutions: G4S offers an extensive range of fire protection and safety systems and specialises in providing a pro-active approach to customer care in all aspects of fire and safety. It specialises in fire alarm systems, fire suppression systems and emergency lighting systems, all of which can be monitored by its 24/7 National Control Centre.
G4S has identified the potential for growth in this area and has recently appointed Clinton Hodgson as business development manager for fire solutions to strengthen this division. Clinton has been involved in the fire and security industry in South Africa for the past 20 years. He has vast experience in the design and installation of fire safety systems and has advised many blue chip multi-nationals in this regard.
Time and attendance systems: With a dedicated in-house research and development department, G4S provides complete on- and off-site software support to more than 80 customers in a broad range of business sectors. The G4S time and attendance solutions are reliable and user friendly and can be adapted with relative ease and at a low cost, which allows the company to accurately meet the exact requirements of its customers.
Perimeter protection: G4S offers a comprehensive range of products and applications to enhance perimeter protection. The company's teams are able to provide valuable advice to ensure that a fitting and cost-effective solution is designed.
For more information contact G4S Electronic Specialised Solutions, +27 (0)10 001 4500, tim.timmins@za.g4s.com, www.g4s.co.za
Credit(s)
Further reading:
Intelligent analytics and the brains to match
September 2019, Bosch Building Technologies , CCTV, Surveillance & Remote Monitoring, Integrated Solutions
What if the brains behind our security cameras could be trained to improve their cognitive ability to pay attention, learn, and problem-solve according to specific rules and situations?
Read more...
---
AI-powered autonomous Drone-in-a-Box
September 2019 , CCTV, Surveillance & Remote Monitoring, Integrated Solutions
Organisations in the mining, energy and industrial, oil and gas, ports and terminals sectors can optimise security and business operations, whilst reducing risks and operational costs
Read more...
---
A platform approach to innovation and value
September 2019, Technews Publishing , Editor's Choice, CCTV, Surveillance & Remote Monitoring, Integrated Solutions, IT infrastructure
Moving to the platform model of doing business holds tremendous advantages for end users and smaller developers, but also for the whole technology supply chain.
Read more...
---
Open does not always mean easy integration
September 2019, VERACITECH, Technews Publishing , Editor's Choice, CCTV, Surveillance & Remote Monitoring, Integrated Solutions
Customers who opt for best-of-breed solutions will have to rely on their integrators to develop customised integrated solutions for them.
Read more...
---
The impact of AI on the surveillance industry
September 2019, G4S South Africa, Hikvision South Africa, Myertal Tactical Security, Technews Publishing , Editor's Choice, CCTV, Surveillance & Remote Monitoring
What the impact of AI will be on companies, the services and solutions they supply, as well as on the jobs people do.
Read more...
---
Video analytics and AI
September 2019, Axis Communications SA, Dallmeier Electronic Southern Africa , Hikvision South Africa, Technews Publishing, Dahua Technology South Africa , Editor's Choice, CCTV, Surveillance & Remote Monitoring, Integrated Solutions
Artificial intelligence has the potential to deliver real benefits in the world of video analytics and many companies are already delivering customer benefits.
Read more...
---
Cloudy with a chance of AI
September 2019 , Editor's Choice, CCTV, Surveillance & Remote Monitoring, Integrated Solutions
One local company has developed an AI solution that can be added to existing surveillance installations, offering 24-hour intelligence.
Read more...
---
Integration insights
September 2019, Gijima Electronic and Security Systems (GESS), Technews Publishing, neaMetrics , Integrated Solutions
The security industry would be a vastly different place if installers and integrators were not able to make a range of different products work together.
Read more...
---
Video and audio analytics
September 2019, Wisenet CCTV - Hanwha Techwin , CCTV, Surveillance & Remote Monitoring, Integrated Solutions
Viewing many monitors and cameras simultaneously can lead to an increased probability of missing critical situations due to viewing fatigue. Analytics has the answer.
Read more...
---
Enhance video analytics with Augmented Vision
September 2019, IDEMIA , Technews Publishing , CCTV, Surveillance & Remote Monitoring, Integrated Solutions
Augmented Vision is a video analytics application from IDEMIA designed to enhance security in public and private places.
Read more...
---