printer friendly version
Protection from ransomware
February 2017 Cyber Security, IT infrastructure
If you've been listening to the news in the past few months, you have undoubtedly heard of a number of companies being affected by ransomware. The recent surge in this form of cyber attack has many organisations and users understandably concerned. And you should be too.
Ransomware is nasty stuff. However, with some careful preparation, you can significantly lower your risk of being infected, and reduce the impact on you or your organisation should you be hit.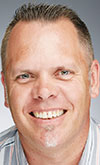 Paul Williams, country manager – SADC at Fortinet.
Ransomware is a form of malware that infects devices, networks and data centres, encrypting critical files and prevents them from being used until the user or organisation pays a ransom to have the system unlocked. Ransomware has been around since at least 1989, when the 'PC Cyborg' trojan encrypted file names on a hard drive and insisted users pay $189 to have them unlocked. In the interim, ransomware attacks have become increasingly sophisticated, targeted, and lucrative.
The impact of ransomware is difficult to calculate, since many organisations opt to simply pay to have their files unlocked – an approach that doesn't always work. However, a report on the Cryptowall v3 ransomware campaign, issued in October of 2015 by the Cyber Threat Alliance, estimated that the cost of that attack was US$ 325 million.
Ransomware generally works in one of several ways. Crypto Ransomware can infect an operating system so that a device is unable to boot. Other ransomware will encrypt a drive or a set of files or file names. Some malicious versions have a timer and begin deleting files until a ransom has been paid. All demand that a ransom be paid in order to unlock or release the blocked or encrypted system, files, or data.
What do I do to stop it?
Here are 10 things you need to do to protect yourself and your organisation from the effects of ransomware.
1. Develop a backup and recovery plan. Back up your systems regularly, and store that backup offline on a separate device.
2. Use professional email and web security tools that analyse email attachments, websites, and files for malware, and can block potentially compromised advertisements and social media sites that have no business relevance. These tools should include sandbox functionality, so that new or unrecognised files can be executed and analysed in a safe environment.
3. Keep your operating systems, devices, and software patched and updated.
4. Make sure that your device and network antivirus, IPS, and antimalware tools are running the latest updates.
5. Where possible, use application white listing, which prevents unauthorised applications from being downloaded or run.
6. Segment your network into security zones, so that an infection in one area cannot easily spread to another.
7. Establish and enforce permission and privilege, so that the fewest number of users have the potential to infect business-critical applications, data, or services.
8. Establish and enforce a BYOD security policy which can inspect and block devices which do not meet your standards for security (no client or anti-malware installed, antivirus files are out of date, operating systems need critical patches, etc.).
9. Deploy forensic analysis tools so that after an attack you can identify:
a) Where the infection came from,
b) How long it has been in your environment,
c) That you have removed all of it from every device, and
d) That you can ensure it doesn't come back.
10. This is critical: Do not count on your employees to keep you safe. While it is still important to increase your user-awareness training so employees are taught to not download files, click on email attachments, or follow unsolicited web links in emails, human beings are the most vulnerable link in your security chain, and you need to plan around them.
Here's why: For many of your employees, clicking on attachments and searching the Internet is part of their job. It is difficult to maintain the appropriate level of scepticism. Second, phishing attacks have become very convincing. A targeted phishing attack uses things like online data and social media profiles to customise an approach. Third, it is simply human nature to click on an unexpected invoice or critical message from your bank. And finally, in survey after survey, users feel that security is someone else's job, not theirs.
What if I get infected?
I hope that you have a recent backup and you can wipe your device and reload it with an uninfected version. Here are some other things you need to do:
1. Report the crime.
2. Paying the ransom is no guarantee.
3. Contact experts.
4. Have a Plan B.
Further reading:
Cybersecure surveillance cameras
HiTek Security Distributors News CCTV, Surveillance & Remote Monitoring Cyber Security
Provision-ISR builds customer trust and opens up new opportunities with Check Point Quantum IoT Protect Firmware built into Provision-ISR cameras.
Read more...
---
The 5 most common security concerns in the Web 3.0 world
Cyber Security
Cisco Talos has done a deep dive to highlight the most common security challenges, driven by cryptocurrency, blockchain technology, decentralised applications and decentralised file storage.
Read more...
---
The components of and need for cyber resilience
Cyber Security Security Services & Risk Management
Organisations need to implement a comprehensive cyber resilience solution with data protection, backup, disaster recovery and business continuity to protect against ever-more complex and rising cyberthreats.
Read more...
---
Preventing cyberattacks on critical infrastructure
Industrial (Industry) Cyber Security
Cyberattacks have the potential to disrupt our lives completely, and in instances where critical national infrastructure is attacked, they could disrupt the country's entire economy, leading to loss of life and livelihoods.
Read more...
---
Unrecoverable encrypted data
News Cyber Security
Cybersecurity research indicates that 76% of organisations admit to paying ransomware criminals, however, one-third are still unable to recover data.
Read more...
---
Citrix App Protection helps secure remote workers
Cyber Security IT infrastructure
Many organisations are implementing a zero-trust security model with data protection as a top priority. This is largely due to the increase in remote work and unmanaged personal devices playing a growing role in the enterprise.
Read more...
---
Kaspersky invests in development of neuromorphic processors
News IT infrastructure
Neuromorphic processors' field of application is acceleration of the hardware used in the latest generation of artificial intelligence systems, which are based on spiking neural networks (SNN) training, which is more akin to biological interactions.
Read more...
---
Infinidat enhances channel support
News IT infrastructure
Infinidat drives go-to-market strategy with new global partner portal and expands channel sales with Storage-as-a-Service in ArrowSphere.
Read more...
---
2022 Cloud Security Report
Cyber Security IT infrastructure
The 2022 Cloud Security Report reveals how security executives and practitioners are using the cloud, how their organisations are responding to security threats in the cloud, and the challenges they are facing.
Read more...
---
Arcserve launches N Series appliances
IT infrastructure Cyber Security
Arcserve introduces N Series appliances offering enterprise-level integrated data protection, recovery and cybersecurity to allow customers to simplify their IT environments and secure data.
Read more...
---