printer friendly version
ANPR's local potential
February 2017
CCTV, Surveillance & Remote Monitoring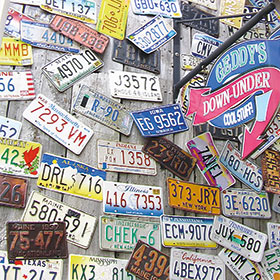 While Automatic Number Plate Recognition (ANPR) has been around for decades, the technology has grown in leaps and bounds in recent years with increasingly more integrated solutions providing an enormous benefit to law enforcement agencies and security services providers around the world.
ANPR works by reading vehicle registration information in real time as vehicles pass by the camera. The impressive developments in IP camera technology over recent years means that these cameras can capture high-definition images regardless of vehicle speed or quality of light.
ANPR software can be used to cross-reference licence plates against law enforcement databases to identify stolen or unroadworthy vehicles, as well as criminals that have had their vehicles flagged in the system.
According to Gus Brecher, managing director of Cathexis Africa and business development director of Cathexis Technologies, ANPR offers a significant potential for private and public applications, and when integrated with other security solutions, it is potentially an extremely powerful law enforcement tool.
CathexisVision provides an ANPR solution for both low and high-speed applications. The ANPR software allows for the identification and capturing of number plate information via cameras and databases.
"This provides 24/7 access to users who can compare images captured to blacklists or whitelists and take immediate appropriate action against these comparisons," says Brecher. "The ANPR feature is well-suited to any parking/access control application as well as any high-speed freeway detection requirements. The CathexisVision ANPR feature can be used in over 200 countries worldwide."
For a simplified user experience, the ANPR feature allows for the simple setup of cameras at any height or angle, which will not interfere with accurate identification capability. The system is then easily configured to allow for instant use and maximum capability.
Brecher adds that a major feature associated with CathexisVision ANPR is the advanced automated data mining software that trawls through vast amounts of data collected. This process can be used on previously captured records for comparisons or to collect intelligence about specific plates.
Another key feature of this software feature is the creation of unique groups. Groups can be designated as blacklists and whitelists. Whitelists may include employees, tenants or contractors, for example. The CathexisVision ANPR software automatically captures and records each number plate as it passes the IP surveillance camera. Having captured licence plates and having information stored in various groups, users are able to setup predetermined actions based on those groups. For example: an employee vehicle has approached the company parking lot, open access gate.
These features all provide security services providers and law enforcement agencies with a number of key benefits that ensure maximum security regardless of the time of day.
The accelerated development of ANPR technology is paving the way for more integrated solutions. With the ability to connect with existing cameras such as CCTV, speed cameras, and tolling systems, ANPR is taking on an even greater role in the industry.
"This advanced technology provides a proactive solution where security service providers can actively detect and prevent criminal activity or potential incidents from occurring," says Brecher. "The instant recall of previously recorded licence plates help identify threats as they arise and provide ample time for assessment and handling of these situations before any incidents arise."
For more information contact Cathexis Africa, +27(0)31 240 0800, sales@catafrica.co.za, www.cathexisvideo.com
Credit(s)
Further reading:
Drones and cybersecurity?
October 2019 , CCTV, Surveillance & Remote Monitoring
Hacker drones can eavesdrop electronically on conversations, can perform network attacks, or can create fake wireless access points.
Read more...
---
Body-worn cameras transforming security
October 2019 , CCTV, Surveillance & Remote Monitoring, Security Services & Risk Management
Police Service Northern Ireland now has over 7 000 officers using 2 500 cameras covering approximately 173 000 incidents each year.
Read more...
---
Camera Selection Guide 2019
CCTV Handbook 2019 , CCTV, Surveillance & Remote Monitoring
The Camera Selection Guide 2019 includes a range of IP, analogue, thermal and speciality cameras aimed at a broad range of surveillance functions.
Read more...
---
Intelligent analytics and the brains to match
September 2019, Bosch Building Technologies , CCTV, Surveillance & Remote Monitoring, Integrated Solutions
What if the brains behind our security cameras could be trained to improve their cognitive ability to pay attention, learn, and problem-solve according to specific rules and situations?
Read more...
---
AI-powered autonomous Drone-in-a-Box
September 2019 , CCTV, Surveillance & Remote Monitoring, Integrated Solutions
Organisations in the mining, energy and industrial, oil and gas, ports and terminals sectors can optimise security and business operations, whilst reducing risks and operational costs
Read more...
---
Cybersecurity for video surveillance systems
September 2019 , Cyber Security, CCTV, Surveillance & Remote Monitoring
Video surveillance systems are increasingly accessible over any IP network, which has led to the rise of potential cyberattack.
Read more...
---
A platform approach to innovation and value
CCTV Handbook 2019, Technews Publishing , Editor's Choice, CCTV, Surveillance & Remote Monitoring, Integrated Solutions, IT infrastructure
Moving to the platform model of doing business holds tremendous advantages for end users and smaller developers, but also for the whole technology supply chain.
Read more...
---
Back to manufacturer uniformity?
CCTV Handbook 2019, Dallmeier Electronic Southern Africa , CCTV, Surveillance & Remote Monitoring
Decision makers often have to choose between an all-inclusive, complete solution from one manufacturer and the products and services of several different providers.
Read more...
---
Open does not always mean easy integration
CCTV Handbook 2019, VERACITECH, Technews Publishing , Editor's Choice, CCTV, Surveillance & Remote Monitoring, Integrated Solutions
Customers who opt for best-of-breed solutions will have to rely on their integrators to develop customised integrated solutions for them.
Read more...
---
The impact of AI on the surveillance industry
CCTV Handbook 2019, G4S South Africa, Hikvision South Africa, Myertal Tactical Security, Technews Publishing , Editor's Choice, CCTV, Surveillance & Remote Monitoring
What the impact of AI will be on companies, the services and solutions they supply, as well as on the jobs people do.
Read more...
---