printer friendly version
Taking aim at number plate ­recognition
February 2017 Access Control & Identity Management, CCTV, Surveillance & Remote Monitoring, Asset Management, EAS, RFID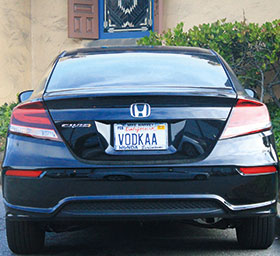 Hi-Tech Security Solutions' readers were introduced to GateBook, a locally developed visitor management system last year in the Residential Estate Security Handbook. In the original article we noted that one of the GateBook modules is automated number plate recognition (ANPR), which residential or business estates can use to compare cars requesting entry with a hotlist of undesirables which should be denied access to the estate. Alternatively it can be used to simply keep a record of what vehicles entered and exited the estate and the associated driver's licences that were scanned.
This is useful, but a limited use of ANPR and Grant Hancock, MD of GateBook, believes the process could be expanded to increase security levels on a far wider scale than an estate. He says traditional ANPR is reactionary and allows you to react after the event, not immediately. SNIPR is different.
GateBook's ANPR system, SNIPR, is connected to the SAPS database of suspicious vehicles as well as many other sources. These sources can be existing databases of vehicles, live camera feeds, handheld devices and so forth. The system is already integrated into Hikvision LPR cameras.
Once a number plate is received by the SNIPR server, it is compared to the plates on file and on the SAPS database. If it turns out to be a suspicious vehicle, the security teams at estates (or shopping malls, business campuses or anywhere there is a constant flow of vehicles), can be prompted to take the relevant action.
The action in this instance is immediate. A vehicle with a number plate that raises an alarm can be prevented from entering an estate or business premises or, to avoid endangering innocent people, it can be allowed to enter until it is confronted by the police or a security team.
SNIPR can be used with different cameras and surveillance systems, it does not require users to buy special equipment. It can also be used with a management system (like GateBook) that provides step-by-step instructions on what process must be followed when a suspicious number plate is recognised.
Hancock explains that SNIPR is not competing with current ANPR systems as it does not read number plates, but the company has written an API that can interpret number plate information from third-party systems. Hancock says GateBook will write integrations to connect to any third-party systems willing to provide number plates to SNIPR.
The system does not record video footage either, only those images associated with the ANPR recognition, and these images are only stored for a short time.
SNIPR has been put through its paces in a number of pilot environments and is being rolled out to a growing number of organisations.
For more information contact GateBook, [email protected], www.gatebook.co.za
Further reading:
Cybersecure surveillance cameras
HiTek Security Distributors News CCTV, Surveillance & Remote Monitoring Cyber Security
Provision-ISR builds customer trust and opens up new opportunities with Check Point Quantum IoT Protect Firmware built into Provision-ISR cameras.
Read more...
---
Is the smoke beginning to clear for password security?
Access Control & Identity Management Security Services & Risk Management
The password problem is the result of bad habits, and they can be hard to break. But ask anyone that has done it and they will not tire of telling you the benefits.
Read more...
---
Solving coworking front-desk drama
Access Control & Identity Management Products
Flexible, shared and coworking offices have taken off with great success, but because occupational churn is high, the front-desk can be a difficult place to manage.
Read more...
---
Security BIS named AxxonSoft's Distributor of the Year 2021
News CCTV, Surveillance & Remote Monitoring
With its focus on AxxonSoft solutions and technical support, Security BIS secured the title of AxxonSoft Distributor of the Year again for 2021.
Read more...
---
Powder coating provides durable finish
Turnstar Systems Access Control & Identity Management Industrial (Industry)
Turnstar's powder coating line provides corrosion resistance, high-quality surface finishing and a long-term environment-friendly impact for all access control components the company manufactures.
Read more...
---
Passion, drive and hard work
Technews Publishing Editor's Choice CCTV, Surveillance & Remote Monitoring Security Services & Risk Management
Colleen Glaeser is a leader in the security market, having made her mark in the male-dominated security industry through determination and hard work, along with a vision of making the world a safer place.
Read more...
---
New full-colour Smart Dual Illuminators camera series
Dahua Technology South Africa Products CCTV, Surveillance & Remote Monitoring
Using deep learning to accurately detect targets, the cameras can intelligently switch between the IR mode when there is no target, and full-colour mode when a target is detected.
Read more...
---
2022 trends in video surveillance
Eagle Eye Networks Editor's Choice CCTV, Surveillance & Remote Monitoring Integrated Solutions
Eagle Eye Networks predicts what will impact the video surveillance industry in the coming year and how to seize opportunities and forge a path to success, even amid ongoing uncertainties.
Read more...
---
The impact of AI-enhanced video analytics on control room personnel
Leaderware Editor's Choice CCTV, Surveillance & Remote Monitoring
What impact do AI-capable detection systems have on control room staff, and do they mean a change in the demands on operators and the type of people you have in the control room?
Read more...
---
To be or not to be, is that the objective?
Iris AI Editor's Choice CCTV, Surveillance & Remote Monitoring News
Gerhard Furter joins a discussion on the nature of sentience in artificial intelligence. Do we actually know what sentience is, or are we overestimating our human capabilities?
Read more...
---