printer friendly version
Fire system 2,6 km underground
February 2017 Fire & Safety, Mining (Industry)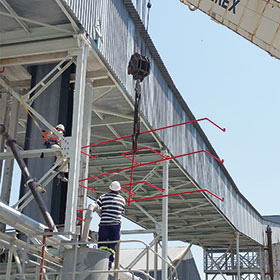 Moab Khotsong Gold Mine is one of AngloGold Ashanti's Vaal River operations in South Africa. The mine is located around 180 km south-west of Johannesburg near the towns of Orkney and Klerksdorp. The mine has been in production since 2003 and currently ranks as one of the six deepest mines in the world, with its mining depth ranging between 2,6 km and 3,054 km below surface.
The mine exploits the Vaal Reef (VR) through three mining layers, namely the Top, Middle and Lower Mines. Moab Khotsong employs a scattered mining method with an integrated backfill support system.
Sperosens was recently tasked to design, supply, deliver, install and commission conveyor fire suppression systems at the following high-risk areas at AngloGold Ashanti – Moab Khotsong Mine:
• 77 Level – CV04 Reef, CV05 Waste, DP Waste and Rock Reef – Fire Suppression System.
• 101 Level – 101 Waste and 101 Reef – Fire Suppression System.
• 102 Level – Overlay and Underlay – Fire Suppression System.
Installation started in September 2016 and will end in March 2017. Once complete, this might well be one of the deepest operational fire detection and suppression systems in the world.
For the application it was proposed that a pre-engineered, standalone suppression system, designed in accordance with NFPA16, be installed at all the high-risk areas. This system is called a Compressed Air Foam System (CAFS) and is designed in accordance with NFPA16: Standard for Foam Spray Fixed Systems for Fire Protection.
The compressed air foam system
The compressed air (nitrogen) foam system is a fixed automatic fire prevention, detection and suppression system, consisting of a control unit, fire and heat detectors, a set of discharge spray nozzles, a pressurised water/suppression agent tank, a high-pressure nitrogen cylinder, a number of solenoid valves, and pressure and level switches. The unit can also be interfaced and displayed onto the SL2010 fire detection telemetry system or scada system.
The foam spray fire suppression system is a stand-alone, pre-engineered, modular fire suppression system that can be configured to supply various quantities of nozzles, from a minimum of two nozzles, up to a maximum of 21 nozzles per single cylinder system. The normal operating pressure of the conveyor belt tank is designed such that the discharge nozzles should operate at a constant adjustable discharge pressure of between 3 and 10 bar, thus allowing for a balanced and equal discharge from all the nozzles, depending on the specific design application and duration discharge required.
Principle of operation
A vessel is filled with a mixture of water and a foaming agent and is pressurised using a standard nitrogen cylinder. Two sensors are used to detect overheating:
• Plumber block temperature sensor – to detect the overheating of bearings.
• Infrared temperature sensor – to detect overheating of pulleys.
In addition, a Triple Spectrum (IR) Infrared Flame Detector is used to detect flames. The system will automatically discharge the vessel contents through a solenoid valve, piping system and correctly placed nozzles when a fire alarm is generated.
Installations of CAF solutions have been successfully implemented on surface conveyor belts since 2012.
For more information contact Marihette Hattingh, Sperosens, 086 177 3767, marihette.hattingh@spero.co.za, www.spero.co.za
Credit(s)
Further reading:
Managing the fire risk of transformer explosions
Issue 2 2020 , Fire & Safety
While a simple solution is to install adequate fire detection and suppression systems, this is hampered by the lack of necessary funding.
Read more...
---
Fire safety critical in healthcare
Issue 2 2020, Spero Sensors & Instruments, Technews Publishing , Fire & Safety
Healthcare organisations have a lot on their collective plates and it can be easy to overlook security issues in favour of more pressing demands.
Read more...
---
Fire alarms at sea
Issue 2 2020, Technoswitch , Fire & Safety
Technoswitch now offers marine approved conventional control panels from Haes, aimed at fire safety for all small to medium seafaring vessels.
Read more...
---
Kitchen fire suppression systems
Issue 2 2020, Technoswitch , Fire & Safety
Technoswitch has announced the addition of new 16 litre and 25 litre systems to its range of automatic kitchen fire detection and suppression systems.
Read more...
---
Fire detection for battery charging rooms
Issue 2 2020, FDIA (Fire Detection Installers Association) , Fire & Safety
Battery charging rooms pose fire explosion risks due to the presence of hydrogen gas produced when lead-acid batteries are being charged.
Read more...
---
Technology can help people in high-risk evacuations
Issue 2 2020 , Fire & Safety
Commercial buildings must not only be prepared for the possibility of a fire because they face newer threats - including terrorism, civil unrest and extreme weather.
Read more...
---
Effectively securing large mines
October 2019, Veracitech, Technews Publishing, Dallmeier Electronic Southern Africa , Mining (Industry), Integrated Solutions
The vast areas covered by mining operations present security challenges such as the ability to provide effective perimeter protection and surveillance, while maintaining reliable communications between remote areas and control rooms.
Read more...
---
Fire Beam Xtra covers up to 160 metres
October 2019, Technoswitch , Products, Fire & Safety
The Fire Beam overcomes traditional beam detection challenges where building movement and accessibility made beam detection unreliable and laborious to commission and maintain.
Read more...
---
Emergency voice communication system
October 2019, Technoswitch , Products, Fire & Safety
The Technoswitch Emergency Voice Communication Systems concept offers fire telephone and disabled refuge systems, as well as integrating emergency assist alarm systems in a single solution.
Read more...
---
Fast detection of smoke and flames
October 2019, Bosch Building Technologies , Editor's Choice, CCTV, Surveillance & Remote Monitoring, Fire & Safety
Video-based fire detection AVIOTEC from Bosch has been optimised for tunnels to provide early and reliable detection of smoke and flames in these dark environments.
Read more...
---