printer friendly version
South African smart cities
February 2017 Integrated Solutions, IT infrastructure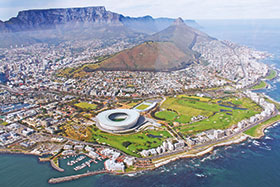 When one thinks of smart cities, one might be forgiven for overlooking Africa, but not for much longer as the technology is in play and expanding rapidly. South Africa in particular offers an increasing focus on developing smart cities to the extent that the South African Local Government Association defined the term to coordinate the development throughout the country.
Defined as a city which 'uses digital technologies to enhance performance and well-being, to reduce costs and resource consumption, and to engage more effectively and actively with its citizens' they have focused on the smart sectors of transport, energy, healthcare, water and waste.
With the country's population rapidly urbanising and the needs for each city being different, it's to be expected that each would make use of technology in different ways to suit their needs. For example, Cape Town has set up a digital integrated transportation system while Johannesburg offers residents the ability to digitally report infrastructure faults. In 2005, Pretoria partnered with Oulu (Finland) to compare best practices, resulting in an unprecedented roll out of free Wi-Fi to over 3 million people.
The roll out of free Wi-Fi is part of Project Isizwe, a drive to disseminate Internet throughout the country. Much of the infrastructure, from Wi-Fi on buses to powering South Africa's largest wireless ISP is issued by Radwin.
Unfortunately the country is still held back by the lack of accessible cheap mobile data. Research ICT Africa has reported the average cost per gigabyte in South Africa as US$ 5.30, which is marginally higher than economic competitor Nigeria ($4.90) and significantly higher than Egypt ($2.80). South Africa has also seen marginal, yet consistent, drop in position in the International Telecommunications Union's ICT Development Index where she currently sits in the 88th place owing to improving slower than the rest of the world. Despite this, South Africa places third overall in Africa.
With just over half of the country's 55 million population connected to the Internet (primarily through mobile devices), it's easy to see why the high costs are barriers to connecting the other half of the country and, by extension, limiting the development of smart cities.
Steve Pinto, managing director of New Reality, South Africa's forerunner in advanced coding for augmented and virtual reality devices, says the country is feeling the pinch of the limitations. He cites the lack of broader infrastructure as well as the focus on small projects as opposed to ones on a national scale as the primary stumbling blocks.
Pinto claims that "smart cities are vital to humanity in today's world and that when we have them, people's lives change for the better but we need to desperately meet the increasing demand on infrastructure by improving supply to make these cities happen."
South Africa seems to have the building blocks for developing complete smart cities, from political will to developers ready to code. Where it's lacking is in the low infrastructure and costs of connectivity. With one of the highest Gini coefficients in the world, it's not surprising to see that the country is struggling to balance the data market with the private sector, rather opting to cater for the haves before the have-nots. That being said, the development of free Wi-Fi in certain metropolitan areas should not be scoffed at and is certainly a step in the right direction.
While a fully-fledged smart city is not on the cards for the tip of Africa tomorrow, it's certainly on the cards for the near future. Chinese firm, Shanghai Zendai, has dedicated over $8 billion into building a 35 000 house-smart city over 1600 hectares just east of Johannesburg.
For more information contact Radwin, +27 (0)74 114 2805, [email protected]
Further reading:
Citrix App Protection helps secure remote workers
Cyber Security IT infrastructure
Many organisations are implementing a zero-trust security model with data protection as a top priority. This is largely due to the increase in remote work and unmanaged personal devices playing a growing role in the enterprise.
Read more...
---
Kaspersky invests in development of neuromorphic processors
News IT infrastructure
Neuromorphic processors' field of application is acceleration of the hardware used in the latest generation of artificial intelligence systems, which are based on spiking neural networks (SNN) training, which is more akin to biological interactions.
Read more...
---
Infinidat enhances channel support
News IT infrastructure
Infinidat drives go-to-market strategy with new global partner portal and expands channel sales with Storage-as-a-Service in ArrowSphere.
Read more...
---
2022 Cloud Security Report
Cyber Security IT infrastructure
The 2022 Cloud Security Report reveals how security executives and practitioners are using the cloud, how their organisations are responding to security threats in the cloud, and the challenges they are facing.
Read more...
---
Storage is essential for a comprehensive cybersecurity strategy
Integrated Solutions Cyber Security
Cyber resilience is the ability of an enterprise to limit the impact of security incidents by deploying and arranging appropriate security tools and processes.
Read more...
---
LucidLink Filespaces 2.0 cloud NAS offering
Products IT infrastructure
Drive Control Corporation (DCC) has announced the availability of LucidLink's new cloud NAS product, Filespaces 2.0, which forms part of the distributor's StorVault value proposition to its channel partners.
Read more...
---
System integrators and surveillance
Technews Publishing Stallion Security G4S Secure Solutions SA Integrated Solutions
Hi-Tech Security Solutions asked two system integrators if they are seeing an upturn in the market and if projects are back on track despite the economic slowdown and supply chain chaos?
Read more...
---
2022 trends in video surveillance
Eagle Eye Networks Editor's Choice CCTV, Surveillance & Remote Monitoring Integrated Solutions
Eagle Eye Networks predicts what will impact the video surveillance industry in the coming year and how to seize opportunities and forge a path to success, even amid ongoing uncertainties.
Read more...
---
Leaning into the edge
Technews Publishing Axis Communications SA Forbatt SA Hikvision South Africa Editor's Choice CCTV, Surveillance & Remote Monitoring Integrated Solutions IT infrastructure
Video storage and analytical processing, with the help of artificial intelligence on the edge, is simple today with the powerful and advanced camera technology we have available.
Read more...
---
Optimising edge analytics
CCTV, Surveillance & Remote Monitoring IT infrastructure
Service provider inq leverages Advantech's edge appliances combined with Enea's uCPE virtualisation and management solution for delivery of high-performance video analytics services at the customer premises edge.
Read more...
---