printer friendly version
Eyes open in the bus
February 2017 CCTV, Surveillance & Remote Monitoring, IT infrastructure, Products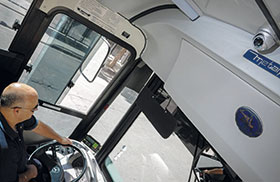 Instances of crimes and violence (especially on city buses or at bus stations) motivated the Argentine city of Rosario to improve safety and security measures on the Urban Transportation System – or TUP as it is known locally.
Increasing the police presence to include an officer on each bus was both cost-prohibitive as well as uncomfortable for some TUP passengers. The final project proposal was based on best practices from other similar municipalities and involved an increased reliance on security cameras in each TUP bus.
The public tender was opened at the end of 2015, with eight companies presenting proposals. Ultimately, Crayon Web was awarded the contract to implement obvious but unobtrusive cameras throughout the TUP bus system.
How does it work?
The project began with 50 buses outfitted with three security cameras. One camera sits over the driver's seat and focuses on recording passengers entering and exiting the bus. The second camera perches near the driver's seat and faces the rear of the bus. The third camera is mounted above the last row of seats, aiming toward the front of the bus. All of the cameras are capable of recording audio as well as video. The cameras are connected to an NVR equipped to record 45 days of footage.
The camera footage is accessed and viewed remotely from one of seven terminals. Two of these terminals are in the 911 emergency dispatch centre; two additional terminals are at the mobility monitoring centre; and each of the three public transit companies – Semtur, La Mixta and Rosario Bus – operate one terminal each. Security camera footage is immediately reviewed by an operator at one of the seven terminals and first responders are dispatched when necessary.
At the time of writing, 300 Mobile IPC DS-2CD6510D cameras, 150 Mobile IPC DS-2CD6520D-10 cameras, and 150 NVR DSM 7508 HNI/GW/WI network video recorders have been installed.
Hikvision's local distributor, Security One, played a crucial role in this TUP project. Security One provided the technical and training personnel to assist in presenting the proof of concept demonstration to Rosario municipal government, as well as configuring and installing the 3G and 4G networks on each of the buses. The Security One team even arranged for Crayon Web staff to travel to the Hikvision manufacturing facility in China to integrate their software with the custom-built video surveillance system.
Support for municipal security
The first phase of the project involved installing 150 cameras and 50 NVR units throughout a test fleet of 50 buses. A 10 MG asymmetric and dedicated network was installed in the mobility monitoring centre. The total cost for the first phase was approximately US$1.5 million.
Phase two is scheduled to include 300 additional buses. This will require 900 cameras and 300 network video recorders.
This project works in conjunction with fixed location surveillance cameras which have been in limited use throughout Rosario for several years. As both systems integrate and expand, Rosario will become the example for every Latin American city facing the challenge to curb urban crime.
The monitoring terminals rely on the available 3G networks. This large-scale network allows for high-quality audio and visual streaming from the buses to the seven monitoring stations. Crayon Web manages all onsite technical support, including preventative maintenance for individual cameras, monitoring terminals, and any new components. The Hikvision/Security One/Crayon Web alliance enabled Rosario to adopt the North American 'Eyes of the City' concept which will allow city officials to monitor traffic situations, environmental concerns, and assist in law enforcement duties – all with the aim of improving the quality of life of the community.
During testing of the TUP system, which included the activation of bus-driver panic buttons and dispatching police, the public was able to see how Rosario is beginning to take the lead in public safety. Similar systems are already in use in Thailand, Istanbul, and Dubai. More than 1.5 million people in Rosario consider this new system to be a positive step toward solving crime problems plaguing Latin American cities.
For more information contact Hikvision South Africa, Evan Liu, +27 (0)10 035 1172, support.africa@hikvision.com, www.hikvision.com
Credit(s)
Further reading:
Drones and cybersecurity?
October 2019 , CCTV, Surveillance & Remote Monitoring
Hacker drones can eavesdrop electronically on conversations, can perform network attacks, or can create fake wireless access points.
Read more...
---
The importance of XDR for cyber protection
October 2019 , Cyber Security, Products
35% of South African organisations are expecting an imminent cyberattack and a further 31% are bracing for it to happen within a year, according to local research conducted by Trend Micro.
Read more...
---
Digitising Maslow's Hierarchy of Needs
October 2019 , Integrated Solutions, IT infrastructure
Mobile technology has the potential to change how Africa approaches patient and healthcare, says Phathizwe Malinga, managing director, SqwidNet.
Read more...
---
Body-worn cameras transforming security
October 2019 , CCTV, Surveillance & Remote Monitoring, Security Services & Risk Management
Police Service Northern Ireland now has over 7 000 officers using 2 500 cameras covering approximately 173 000 incidents each year.
Read more...
---
Camera Selection Guide 2019
CCTV Handbook 2019 , CCTV, Surveillance & Remote Monitoring
The Camera Selection Guide 2019 includes a range of IP, analogue, thermal and speciality cameras aimed at a broad range of surveillance functions.
Read more...
---
Intelligent analytics and the brains to match
September 2019, Bosch Building Technologies , CCTV, Surveillance & Remote Monitoring, Integrated Solutions
What if the brains behind our security cameras could be trained to improve their cognitive ability to pay attention, learn, and problem-solve according to specific rules and situations?
Read more...
---
AI-powered autonomous Drone-in-a-Box
September 2019 , CCTV, Surveillance & Remote Monitoring, Integrated Solutions
Organisations in the mining, energy and industrial, oil and gas, ports and terminals sectors can optimise security and business operations, whilst reducing risks and operational costs
Read more...
---
Cybersecurity for video surveillance systems
September 2019 , Cyber Security, CCTV, Surveillance & Remote Monitoring
Video surveillance systems are increasingly accessible over any IP network, which has led to the rise of potential cyberattack.
Read more...
---
A platform approach to innovation and value
CCTV Handbook 2019, Technews Publishing , Editor's Choice, CCTV, Surveillance & Remote Monitoring, Integrated Solutions, IT infrastructure
Moving to the platform model of doing business holds tremendous advantages for end users and smaller developers, but also for the whole technology supply chain.
Read more...
---
Back to manufacturer uniformity?
CCTV Handbook 2019, Dallmeier Electronic Southern Africa , CCTV, Surveillance & Remote Monitoring
Decision makers often have to choose between an all-inclusive, complete solution from one manufacturer and the products and services of several different providers.
Read more...
---