printer friendly version
Eyes open in the bus
February 2017 CCTV, Surveillance & Remote Monitoring, IT infrastructure, Products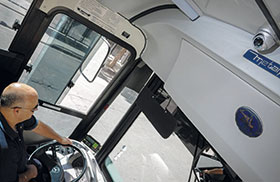 Instances of crimes and violence (especially on city buses or at bus stations) motivated the Argentine city of Rosario to improve safety and security measures on the Urban Transportation System – or TUP as it is known locally.
Increasing the police presence to include an officer on each bus was both cost-prohibitive as well as uncomfortable for some TUP passengers. The final project proposal was based on best practices from other similar municipalities and involved an increased reliance on security cameras in each TUP bus.
The public tender was opened at the end of 2015, with eight companies presenting proposals. Ultimately, Crayon Web was awarded the contract to implement obvious but unobtrusive cameras throughout the TUP bus system.
How does it work?
The project began with 50 buses outfitted with three security cameras. One camera sits over the driver's seat and focuses on recording passengers entering and exiting the bus. The second camera perches near the driver's seat and faces the rear of the bus. The third camera is mounted above the last row of seats, aiming toward the front of the bus. All of the cameras are capable of recording audio as well as video. The cameras are connected to an NVR equipped to record 45 days of footage.
The camera footage is accessed and viewed remotely from one of seven terminals. Two of these terminals are in the 911 emergency dispatch centre; two additional terminals are at the mobility monitoring centre; and each of the three public transit companies – Semtur, La Mixta and Rosario Bus – operate one terminal each. Security camera footage is immediately reviewed by an operator at one of the seven terminals and first responders are dispatched when necessary.
At the time of writing, 300 Mobile IPC DS-2CD6510D cameras, 150 Mobile IPC DS-2CD6520D-10 cameras, and 150 NVR DSM 7508 HNI/GW/WI network video recorders have been installed.
Hikvision's local distributor, Security One, played a crucial role in this TUP project. Security One provided the technical and training personnel to assist in presenting the proof of concept demonstration to Rosario municipal government, as well as configuring and installing the 3G and 4G networks on each of the buses. The Security One team even arranged for Crayon Web staff to travel to the Hikvision manufacturing facility in China to integrate their software with the custom-built video surveillance system.
Support for municipal security
The first phase of the project involved installing 150 cameras and 50 NVR units throughout a test fleet of 50 buses. A 10 MG asymmetric and dedicated network was installed in the mobility monitoring centre. The total cost for the first phase was approximately US$1.5 million.
Phase two is scheduled to include 300 additional buses. This will require 900 cameras and 300 network video recorders.
This project works in conjunction with fixed location surveillance cameras which have been in limited use throughout Rosario for several years. As both systems integrate and expand, Rosario will become the example for every Latin American city facing the challenge to curb urban crime.
The monitoring terminals rely on the available 3G networks. This large-scale network allows for high-quality audio and visual streaming from the buses to the seven monitoring stations. Crayon Web manages all onsite technical support, including preventative maintenance for individual cameras, monitoring terminals, and any new components. The Hikvision/Security One/Crayon Web alliance enabled Rosario to adopt the North American 'Eyes of the City' concept which will allow city officials to monitor traffic situations, environmental concerns, and assist in law enforcement duties – all with the aim of improving the quality of life of the community.
During testing of the TUP system, which included the activation of bus-driver panic buttons and dispatching police, the public was able to see how Rosario is beginning to take the lead in public safety. Similar systems are already in use in Thailand, Istanbul, and Dubai. More than 1.5 million people in Rosario consider this new system to be a positive step toward solving crime problems plaguing Latin American cities.
For more information contact Hikvision South Africa, Evan Liu, +27 (0)10 035 1172, [email protected], www.hikvision.com
Credit(s)
Further reading:
Cybersecure surveillance cameras
HiTek Security Distributors News CCTV, Surveillance & Remote Monitoring Cyber Security
Provision-ISR builds customer trust and opens up new opportunities with Check Point Quantum IoT Protect Firmware built into Provision-ISR cameras.
Read more...
---
Enabling safety in communities
Security Services & Risk Management Products
Many Hytera devices are equipped with personal safety features, including emergency calling, Man Down and Lone Worker alerts, and GPS to enable users to be monitored and tracked.
Read more...
---
Solving coworking front-desk drama
Access Control & Identity Management Products
Flexible, shared and coworking offices have taken off with great success, but because occupational churn is high, the front-desk can be a difficult place to manage.
Read more...
---
Citrix App Protection helps secure remote workers
Cyber Security IT infrastructure
Many organisations are implementing a zero-trust security model with data protection as a top priority. This is largely due to the increase in remote work and unmanaged personal devices playing a growing role in the enterprise.
Read more...
---
Video technology can improve crowd management
CCTV, Surveillance & Remote Monitoring Entertainment and Hospitality (Industry) Products
Stadium operators can use video technology to implement effective crowd management in different areas, avoiding fines, reputational damage and injury or loss of life.
Read more...
---
Kaspersky invests in development of neuromorphic processors
News IT infrastructure
Neuromorphic processors' field of application is acceleration of the hardware used in the latest generation of artificial intelligence systems, which are based on spiking neural networks (SNN) training, which is more akin to biological interactions.
Read more...
---
Security BIS named AxxonSoft's Distributor of the Year 2021
News CCTV, Surveillance & Remote Monitoring
With its focus on AxxonSoft solutions and technical support, Security BIS secured the title of AxxonSoft Distributor of the Year again for 2021.
Read more...
---
Infinidat enhances channel support
News IT infrastructure
Infinidat drives go-to-market strategy with new global partner portal and expands channel sales with Storage-as-a-Service in ArrowSphere.
Read more...
---
2022 Cloud Security Report
Cyber Security IT infrastructure
The 2022 Cloud Security Report reveals how security executives and practitioners are using the cloud, how their organisations are responding to security threats in the cloud, and the challenges they are facing.
Read more...
---
Securing business information more important than ever
Cyber Security Products
SMBs need to operate safely within the physical and virtual boundaries created by work-from-home business practices, as well as in-office operations.
Read more...
---