printer friendly version
So .... who is UTC?
July 2012
Fire & Safety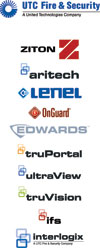 We have come a long way since 1969 when our company was first introduced to the market. During this time our company has evolved from a market leader in the fire and security industry to a global Fortune 100 company generating over $50bn in sales and employing over 200 000 people globally, 400 of those nationally across South Africa.
Locally, it began with the Ziton brand which has been trusted and implemented in some of the world's premier sites for over 40 years now. In 1983 a second South African brand was introduced, Centralised Electronics, which in 1997 became the Aritech brand we know today. This acquisition led the company into the security market by providing access to CCTV (Kalatel), intrusion (Caddx), fibre (Fiber Options) and access control platforms that were revolutionising the security industry in Europe at the time.
GE Security was formed in 2002 which lead to our biggest brands Aritech and Ziton being moved to the GE Security stable. Our business then became the largest electronic fire and security manufacturer in the world supported by General Electric. With the financial backing and brand credibility of GE we expanded our footprint across Africa and have diversified our sales into the emerging markets over the last six years helping us align with some of the larger companies in Africa including telecoms operators such as MTN Nigeria, Airtel and Safaricom.
United Technologies Company (UTC), a company known in our market for the Otis, Pratt & Whitney and Carrier businesses decided to expand its fire and security portfolio in 2010 and came to an agreement to acquire the business from General Electric. With the attractiveness of the product offering by GE Security, UTC saw a perfect fit and the acquisition was completed in early 2011.
UTC Fire & Security, formed as a subsidiary of UTC, already owned brands such as Lenel, Angus, Onity, Marioff and Hi-Fog and employs over 45 000 employees having a presence in over 25 countries.
UTC Fire & Security is a global manufacturer, owning the technology and supplying to the market according to the demand in each region of the world. Many of our competitors are single technology manufacturers or distributors; UTC Fire & Security is a single source supplier that offers the full range of fire and security technologies.
We manufacture and supply the world's leading access control brands including Lenel, Facility Commander, Casi Rusco, ATS and TruPortal, used by companies such as Microsoft, IBM, Nissan, GM and Cisco. In fact Lenel is used by 80% of the Fortune 100 companies.
The fire detection brands includes the well-known Ziton, Aritech, AirSense and Edwards which are installed in O.R. Tambo International Airport, BMW Roslyn, Groote Schuur Hospital, Green Point and FNB Stadiums locally, to name a select few.
We are well positioned In the video market with our TruVision and UltraView ranges of products used in sites such as the Free State and Loftus Stadium, University of the Western Cape and City of Cape Town. One of the world's largest video sites is the Paris Metro running over 25 000 cameras on a single network for their train and bus systems, storing 72 hours of footage per camera on our UltraView platform.
The new IFS range of fibre products are known worldwide and can be seen working at the Hartebeesthoek Radio Astronomy Observatory, Anglo Platinum Rustenburg and Accor Mittal.
Our intrusion products including NX, Simon XT and ATS are marketed around the world and installed in many of the world's leading banks including ABN-Ambro, GE Money and Dexia Bank.
Our integration software ensures all of these technologies can work together on a single user platform, providing the customer a seamless fully integrated security solution for all applications and markets.
So, who is UTC?
Our company has come a long way and we will continue to grow our product portfolio by strong investment in R&D, such as Ziton fire products proudly being manufactured in South Africa. With local offices in Johannesburg and Cape Town, supported by a vast network of partners across sub-Saharan Africa, Middle East and Europe, UTC Fire & Security is the world's leading manufacturer and supplier of integrated Fire and Security technologies.
For more information contact UTC Fire & Security, +27 (0)11 579 7300, utcfs.ssa@fs.utc.com, www.utcfssecurityproducts.eu, www.utcfireandsecurity.com
Credit(s)
Further reading:
Avenar fire alarm panels
Issue 7 2020, Bosch Building Technologies , Fire & Safety
Avenar panel 2000 and 8000 are new fire alarm panel platforms offer connectivity and scalability from small to large-sized installations.
Read more...
---
Linear heat detection under difficult conditions
Issue 5 2020, Technoswitch , Fire & Safety
Securiton's SecuriHeat ADW535 linear heat detector prevails where conventional fire detectors reach their physical limits.
Read more...
---
High-precision aspirating smoke detectors
Issue 5 2020, Technoswitch , Fire & Safety
The SecuriSmoke ASD range by Securiton offers three VdS approved models and makes the lightning-fast detection of fires both scalable and cost-effective for any area.
Read more...
---
Competency in the fire industry
Issue 5 2020, FDIA (Fire Detection Installers Association) , Fire & Safety
Persons who design, commission, install or service fire protection equipment or systems should have the required level of competence for the task they perform.
Read more...
---
Public address/voice alarm partnership
Issue 5 2020, Johnson Controls Global Products , Fire & Safety
Johnson Controls customers now have single-source access to a complete line of fire detection products, including high-quality PA/VA systems.
Read more...
---
Hochiki Europe's L@titude system distributed by XtraVision
Issue 5 2020, XtraVision , Fire & Safety
Hochiki Europe's L@titude range of fire alarm control is both sophisticated, yet simple to use.
Read more...
---
Hochiki shines a light on luxury
Issue 5 2020, XtraVision , Fire & Safety
Luxury hotel chooses fire safety equipment from Hochiki as part of extension and restructuring works.
Read more...
---
LenelS2 enhances VRx VMS
Issue 4 2020, UTC Fire & Security SSA , CCTV, Surveillance & Remote Monitoring
LenelS2 announces enhancements to VRx video management system, uses deep learning and native NetBox ecosystem integration for a unified security management experience.
Read more...
---
Self-test for fire alarms
Issue 4 2020, Johnson Controls Global Products , Fire & Safety
Johnson Controls notification appliance self-test technology receives UL Verification Mark.
Read more...
---
New FireClass addressable fire alarm panels
Issue 4 2020, Johnson Controls Global Products , Fire & Safety
Johnson Controls has introduced two new FireClass addressable fire alarm panels, the FC702 and FC708, to its range of fire detection solutions.
Read more...
---