printer friendly version
Paxton strengthens South African team
February 2017
News
Paxton recently appointed Mark Kidd-Anderson to its business development team for South Africa. Based in Cape Town, Kidd-Anderson will support and assist distributors and installation companies in the East, West and Northern Cape regions via training and presentations. He will ensure they are aware of Paxton's product offerings and are taking advantage of the sales opportunities available.

Mark Kidd-Anderson.
Kidd-Anderson joins Paxton with over 16 years experience in the security industry, previously holding roles at Elvey Security Technologies, Pentagon Distribution, Inhep Electronics and most recently Reditron.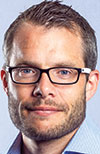 Dan Drayton.
Commenting on the appointment, Dan Drayton, country manager for Paxton, said: "We're delighted to welcome Mark on board at what is an exciting time for the company. His depth of industry knowledge will provide great value to our customers and help accelerate our growth right across South Africa."
Kidd-Anderson is looking forward to the challenges ahead and said: "I was introduced to Paxton two and half years ago, the company, and its range of products have never disappointed – from support to training to high level management interaction.
Paxton recently announced that its access control software, Net2 is now available licence-free and the company also offers free, hands-on installer training for its complete range of networked access control and door entry solutions.
More local support
Paxton has also announced the integration of its networked access control system, Net2, with South Africa's Llama Consulting's visitor management system, LlamaNET. The integration provides simple multi-platform access management for registered users, enabling them to request PIN codes for visitors via their mobile phone.
LlamaNET is a cloud-based system that uses a mobile application to bring PIN-based visitor management to Paxton's Net2 access control. Push notifications alert the user of their visitors' arrival and departure, and bulk push notifications allow management to communicate with all registered users at the same time. Registration and reporting take place in the admin web portal, while the user web portal is for online visitor bookings. Optional fields are available to capture additional data, providing increased security, plus SMS fall back.
Founded in 2008, LlamaNET is a subdivision of Llama IT and was established to cater for the dynamic market of visitor management. With various software deployments in many different sectors of the industry, the developers at Llama pride themselves on quality software and customer satisfaction.
Wynand Gerber, LlamaNET system designer and integrator said: "The LlamaNET visitor system is a prime example of our company ethics, with ease-of-use as a primary objective. With no monthly contracts, LlamaNET is ideal for many applications including residential estates and business parks. We believe users will quickly realise why LlamaNET is such a popular visitor management platform."
Drayton added: "At Paxton, we put our core values of simplicity and quality at the heart of everything we do. It's a pleasure to work with Llama Consulting, a company who place as much importance as we do on supporting customers and developing innovative solutions for the security industry. We believe this new product answers the needs of the security market, and look forward to receiving feedback from our customers."
For more information, contact Paxton, +27 (0)21 427 6691, support@paxtonaccess.co.za, www.paxtonaccess.co.za
Credit(s)
Further reading:
Quantum secret sharing
Issue 6 2020 , News
Wits researchers have demonstrated a new quantum approach for sharing a secret amongst many parties, setting a new record for the highest dimensions and parties to date.
Read more...
---
Three cash-in-transit heists in half an hour
Issue 6 2020, Fidelity Security Group , News
Over the past six weeks the cash-in-transit industry has experienced a spike in the number of heists across the country.
Read more...
---
Programme to assist smaller MSSPs
Issue 6 2020 , News
Networks Unlimited launches new MSSP partnership with SentinelOne to make endpoint defence more accessible.
Read more...
---
Fake uniforms and using falsely branded security vehicle
Issue 6 2020 , News
On Monday 10 August, six to ten armed suspects driving what appeared to be a branded Fidelity ADT vehicle and wearing security uniforms entered a business park.
Read more...
---
From the editor's desk: Covid consolidation
Issue 6 2020, Technews Publishing , News
The global security industry has seen quite a few high-profile mergers and acquisitions over the past year or two, with an even greater number of smaller companies that don't get the headlines also merging, ...
Read more...
---
ONVIF adopts open source development
Issue 6 2020 , News
ONVIF announced it is open sourcing its network interface specifications for physical security technology.
Read more...
---
Hored networking solutions now in South Africa
Issue 6 2020, LD Africa , News
LD Africa is the sole South African distributor for Hored smart networks and smart transmission solutions.
Read more...
---
Suprema wins SIA award
Issue 6 2020, Suprema , News
Suprema Airfob Patch wins Judges' Choice Award from SIA New Product Showcase.
Read more...
---
Digitisation during COVID-19
Issue 6 2020, PSIRA (Private Security Ind. Regulatory Authority) , News
The COVID-19 pandemic has forever changed how business is conducted globally and PSIRA adapted to serve its community.
Read more...
---
Datacentrix boosts security portfolio
Issue 6 2020 , News
Datacentrix has joined the Tenable Assure Partner Programme, strengthening its security portfolio with cyber exposure solutions from Tenable.
Read more...
---