printer friendly version
Paxton strengthens South African team
February 2017
News
Paxton recently appointed Mark Kidd-Anderson to its business development team for South Africa. Based in Cape Town, Kidd-Anderson will support and assist distributors and installation companies in the East, West and Northern Cape regions via training and presentations. He will ensure they are aware of Paxton's product offerings and are taking advantage of the sales opportunities available.

Mark Kidd-Anderson.
Kidd-Anderson joins Paxton with over 16 years experience in the security industry, previously holding roles at Elvey Security Technologies, Pentagon Distribution, Inhep Electronics and most recently Reditron.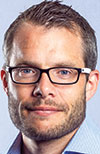 Dan Drayton.
Commenting on the appointment, Dan Drayton, country manager for Paxton, said: "We're delighted to welcome Mark on board at what is an exciting time for the company. His depth of industry knowledge will provide great value to our customers and help accelerate our growth right across South Africa."
Kidd-Anderson is looking forward to the challenges ahead and said: "I was introduced to Paxton two and half years ago, the company, and its range of products have never disappointed – from support to training to high level management interaction.
Paxton recently announced that its access control software, Net2 is now available licence-free and the company also offers free, hands-on installer training for its complete range of networked access control and door entry solutions.
More local support
Paxton has also announced the integration of its networked access control system, Net2, with South Africa's Llama Consulting's visitor management system, LlamaNET. The integration provides simple multi-platform access management for registered users, enabling them to request PIN codes for visitors via their mobile phone.
LlamaNET is a cloud-based system that uses a mobile application to bring PIN-based visitor management to Paxton's Net2 access control. Push notifications alert the user of their visitors' arrival and departure, and bulk push notifications allow management to communicate with all registered users at the same time. Registration and reporting take place in the admin web portal, while the user web portal is for online visitor bookings. Optional fields are available to capture additional data, providing increased security, plus SMS fall back.
Founded in 2008, LlamaNET is a subdivision of Llama IT and was established to cater for the dynamic market of visitor management. With various software deployments in many different sectors of the industry, the developers at Llama pride themselves on quality software and customer satisfaction.
Wynand Gerber, LlamaNET system designer and integrator said: "The LlamaNET visitor system is a prime example of our company ethics, with ease-of-use as a primary objective. With no monthly contracts, LlamaNET is ideal for many applications including residential estates and business parks. We believe users will quickly realise why LlamaNET is such a popular visitor management platform."
Drayton added: "At Paxton, we put our core values of simplicity and quality at the heart of everything we do. It's a pleasure to work with Llama Consulting, a company who place as much importance as we do on supporting customers and developing innovative solutions for the security industry. We believe this new product answers the needs of the security market, and look forward to receiving feedback from our customers."
For more information, contact Paxton, +27 (0)21 427 6691, [email protected], www.paxtonaccess.co.za
Credit(s)
Further reading:
Cybersecure surveillance cameras
HiTek Security Distributors News CCTV, Surveillance & Remote Monitoring Cyber Security
Provision-ISR builds customer trust and opens up new opportunities with Check Point Quantum IoT Protect Firmware built into Provision-ISR cameras.
Read more...
---
Unrecoverable encrypted data
News Cyber Security
Cybersecurity research indicates that 76% of organisations admit to paying ransomware criminals, however, one-third are still unable to recover data.
Read more...
---
Kaspersky invests in development of neuromorphic processors
News IT infrastructure
Neuromorphic processors' field of application is acceleration of the hardware used in the latest generation of artificial intelligence systems, which are based on spiking neural networks (SNN) training, which is more akin to biological interactions.
Read more...
---
Security BIS named AxxonSoft's Distributor of the Year 2021
News CCTV, Surveillance & Remote Monitoring
With its focus on AxxonSoft solutions and technical support, Security BIS secured the title of AxxonSoft Distributor of the Year again for 2021.
Read more...
---
Infinidat enhances channel support
News IT infrastructure
Infinidat drives go-to-market strategy with new global partner portal and expands channel sales with Storage-as-a-Service in ArrowSphere.
Read more...
---
The Handbook of Security's third edition has been published
News
The third edition of the Handbook of Security, edited by Perpetuity Research director Martin Gill, has been published, containing 45 contributions from leading global scholars.
Read more...
---
GJD announces new SMT Machine
News Perimeter Security, Alarms & Intruder Detection
GJD will now be able to complete the manufacture of its products in-house, and thereby significantly decrease the business' carbon footprint while increasing employment opportunities.
Read more...
---
Smart home devices market growing across META
Smart Home Automation News
The Middle East, Turkey, and Africa (META) smart home devices market continues to register significant gains on the back of increasing awareness and improving end user experiences, according to the latest insights from International Data Corporation.
Read more...
---
How to react in an armed robbery or home invasion
Fidelity Services Group Security Services & Risk Management News
How you react when faced with a nervous, gun-toting criminal can save your life, or cost you your life; all family members need to know what to do in such circumstances.
Read more...
---
To be or not to be, is that the objective?
Iris AI Editor's Choice CCTV, Surveillance & Remote Monitoring News
Gerhard Furter joins a discussion on the nature of sentience in artificial intelligence. Do we actually know what sentience is, or are we overestimating our human capabilities?
Read more...
---