printer friendly version
Tech TrailBlazer Awards to include emerging markets
July 2012
News
If you follow the Hi-Tech Security Solutions Twitter account, you will know that the Tech Trailblazers Awards has been launched and I have been asked to be one of the judges. I have also recently received news that the awards will now also include an Emerging Markets segment.
The awards are designed for smaller businesses and start-ups that are less than five years old and at 'C' series funding or below. The awards have low barriers to entry and prizes that not only recognise start-up innovation, but also proactively help start-ups grow their businesses with exclusive coaching, mentoring and development, as well as an estimated prize fund worth in excess of $1m. The awards seek to recognise innovators in the following enterprise technology areas:
* Cloud Trailblazers
* Emerging Markets Trailblazers
* Mobile Technology Trailblazers
* Networking Trailblazers
* Security Trailblazers
* Storage Trailblazers
* Sustainable IT Trailblazers
* Virtualisation Trailblazers
Entries open on July 18th. If you are interested and feel your innovations can change the world, browse on over to www.techtrailblazers.com or follow the awards stream on Twitter (@Techtrailblaze) or follow the conversation via the hashtag #TTAwards.
A busy month
In this issue we have a product focus on thermal cameras in which we highlight a few of the newer products on the market. For what I am hearing, the market for these systems is going to keep growing and we can expect even more price declines over the coming year. We will have more news about thermals in the coming issues.
We also have a brand new feature, A Business Approach to Security. In it we examine how security systems are making additional inroads into areas not normally associated with the security market and technologies. It is an interesting topic to discuss, as you will see from our round-table report back. We will definitely continue to keep this topic in mind in issues to come. If you have any experiences in this area, feel free to let us know.
We also take a look at the retail market, it is quite impressive to review what technologies and processes are being used in the retail market. We are certainly no backwater.
As you know, June saw the local IFSEC show get underway. We are still waiting for the official statistics concerning how many attended and all that, which we will be publishing in our August issue. We have also asked a number of people to send us their views on IFSEC SA, which we will also be including in the August issue.
If you have any news or views of your experience at the show, please feel free to let me know. And if you have any other comments, as always, send them through.
Enjoy the issue.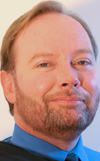 Andrew Seldon – Editor
Credit(s)
Further reading:
A contact-free hotel experience
Issue 7 2020, Technews Publishing , Access Control & Identity Management
Check-in and go straight to your room without stopping at the reception desk at Hotel Sky in Sandton and Cape Town.
Read more...
---
New hires at iPulse
Issue 7 2020, iPulse Systems , News
iPulse has welcomed two new employees into its ranks. Shai Weil has been appointed as operations director, while Corneli Botha is the new customer sales liaison.
Read more...
---
HID Global acquires Access-IS
Issue 7 2020, HID Global , News
HID Global acquires provider of miniaturised reader devices that combine key technologies for mission-critical markets.
Read more...
---
Securing digital transformation
Issue 7 2020 , News
Schneider Electric partners with Fortinet to strengthen ability to secure operations across the business lifecycle and unlock the advantages of a secure IIoT.
Read more...
---
Suprema integrates with Paxton's Net2 access control
Issue 7 2020, Suprema , News
Suprema has announced it has integrated its devices with Paxton's access control system, Net2.
Read more...
---
Free cybersecurity courses
Issue 7 2020 , News
Check Point Software partners with Harvard and MIT-founded edX to deliver free online courses to help close the cybersecurity skills gap.
Read more...
---
Fidelity partners with Auto & General Insurance
Issue 7 2020, Fidelity Security Group , News
Fidelity Services Group in partnership with Auto & General Insurance has launched Fidelity InSure, a comprehensive vehicle, home, and building insurance offering.
Read more...
---
More apps for open camera OS
Issue 7 2020 , News
The App Challenge will result in 21 new apps running on the Security & Safety Things' camera OS, based on the Android Open Source Project.
Read more...
---
Milestone Systems announces Thomas Jensen as new CEO
Issue 7 2020, Milestone Systems , News
Milestone Systems announced that its board of directors has appointed Thomas Jensen as chief executive officer. Jensen will assume the role on October 1, 2020.
Read more...
---
Suprema announces its first virtual event
Issue 7 2020, Suprema , News
Suprema will be hosting its first virtual event, Suprema Connect 2020, which is scheduled to take place over one month from September 15.
Read more...
---