printer friendly version
X-rays with a local touch
November 2016 Editor's Choice, Access Control & Identity Management, Asset Management, EAS, RFID, Security Services & Risk Management
Roteck is an international company operating from South Africa that designs and manufactures a range of security products, from bag scanners through to access control technologies and people scanners, among others. The latest innovation from the company is its own branded baggage X-ray scanner, with a few additional features and a new business concept.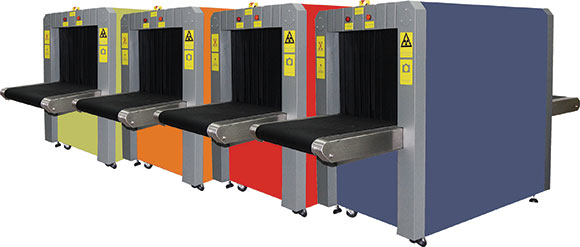 Günther Wockelmann heads up the company and demonstrated Roteck's scanners to Hi-Tech Security Solutions. The locally manufactured baggage X-ray scanner functions much the same as any other scanner one finds at an airport or at the entrance to certain buildings. A bag of some sort passes through the machine, is scanned, and an image is displayed on a screen.
Roteck has taken this concept a step further with the introduction of an automated conveyor belt. The conveyor belt remains motionless until an object is placed on it, at which time it starts up and moves the object through the X-ray scanner, stopping once the object reaches the other side. This requires no operator input and no buttons need to be pressed to make the system work. Additionally, the system is bi-directional.
Wockelmann explains that not only will this save energy as the belt only moves when there is something to scan, it will also prolong its lifespan as it reduces the wear and tear considerably. Another benefit is that there no longer needs to be a roller table for people to put their goods on and push them into the scanner, reducing the overall space the X-ray system consumes.
The image of the X-rayed object is sent to a monitor (as expected), but in Roteck's case, the signal is sent via a Wi-Fi network. This means the monitor can be further away from the scanner than normal if required, but also that anyone with the correct authorisation and the application can view what is on the monitor. Providing a second set of eyes will ensure that mistakes are minimised, while even allowing supervisors to view the images on a tablet – via the company's app – as long as they are in range of the Wi-Fi signal (normally a maximum of 100 metres).
Roteck has also invented a simple solution to the issue of missing trays. People often put personal items in a tray to be scanned, but trays seem to always be on the other side of the scanner. Roteck's tray holder allows trays to be slotted into it once they have been used and automatically feeds used trays back to the front of the machine, without requiring any electrical power or human interference.
Other products
Roteck also offers a bag scanner using white and UV light sources to scan smaller bags. The system delivers no radiation as there are no X-rays, but has four cameras onboard. Three cameras are used to view the object, while one is used to cover the person putting the bag into the scanner. The images are displayed on a split screen, and an operator can zoom in on an image if something suspect is found.
Roteck has built a metal detector into the scanner as an additional check against firearms. The bag scanner is also equipped with an automated conveyor belt which only operates when an object is placed on it.
The bag scanner runs on 12 volts, which means it can be used in remote areas where there is no electricity, or inconsistent power.
A range of people scanners is also available from the company, as well as a mobile scanning unit – designed to be used temporarily for security at remote locations. The technology in the mobile unit also runs on 12 volts, making its portability much simpler.
The mobile unit has two passages running through the trailer with doors on each end. People enter from one side, put their bags and other goods on a scanner, which starts automatically, before walking through the people scanner and out the other door.
A new marketing concept
To differentiate itself from its competitors, Roteck has made its various scanners available in a multitude of colours. Customers can have their own colour scheme and/or logos on the scanners, or they can advertise products and services on the devices.
Roteck has also come up with a new business model for companies that require these scanners but don't want to spend the capex required to purchase them. In high traffic areas, such as shopping centres, Roteck will provide the scanners free of charge while selling advertising on the machines to pay for the running and maintenance costs. People are naturally forced to slow down and stop at these checking points, which means they are prime advertising targets. More information can be found on http://theroteckway.co.za
For more information contact Roteck South Africa, +27 (0)11 024 7322, info@roteck.co.za, www.roteck.co.za
Further reading:
Convergence of cyber and physical security
Integrated Solutions Security Services & Risk Management
The overlap between cybersecurity and physical security will necessitate the integration of cyber and physical security in order to enable the sharing of events to the same security operations centre.
Read more...
---
Robots: a security opportunity or a threat?
Editor's Choice News Conferences & Events
Professor Martin Gill, Director of Perpetuity Research & Consultancy International and the School of Criminal Justice at the University of South Africa (UNISA), will be holding a Global Thought Leadership Security webinar on 22 June 2023 to discuss the contentious issue of robots operating in the security industry.
Read more...
---
UNISA sponsors Securex seminars
Editor's Choice News Conferences & Events
As part of UNISA's 150-year birthday celebrations, UNISA has sponsored the Securex Theatre Seminar Programme, which will include a number of prominent industry specialists, academics and security practitioners focusing on a number of themes.
Read more...
---
Sustainability School opens for enrolment
Education (Industry) News Security Services & Risk Management
Three-part programme, first developed for Schneider Electric employees, is now available for free for companies worldwide. Attendees learn how to future-proof their businesses and accelerate their decarbonisation journeys.
Read more...
---
Accenture Technology Vision 2023
Editor's Choice News
New report states that generative AI is expected to usher in a 'bold new future' for business, merging physical and digital worlds, transforming the way people work and live.
Read more...
---
Economists divided on global economic recovery
Editor's Choice News
Growth outlook has strengthened in all regions, but chief economists are divided on the likelihood of a global recession in 2023; experts are concerned about trade-off between managing inflation and maintaining financial stability, with 76% anticipating central banks to struggle to bring down inflation.
Read more...
---
Success in business process best practices
Technews Publishing Kleyn Change Management Editor's Choice Integrated Solutions Security Services & Risk Management
This month we commandeer time with the woman who is spearheading our national conversation on Women in Security, Lesley-Anne Kleyn, to get to know the lady herself a little better.
Read more...
---
Integrated guarding services
XtraVision Integrated Solutions Access Control & Identity Management Industrial (Industry)
XtraVision offers a few tips on how to go about planning and setting up an integrated approach to sustainable and successful security services, from the initial risk assessment to the technology and people required.
Read more...
---
Paxton secures multi-tenant office in Cape Town
Paxton Integrated Solutions Access Control & Identity Management Products
Cecilia Square in Paarl, Cape Town is an office building from where several businesses operate. The multi-tenant site has recently undergone a full refurbishment, including a complete upgrade of its security system for access control.
Read more...
---
AI face recognition OEM module
Suprema News Access Control & Identity Management Products
Suprema AI, a company specialized in artificial intelligence–based integrated security solutions, recently launched its high-performance face recognition OEM module called 'Q-Face Pro' in response to the growing need for contactless security solutions.
Read more...
---