printer friendly version
Selecting the right method for ­application
November 2016 CCTV, Surveillance & Remote Monitoring, Integrated Solutions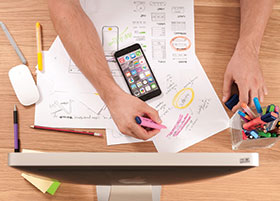 The remarkable rise of the video analytics market and its impact on surveillance technology is evident the world over, and some researchers are suggesting that the IP video solutions industry is now one of the fastest growing areas of security.
Gus Brecher, managing director of Cathexis Africa and business development director of Cathexis Technologies, believes that the growing availability of more sophisticated offerings has been made possible by significant advances in IT technology (servers) and IP camera technology.
Brecher says that video analytics has become a hot topic of discussion with several user benefits being associated with this technology, including increased quality of surveillance and accuracy. However, at its core, video analytics enables a dramatic reduction in storage requirements and facilitates a significant improvement in control room effectiveness by creating an intelligent monitoring environment.
"There are currently two main methodologies for applying video analytics to a particular site," says Brecher. "The first is on the camera, and the second is on the server. CathexisVision software has the capability to cater to all scenarios, and while Cathexis has its own suite of video analytics, we also believe in a horses-for-courses approach here, because both the on-camera and on-server approaches offer their own unique sets of pros and cons."
Video analytics 'on the edge'
With IP camera hardware becoming more powerful, manufacturers are easily able to facilitate the operation of third-party algorithms on the cameras themselves. These algorithms may be supplied by the actual manufacturers or third-party video analytics companies.
The advantages of this scenario include:
• Reduced processing requirements on the recording servers.
• Reduced need for additional hardware for video analytics processing.
• Ability to trigger an event and record 'on the edge' without the need for a recording server.
• There are also some claims that you can reduce bandwidth by limiting the streaming of video to periods dictated by the video analytics, but at the end of the day, one needs to cater for the full bandwidth requirement anyway, so this is a debatable claim.
The disadvantages of this scenario include:
• Video analytics on cameras limit the cameras that you may use for your application, as many of the cameras available do not have the ability to cater for third-party analytics engines.
• If you are using camera specific analytics, then you are limited to that specific camera brand.
• The video analytics may often have a negative impact on camera performance in other areas. (For example, bitrate, frame rate, number of video streams, video resolution.)
• Adding video analytics later down the line may require a camera swap-out.
Video analytics on a server
Video analytics that runs on a server may be provided by video management software manufacturers, in which case the video analytics algorithms may run on a recording server, or they may be provided by third-party analytics providers, in which case a dedicated server is normally required.
Advantages of this scenario include:
• The process can be performed on video from any camera.
• There is no degradation on the performance of the cameras.
• It is easy to add video analytics in the future as it normally just requires an additional video analytics licence.
Disadvantages of this scenario:
• This method uses processing power on recording servers, and therefore may require additional hardware.
• Video analytics may require cameras to provide a second low resolution/bitrate stream for the video analytics processing.
Brecher says that the CathexisVision software enables the customer to choose what is right for their unique application. "If a client wants to use on-camera analytics, then the CathexisVision software has been integrated with several cameras that can provide triggers associated with video analytics events. We have also integrated with server-based video analytics companies to achieve the same result," he says.
The Cathexis Video Analytics suite can run on the recording servers themselves and include the following: smart video motion detection, line crossing, advanced line crossing (double line and articulated line), time-in area, stop-in area, enter-exit area, directional analysis, speed detection, loitering, queue length analysis, no-motion detection.
Acting upon information received from any event, from either a third-party system or from the Cathexis Video Analytics, the CathexisVision event-driven software enables the system to:
• Record selected video (including pre-events) to a selected database.
• Switch a selected camera to a selected monitor.
• Play an audio clip (on server or on the camera audio output).
• Send an e-mail or SMS to selected recipients (with or without video clips).
• Send an alarm to a command centre.
• Switch an I/O device.
• Indicate an 'alert' on a map.
Credit(s)
Further reading:
AI technology to empower vertical markets
Dahua Technology South Africa Mining (Industry) CCTV, Surveillance & Remote Monitoring Products
Dahua WizMind is a full portfolio of solutions comprising project-oriented products that use deep learning algorithms to provide more business value to its global customers and deliver reliable and comprehensive AI solutions for vertical markets.
Read more...
---
Elvey partners with HALO
Elvey Security Technologies News CCTV, Surveillance & Remote Monitoring
Elvey Group has partnered with HALO Europe to provide Africa's first body-worn solution with zero upfront costs. This includes an IP68-certified body camera and a 4G-connected device.
Read more...
---
Success in business process best practices
Technews Publishing Kleyn Change Management Editor's Choice Integrated Solutions Security Services & Risk Management
This month we commandeer time with the woman who is spearheading our national conversation on Women in Security, Lesley-Anne Kleyn, to get to know the lady herself a little better.
Read more...
---
Regal announces new partnership
Regal Distributors SA CCTV, Surveillance & Remote Monitoring
Having a bird's eye view of your surveillance data, with the capability to drill down to the details obtained via connected security solutions, is a game changer for security operators, companies and even officers on the ground.
Read more...
---
Invisible connection and tangible protection via cloud
Dahua Technology South Africa Perimeter Security, Alarms & Intruder Detection CCTV, Surveillance & Remote Monitoring Products
Dahua Technology has launched its AirShield security solution that uses advanced, stable and reliable RF communication technology and cloud services, integrating alarm hubs, various detectors and accessories, with several software apps.
Read more...
---
Hikvision expands solar-powered solutions
CCTV, Surveillance & Remote Monitoring Products
Hikvision is offering a portfolio of solar solutions, the 4G solar-powered camera kit, a wireless bridge, and mobile solar security tower solutions to assist in keeping remote and isolated areas safe in a simple, practical, and cost-effective way.
Read more...
---
Affordable entry-level cameras from Dallmeier
Dallmeier Electronic Southern Africa CCTV, Surveillance & Remote Monitoring Products
Dallmeier has introduced the 'E' version of the DOMERA camera family, offering high image quality with 2 MP and 5 MP resolution, and providing detailed images even in low light conditions.
Read more...
---
The importance of the operator's frame of reference
Leaderware Editor's Choice CCTV, Surveillance & Remote Monitoring Security Services & Risk Management Mining (Industry)
The better the operator's frame of reference and situational awareness, and the more informed they are in dealing with CCTV surveillance in the mining industry, the more successful they are likely to be in surveillance.
Read more...
---
Complex, but critical partner in security
Technews Publishing Bidvest Protea Coin Editor's Choice Integrated Solutions IT infrastructure Mining (Industry)
Smart Security looks at how drones can be applied effectively in mine security operations. The ability to quickly gain a birds-eye view of a situation, whether security, safety or operational in nature, makes drones a significant value-add to mines.
Read more...
---
Enhancing surveillance on mines
Avigilon Technews Publishing Axis Communications SA Forbatt SA Hikvision South Africa Bosch Building Technologies Editor's Choice CCTV, Surveillance & Remote Monitoring Integrated Solutions Mining (Industry)
Smart Security approached a number of surveillance vendors to find out what the latest in surveillance technology is that can make a difference to security operations in mines, as well as general operations.
Read more...
---