printer friendly version
Selecting the right method for ­application
November 2016 CCTV, Surveillance & Remote Monitoring, Integrated Solutions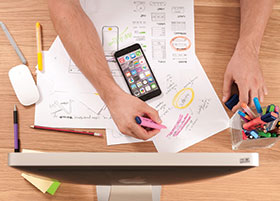 The remarkable rise of the video analytics market and its impact on surveillance technology is evident the world over, and some researchers are suggesting that the IP video solutions industry is now one of the fastest growing areas of security.
Gus Brecher, managing director of Cathexis Africa and business development director of Cathexis Technologies, believes that the growing availability of more sophisticated offerings has been made possible by significant advances in IT technology (servers) and IP camera technology.
Brecher says that video analytics has become a hot topic of discussion with several user benefits being associated with this technology, including increased quality of surveillance and accuracy. However, at its core, video analytics enables a dramatic reduction in storage requirements and facilitates a significant improvement in control room effectiveness by creating an intelligent monitoring environment.
"There are currently two main methodologies for applying video analytics to a particular site," says Brecher. "The first is on the camera, and the second is on the server. CathexisVision software has the capability to cater to all scenarios, and while Cathexis has its own suite of video analytics, we also believe in a horses-for-courses approach here, because both the on-camera and on-server approaches offer their own unique sets of pros and cons."
Video analytics 'on the edge'
With IP camera hardware becoming more powerful, manufacturers are easily able to facilitate the operation of third-party algorithms on the cameras themselves. These algorithms may be supplied by the actual manufacturers or third-party video analytics companies.
The advantages of this scenario include:
• Reduced processing requirements on the recording servers.
• Reduced need for additional hardware for video analytics processing.
• Ability to trigger an event and record 'on the edge' without the need for a recording server.
• There are also some claims that you can reduce bandwidth by limiting the streaming of video to periods dictated by the video analytics, but at the end of the day, one needs to cater for the full bandwidth requirement anyway, so this is a debatable claim.
The disadvantages of this scenario include:
• Video analytics on cameras limit the cameras that you may use for your application, as many of the cameras available do not have the ability to cater for third-party analytics engines.
• If you are using camera specific analytics, then you are limited to that specific camera brand.
• The video analytics may often have a negative impact on camera performance in other areas. (For example, bitrate, frame rate, number of video streams, video resolution.)
• Adding video analytics later down the line may require a camera swap-out.
Video analytics on a server
Video analytics that runs on a server may be provided by video management software manufacturers, in which case the video analytics algorithms may run on a recording server, or they may be provided by third-party analytics providers, in which case a dedicated server is normally required.
Advantages of this scenario include:
• The process can be performed on video from any camera.
• There is no degradation on the performance of the cameras.
• It is easy to add video analytics in the future as it normally just requires an additional video analytics licence.
Disadvantages of this scenario:
• This method uses processing power on recording servers, and therefore may require additional hardware.
• Video analytics may require cameras to provide a second low resolution/bitrate stream for the video analytics processing.
Brecher says that the CathexisVision software enables the customer to choose what is right for their unique application. "If a client wants to use on-camera analytics, then the CathexisVision software has been integrated with several cameras that can provide triggers associated with video analytics events. We have also integrated with server-based video analytics companies to achieve the same result," he says.
The Cathexis Video Analytics suite can run on the recording servers themselves and include the following: smart video motion detection, line crossing, advanced line crossing (double line and articulated line), time-in area, stop-in area, enter-exit area, directional analysis, speed detection, loitering, queue length analysis, no-motion detection.
Acting upon information received from any event, from either a third-party system or from the Cathexis Video Analytics, the CathexisVision event-driven software enables the system to:
• Record selected video (including pre-events) to a selected database.
• Switch a selected camera to a selected monitor.
• Play an audio clip (on server or on the camera audio output).
• Send an e-mail or SMS to selected recipients (with or without video clips).
• Send an alarm to a command centre.
• Switch an I/O device.
• Indicate an 'alert' on a map.
Credit(s)
Further reading:
Consolidating control rooms and service delivery within a COVID-19 environment
Issue 6 2020, Leaderware , CCTV, Surveillance & Remote Monitoring
It is essential to have informed, coordinated and professional responses within control rooms at this time of increasing turmoil.
Read more...
---
Technology driving the healthcare industry
Issue 6 2020, Duxbury Networking , CCTV, Surveillance & Remote Monitoring
Seeing cameras as sensors opens up new possibilities, and each one of them responds to typical demands inside a hospital, clinic or nursing home.
Read more...
---
Flexible temperature screening options for challenging times
Issue 6 2020, Hikvision South Africa , CCTV, Surveillance & Remote Monitoring
A thermal imaging camera is an effective screening device for detecting individuals with elevated skin temperature. This type of monitoring can provide a rapid screening approach in high-traffic areas.
Read more...
---
Toyota Argentina joins the new normal
Issue 6 2020, Dahua Technology South Africa , CCTV, Surveillance & Remote Monitoring
Toyota Argentina makes use of Dahua technology to ensure COVID-19 safety protocols are adhered to.
Read more...
---
Qognify launches Cayuga R15 VMS
Issue 6 2020 , CCTV, Surveillance & Remote Monitoring
Cayuga R15 is compatible with Qognify's Umbrella web-based platform that can be used to configure, manage and monitor all connected Cayuga systems centrally.
Read more...
---
New DeepinView camera series
Issue 6 2020, Hikvision South Africa , CCTV, Surveillance & Remote Monitoring
Cameras equipped with multiple dedicated algorithms that can be selected as required based on the needs of the installation, then switched as the security needs change.
Read more...
---
Mitigating the human risk
Issue 5 2020, Managed Integrity Evaluation, Technews Publishing, iFacts , CCTV, Surveillance & Remote Monitoring
Hi-Tech Security Solutions asked Jennifer Barkhuizen and Jenny Reid for some information around background screening and vetting of potential new hires.
Read more...
---
The evolution of security in residential estates
Residential Estate Security Handbook 2020 , Editor's Choice, Integrated Solutions, Security Services & Risk Management
Two large estates discuss their security processes and the ever-expanding scope of responsibilities they need to fulfil.
Read more...
---
Home-grown, cloud-based safety and security solutions
Residential Estate Security Handbook 2020 , IT infrastructure, Integrated Solutions
BeSecure has taken security and communications technologies and turned them into what is best described as care and safety solutions for the estate community in South Africa.
Read more...
---
Teaching old cameras new tricks
Residential Estate Security Handbook 2020, Deep Data , CCTV, Surveillance & Remote Monitoring
Dr Jasper Horrell and Mark Smuts from DeepAlert reveal how estates can upgrade their existing surveillance infrastructure to include the latest AI-enhanced analytics, without buying new hardware.
Read more...
---